One of the oldest trading rules is to do the opposite of what the crowd does. Then why not think about buying nuclear energy stocks when everybody is selling? Let's take a look at the charts. Below is a comparison of Market Vectors Uranium+Nuclear Energy ETF (NYSEARCA:NLR) to its alternatives Market Vectors Coal ETF (NYSEARCA:KOL) and Market Vectors Global Alternative Energy ETF (NYSEARCA:GEX). iPath Goldman Sachs Crude Oil Total Return Index ETN represents the most common way to get energy exposure.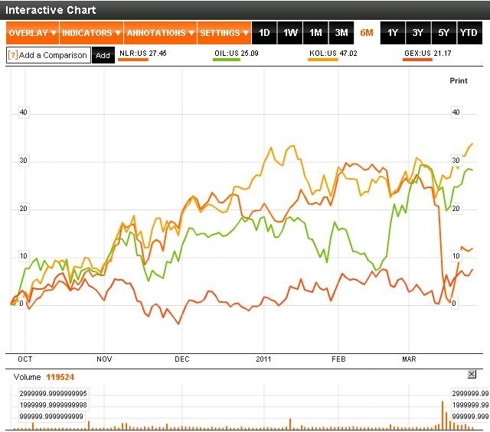 Sourse: bloomber.com

As of March 24, 2011 the main alternatives of NLR, KOL and GEX are more than 7% up from March 11, the day of Fukushima disaster, while NLR is more than 7% down. Also OIL rose 3.4% for the same period: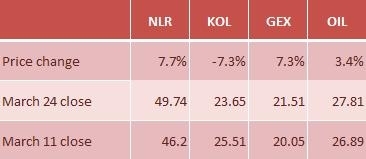 Sourse: finance.yahoo.com

Furthermore, both KOL/NLR ratio and OIL/NLR ratio jumped over 15% compared to their 6 months average. GEX/NLR ratio rose as well, increasing 5.8%: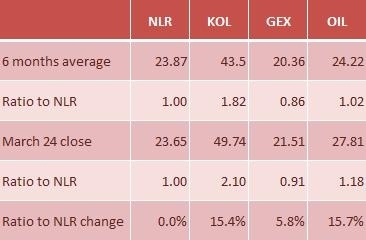 Sourse: finance.yahoo.com

Although the Fukushima catastrophe raised important questions about nuclear power plants' security, they still have a significant role in electricity production, generating about 13.5% of the world's electricity. Given that, the above numbers outline a fair upside potential of 5-10%, which could be realized in the next months, after Fukushima theme drops out of the top headlines.