Today during the New York session the US manufacturing PMI was released by the Markit Economics. The forecast was of a 0.1 point rise from 56.4 to 56.5. However, the outcome exceeded the market's expectation, as the US manufacturing PMI came in at 57.5. This is one of the best improvements since May 2010. The outcome was certainly on the positive side, as the US dollar traded a touch higher post release. If we dig in deep, then the report mentioned that the output and new orders rose sharply in June. The new orders were up from 58.8 to 61.7, which is the most marked since April 2010, according to the report. Moreover, the output climbed to 61.0 from 59.6, which is the third consecutive rise and the strongest rise since April 2010.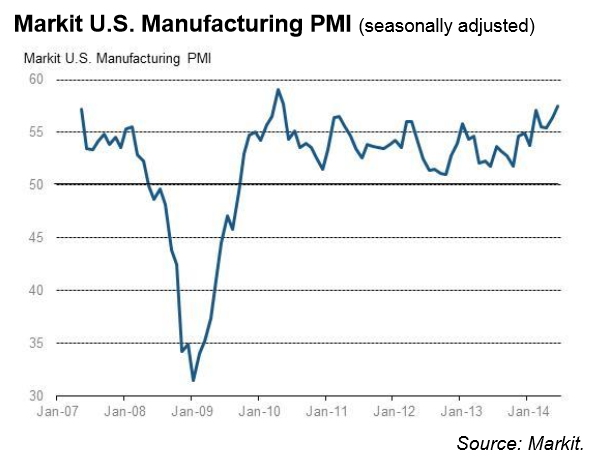 Furthermore, employment was up by 0.1 points from 53.7 to 53.8, which was mainly because the payroll numbers at manufacturing firms jumped for the twelfth consecutive time in June. One of the most important points highlighted in the report by Chris Williamson, Chief Economist at Markit is that the data now suggest that the US GDP should now rise by at least 3% considering the recent improvements in the manufacturing sector. The US GDP declined by 1% in the first quarter of 2014. So, a rise of this magnitude should be seen as an encouraging sign in the short to medium term.
US Existing Home Sales Report
Later, the US Existing Home Sales data was released by the National Association of Realtors. The forecast was slated for a 2.2% rise in the US Existing Home Sales. However, the outcome was again an impressive one, as the US Existing Home Sales jumped sharply by 4.9% to a seasonally adjusted annual rate of 4.89 million in May. Moreover, the previous reading was also revised up from 1.3% to 1.5%. The rise in May was the highest monthly rise since August 201, according to the report published.