The Euro failed to retain recent gains against the US Dollar and found resistance on the upside around 1.080. There were a few key economic releases in the Euro area today, which had an impact on the Euro and took the shared currency lower.
The first important release was the German Gross Domestic Product (NYSEMKT:GDP), which helps in evaluating the total value of all goods and services produced by Germany. The report was released published by the Statistisches Bundesamt Deutschland.
The market was not expecting any major increase in the German GDP, but in fact there was a forecast of a minor decline from the last increase of 0.4% to 0.3% in the third quarter of 2015, compared with the preceding quarter. The end result matched the market expectation, as the German GDP came in at 0.3%.
When we have a look at the year-over-year change, then German GDP increased by 1.3% in the third quarter of 2015, compared with the same quarter a year ago. In short, the outcome was as expected, but there was not special in the report to encourage the Euro buyers.
French GDP
There was another release in the Euro Area, as the France Gross Domestic Product was reported by INSEE. The forecast was lined up for an increase of 0.3% in the third quarter of 2015, compared with the preceding quarter. The outcome was as per the market expectation, as the French GDP increase by 0.3%.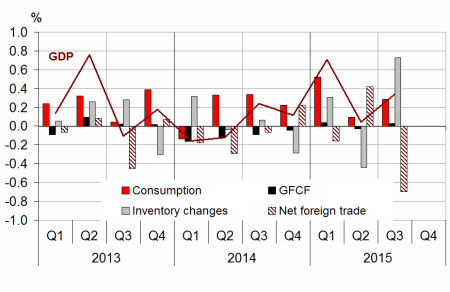 The report stated that "Household consumption expenditure recovered (+0.3% after 0.0%). Non-financial enterprises' GFCF accelerated slightly (+0.7% after +0.5%) and that of households declined less than in Q2 (-0.5% after -1.1%). Overall, total domestic demand (excluding inventory changes) accelerated: it contributed for +0.3 points to GDP growth after +0.1 points in Q2".
Technically, the EURUSD pair struggle continues, as the pair failed time and again to trade higher. Every time buyers manage to take the pair higher sellers appear and tale it lower again. The pair is currently moving lower and it looks like it may head towards the 1.0720 support area where buyers may appear. On the upside, the 1.0800-20 holds the key for more gains in the near term.