Baidu, Inc. (NASDAQ:BIDU) May Surprise In Upcoming Q2 Earning Release
BIDU could beat analysts' consensus by a good chance. As predicted by our model:Q2 BIDU earning per ADS 8.9 to 9.05 Yuan(1.43 to 1.46 USD) Margin around 26%.
Seasonality: Since 2011, BIDU performed extraordinarily well in each Q2. Average profit QOQ growth rate in Q2 is 43.02%, against -12.99% in Q1 and all time average 4.5%.
BIDU never missed its revenue outlook in Q2. Since 2011, there's 75% chance that actual Q2 revenue would be greater than upper-estimate from preceding Q1's predict.
BIDU's dominant position in mobile internet became even stronger. BIDU's Market share was 78.6% in Apr and 79.3% in May.(Data from Upperplus).
China's GDP increased sharply 7.5% YOY which is a very positive sign for BIDU. Increased personal consumption expenditure virtually means the raise of the raise of spending in online Ad.
Seasonality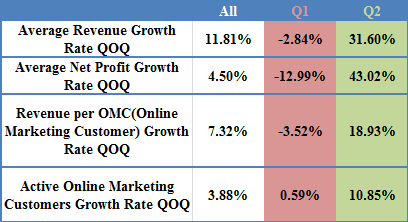 As Online Marketing Revenue still is extremely crucial to Bidu's revenue (98.75% of Bidu's revenue is from Online Marketing in Q1 2014), the revenue per OMC (online marketing customer) and number of active OMC is utterly important if we want to estimate Q2's revenue and profit.
Historically BIDU's OMC averagely paid 23.63% more on Q2 than Q1 since 2011. Revenue, Profit QVQ growth rate, Revenue per OMC and number of active OMC all grew significantly in Q2.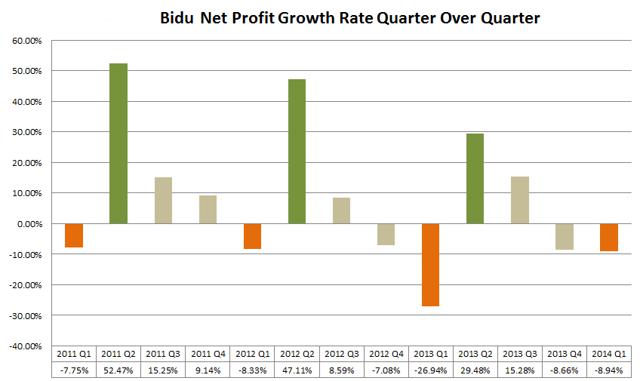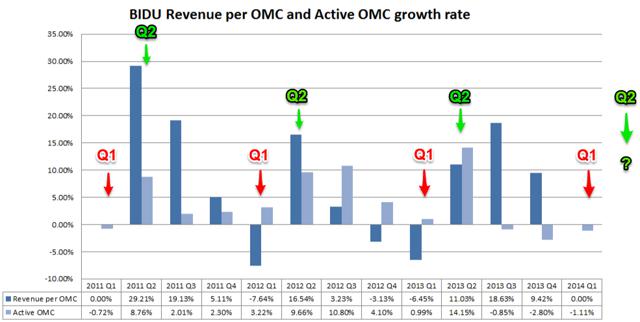 Estimate
As we all know BIDU has invested aggressively in the first half of this year, the total cost would be bigger than ever. Considering the recent heavy investment, we especially adjust our parameters of valuation model to suit such situation, the predicted result has proved our point: Estimated total cost (total cost=Revenue Cost + Selling, General and Admin + Research and development) for Q2 is 8.93 billion yuan (1.44 billion USD), which not only is the highest total cost of Bidu history, but also the greatest total cost QOQ growth rate ever (roughly 26%).
Although Q2 has the highest cost growth rate and quarterly total cost, due to robust raise of revenue, we will still have pretty good profit. The model generated a Q2 profit of 3.14 billion yuan (0.51 billion USD); earning per ADS would be 8.9 to 9.05 Yuan (1.43 to 1.46 USD) with impressive 23.7% to 25.5% QOQ growth rate.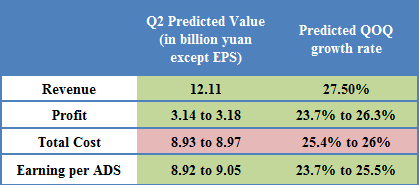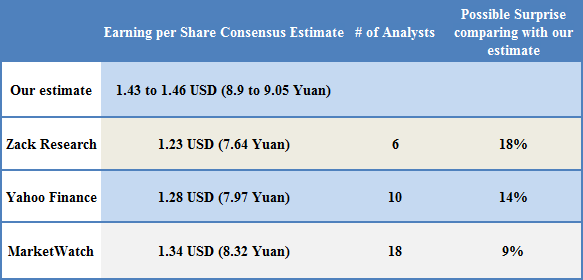 Although my model predicted this quarter could have a 26% QOQ profit growth rate which also is the lowest growth rate of all Q2 (Q2 average rate is 43.02%), my estimate still is relative high comparing with other analysts' consensus estimates on earning per share. I believe there's a pretty good chance that the actual Q2 EPS would beat consensus.
After Earning
What will happen after Bidu's earning release? There're two important dates may need attention:
July 30th 2014, U.S. GDP Growth Rate QOQ Adv, Consensus 3.6%.
Aug 1th 2014. U.S. Non-Farm Payrolls and Unemployment Rate release.
We possibly had similar situations in 2012 Q2 and 2013 Q2. Bidu has impressive 47.11% and 29.48% QOQ profit growth rate in Q2 2012 and 2013 respectively; Situations after earning were like this:
In 2013: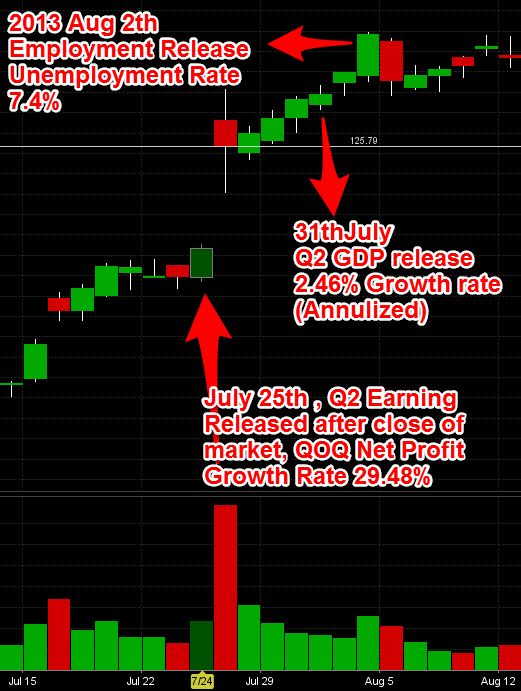 In 2012: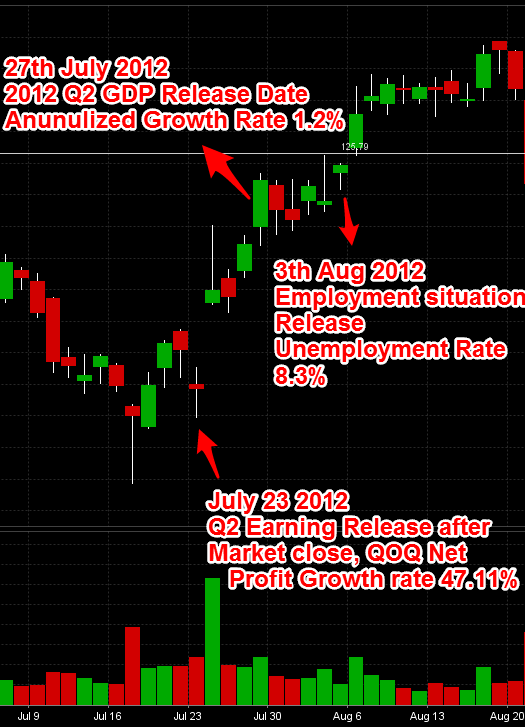 Mobile Internet Search
According to the recent report published by UpperPlus, Bidu keep dominating the mobile internet search market in China in second quarter, market share up to 78.7% in Apr and 79.3% in May. While BIDU's biggest rival in desktop search, QIHU 360, only has 1.9% and 1.6% in Apr and May respectively.
Data from UpperPlus: