At some point, doctrine must give way to practicality. I don't believe in selling stock. Ever. Until I do. McCormick and Co. (ticker MKC) has been the largest position in the Model Portfolio, thanks to an astonishing increase in the share price since I launched the portfolio. The stock was expensive when I bought it for the portfolio. It is dramatically more expensive now, with a PE ratio of 30. At some level, a money manager has to be practical and put aside doctrine. When the largest position in your portfolio trades at absurd prices, it's foolish to sit back and say "oh, well, selling is just not something that I do." Arguing with the market makes sense when it comes to buying cheap stocks, but selling expensive stocks... that's another thing all together.
I have adjusted the Model Portfolio, selling all shares of MKC and replacing them with a new position: shares of Apple (ticker AAPL). Apple trades at a PE ratio of 11, and offers far more yield than MKC. Some people say that Apple's products are commodities now, which promises investors nothing but a dark future of shrinking profit margins. Shoes are commodities too, but that doesn't stop people from paying top dollar for a great pair. I don't buy the theory that Apple's finances are destined for destruction simply because other manufacturers are producing Iphone-like products. I'm happy to argue with the market when it comes to scooping up great companies with great products and managers at PE ratios in the range of ridiculously cheap.
I bought 200 shares of Apple, and put the rest of the proceeds from the sale of MKC into Chevron (ticker CVX) and Southern Co. (ticker SO) on the basis that these companies too are cheap. Today's transactions have increased the portfolio income to $11,133 per year, putting the annualized dividend growth rate at close to 14% a year. The components of the Model Portfolio now look as follows: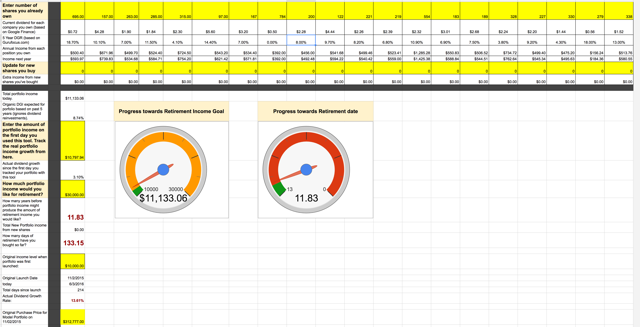 Disclosure: I am/we are long MKC.
Additional disclosure: This article and the model portfolio are not investment advice