Whilst we slept in our beds, dozing and snoring,
the little elves have been busy and true.
What to buy now, we decide, though the task may be boring,
for dividends of $148 the Model Portfolio hath accrued!
********************
More shares must we buy, and cheaply, he thought,
so t'was Unilever (ticker UL) the Pancake he eyed,
for now the Euro hath been flushed down the pot.
And three shares was the number he buyed!!!
***********************
But WAIT! Yet another $480 in divvies he's gotten,
so in 6 shares of EXR did Pancake invest.
Interest rates spiked, and REITs are besotten
with fears, loathing and all the rest.
***********************
A wee boost in the income of the Portfolio model,
but over time this too shall compound.
So that Pancake may swill more white wine by the bottle
whilst gloating over stock bargains he's found.
***********************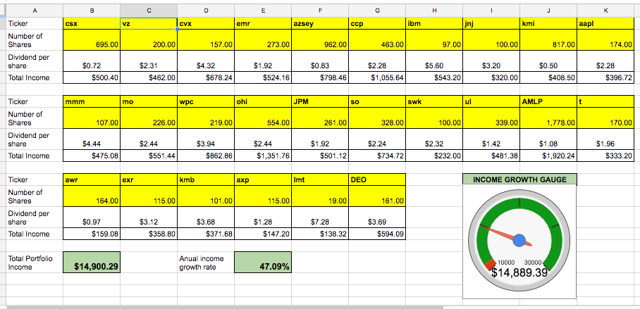 In response to some reader's comments regarding readability of my previous spreadsheet, I have simplified the layout to more easily track the Portfolio's income performance.