The cash geyser just keeps doing it's thing. Another $159 in dividends has materialized overnight into the Model Portfolio. As it happens, one of the components of the Model Portfolio, a REIT called WPC, has, once again, raised dividends. They tend to do that as regular as clockwork. And as it happens, the price for WPC has been falling recently.
Let me be very clear: there is no greater joy on Earth than a company with a falling stock price and rising earnings. And unlike earnings for, let's say, a car manufacturer, WPC's earnings (and expenses) come in under fixed, insured long-term leases. Those rising earnings are very, very durable. Combine falling stock prices, rising earnings and rising DIVIDENDS????? I'd say Christmas has come early.
This is why I will reinvest today's dividends into 2 more shares of WPC. This move will increase the total portfolio income by $7.92. The stock prices in the Model Portfolio may zig and they may zag, but the portfolio income just keeps rising, bit it by bit, like a snowball rolling down hill.
The composition of the Model Portfolio now stands as follows: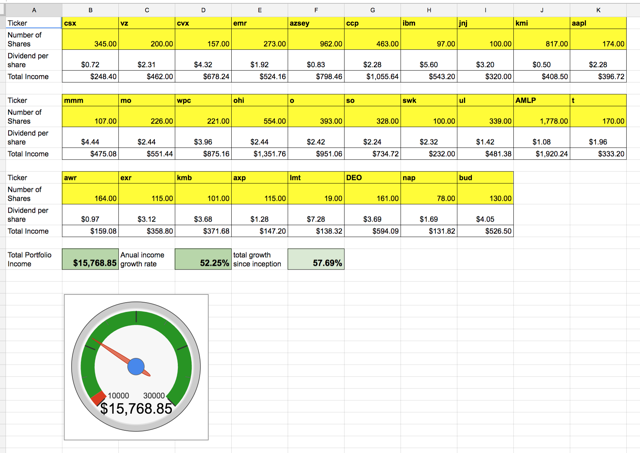 Disclosure: I am/we are long WPC.
Additional disclosure: I am not an investment advisor and this is not investment advice.