Trade wars, bizarre elections across the EU, rumblings of a possible outbreak of war with Iran. A looming synchronized global economic slowdown, with no possible hope of anything like a coordinated response by the world's leading governments. What is an investor to do?
For my part, the answer is easy. Spend less than I earn, and reinvest the savings.
I've made a few changes to my portfolio since I last wrote - the most notable of which is my decision to jettison Vodafone (VOD) and to radically trim positions in Allianz (OTCPK:AZSEY) and AXA (OTCQX:AXAHY).  What prompted these costly moves that resulted in a meaningful cut to my portfolio dividends?
In the case of Vodafone, the answer is simple. Their service sucks. My mother-in-law's former pet squirrel Clyde could manage Vodafone better than anyone currently occupying a place of senior management there.  Everyone from the investor relations group to the people I spoke with at Vodafone's store in Chiado have the same reaction to my concern that my internet speed is 1/10th the speed of what the company advertises for the type of service I bought. The reaction has been remarkably consistent: "sorry." 
Lousy business. They don't take care of customers, and don't even care if they lose business or not. Selling Vodafone was one of the easiest choices I've made in years. Then shortly thereafter, the company cut the dividend! Should I have been surprised they treat shareholders with the same cavalier disregard as they treat customers?
Unfortunately, I had only managed to sell the majority of my shares before the dividend cut. The price for my remaining position swooned and I spat and cursed and tugged at my hair as I pounded the sell button with my fists like an enraged chimp. Next time I decide to dump a stock because the company stinks, I'll make sure to do it right. Rip the bandaid 100% of the way off in one fell swoop.
I opted to seriously prune AZSEY and AXAHY for tax purposes. German and French tax withholding is high enough that it has a material negative impact on the valuation of these two companies.  
Besides that, I've been steadily buying shares all month in Clorox (CLX), International Business Machine (IBM), CSX (CSX), JP Morgan (JPM), 3M (MMM) and Abbvie (ABBV). Today, I noticed that General Mills (GIS) stock was falling 6%, so I bought a few more shares. In fact, I only had a few hundred dollars to invest there, an amount which some investors might scoff at. As a percentage of my overall portfolio, $376 is a miniscule amount. To me, that's $376 of a high quality blue chip company that is going to compound its earnings for decades and decades to come, so in a very real way, I probably just earned an extra $376,000 a year in dividends for my future great-grandchildren. Not a bad return for just a few minutes worth of work. I have to point out that sentiment surrounding virtually every company I've been buying is very negative. This only makes me happier about buying the stock. The best time to buy a company is when it appears the least appealing in the news.
The portfolio composition is as follows: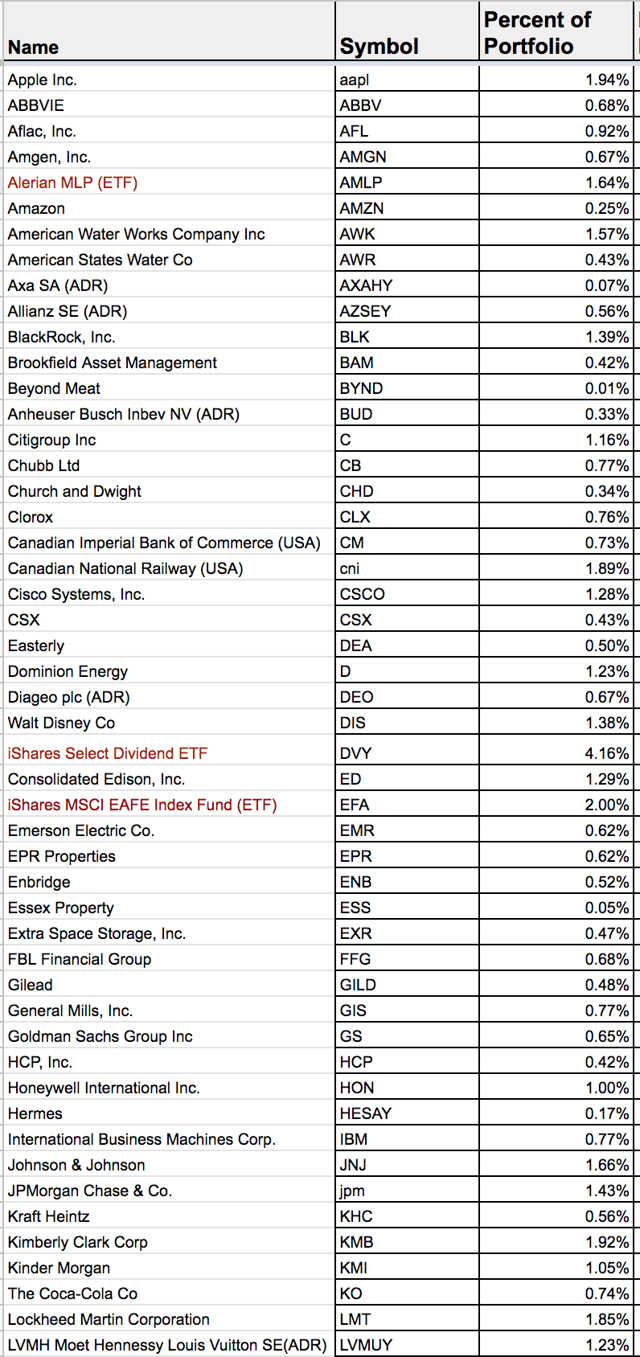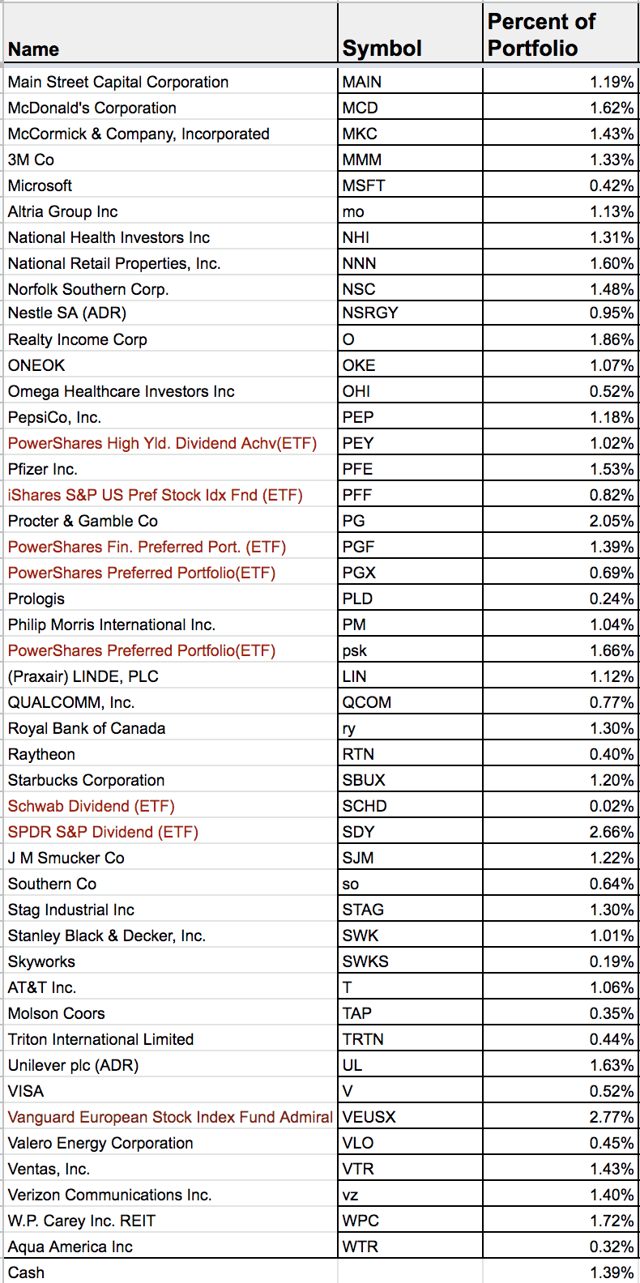 As some of you recall, I swore on a stack of bibles that I'd stop tracking my portfolio's performance relative to the overall stock market. At first, I cut that cell off my spreadsheet and said "good riddance". Then I put the function back into my spreadsheet, but blacked out so I can't see. Then I'd only take just one little tiny peek, once in a while. By now, I have just thrown in the towel. I look frequently. I give up. I'm a market guy. I can't be anything but that.  
Since December 3rd of last year, the portfolio is up 5.25%, including dividends, compared to the -1.064% total return on the Vanguard Total World Index (VT) and the -.21% return on the Vanguard Total Market Index (VTI). I decided that it actually is worth my while to track my relative performance because, honestly, if I cannot consistently beat those indexes, I'll sell and put the proceeds of my portfolio entirely into those very funds. I enjoy investing, don't get me wrong, but I'm not willing to sacrifice performance in exchange for entertainment. 
What's on the horizon? I plan to continue beefing up positions on the few AAA rated companies on Earth (which I also happen to own) - Pfizer (PFE), Microsoft (MSFT) and Johnson and Johnson (JNJ). Next month is a big dividend month, and with luck, global angst will continue to drag equities prices lower, so I can get the best prices available for the highest quality companies available. 
When you read the front page of the news, it's hard to feel optimistic about much... unless you are a value investor. If any of you is ever feeling a bit down over the state of the world, I have a quick suggestion for a pick-me-up. Think about how much cheaper stocks are when times are bleak! The prospect of drooping stock prices and a plethora of mindless bargains on your investment dollars is sure to alleviate some anxiety and put a great big happy smile on your face!
Disclosure: I am/we are long IBM.
Additional disclosure: I am long every single stock shown in the attached spreadsheet, and have no other positions, long or short, in any other stock. I am not an investment advisor and this is not investment advice but rather, lowbrow financial entertainment.