There was a man named Calum MacLeod lived on the Island of Raasay off the eastern coast of Scotland, where there is exactly just one road. The issue was that the road didn't quite extend all the way to his house, and so Calum requested the Scottish government to please extend the road somewhat further so that he could drive all the way up to his home, which sat in the town of Arnish located about 2 miles off from where the road ends. The government politely but firmly declined the request, thereby prompting a volley of subsequent requests and petitions launched over a period of many, many years from both Calum and the other inhabitants of the town of Arnish. Once the Scottish government made clear that no extension to the road was ever going to be built using taxpayer money, Calum took the matter into his own hands (quite literally). And so it was that for next 20 years, Calum MacLeod set about building the road extension entirely on his own using little more than a wheelbarrow and a series of pickaxes that all ended up getting worn down to mere nubbins. 
We were on a boat riding around the Isle of Skye, trying to spot eagles, and the captain told us that among other things, Calum MacLeod was a man possessed of nearly supernatural strength - even at age 65 when he was still in the middle of his road building project. One day, a journalist and photographer from the local paper went to the isle of Raasay to interview Calum, and found him down by the seashore fishing (what the captain described as) a telephone pole out of the water. Amazingly, Calum then carried the waterlogged pole on his shoulder up the rocky shore, where the journalist and photographer stood with their jaws ringent with disbelief. And then! To top that off, Calum MacLeod actually stood for the entire interview without even putting the pole down!
This was just too much to believe, and so finally after ten or fifteen minutes the photographer asked if he could take a quick snapshot of Calum (no doubt to memorialize some photographic evidence of the old man's epic strength and endurance). Calum readily agreed to pose for the photo... but tossed the pole down onto the ground, and proceeded to grin for the disappointed camera man. 
I've been asking myself over the past week or so what I would do if I were in the position of this journalist and his photographer sidekick? Would I (ever so politely) ask Calum MacLeod to please, if you would be so kind, retrieve the dripping, heavy, waterlogged pole and put it back on his shoulder so I could capture the whole implausible situation on film? Or would I limply oblige and take the lame, pole-free photo? I 
One more thing that the boat captain did not mention (but which I subsequently looked up online) is that by the time Calum MacLeod finished his road, he and his wife were the very last inhabitants of the town of Arnish. And while Calum MacLeod did, ultimately, receive an award for his services - the award was not for his services related to his single-handed construction of a 2 mile road extension. Calum MacLeod had been such a monumental pain in the collective ass of the Scottish government, they saw little reason to incentive others to engage in similar barrages of petitions and appeals for projects of dubious value. No, instead, they awarded Calum MacLeod an award for his services as the part-time postman for the island of Raasay. 
As far as my own construction projects go, I've done little to nothing with my portfolio for the past few weeks, during which time we've been traveling all over Scotland. I knew that I had fallen in love with the country the day I went in to the local grocery store in Aviemore to buy a few items, and when the checkout lady asked if I wanted a bag, I thought it over for a moment because I hadn't really bought that much stuff. Ultimately, however, I decided to get the grocery bag anyway, and the lady chuckled. "Oh," she said " Ah deedn't think yooo'd ask fer ahh bog." She gave me a conspiratorial glance.  "Yooo loook lock ooon a' thooos chape fellers." Be still my beating heart! All I could say was "Thank You!!!! Thank you!!!!! Thank you!!!!!" as she gave me an approving nod and a knowing wink to wash it down.  
Oh yes indeed, I felt right at home in Scotland. But now that I'm back in sunny Lisbon, I can report that I was very pleased to notice that dividends have been multiplying and piling up like very fertile and VERY busy bunny rabbits whilst we were away. And as if that wasn't nice enough for me to come home to, I also saw that shares of Pfizer (PFE) have crashed by 20% since the last time I looked. I believe this bear market in PFE stock has everything to do with the fact that the company plans to spin out its off-brand and generic drug business in 2020, which will no doubt result in a dividend cut from the main company (although one might expect that the spun off company will pick up the slack with it's own generous dividend payouts). Whatever the reason for Pfizer's slumping share price may be, I am always very happy to pick up shares of a blue chip company such as this one while the stock price is crashing - like the lady in Aviemore said, "Ahhhm ooon a' thoooooos chape fellers" (the very same kind who needs to debate for a few moments before deciding whether to purchase that 10 cent grocery bag or just carry everything around free-handed like Calum MacLeod). And obviously I get even pluckier whenever it comes to buying more stock in Pfizer, as it just so happens to be one of the very last remaining  AAA-rated entities (whether governmental and private) on the planet Earth. And with a 4% dividend yield, there is ample room for PFE to cut the distribution and still offer a very generous dividend yield that far exceeds the yield on a 10 year US Treasury (which, let it be noted, carries a lower credit rating than Pfizer and offers exactly no prospects for distribution increases). 
The portfolio continues to outperform the benchmark I set for myself (the Vanguard Total World Stock Index Fund (VT)) - currently the portfolio Alpha sits at 8.34% since December. The allocations and positions are as follows: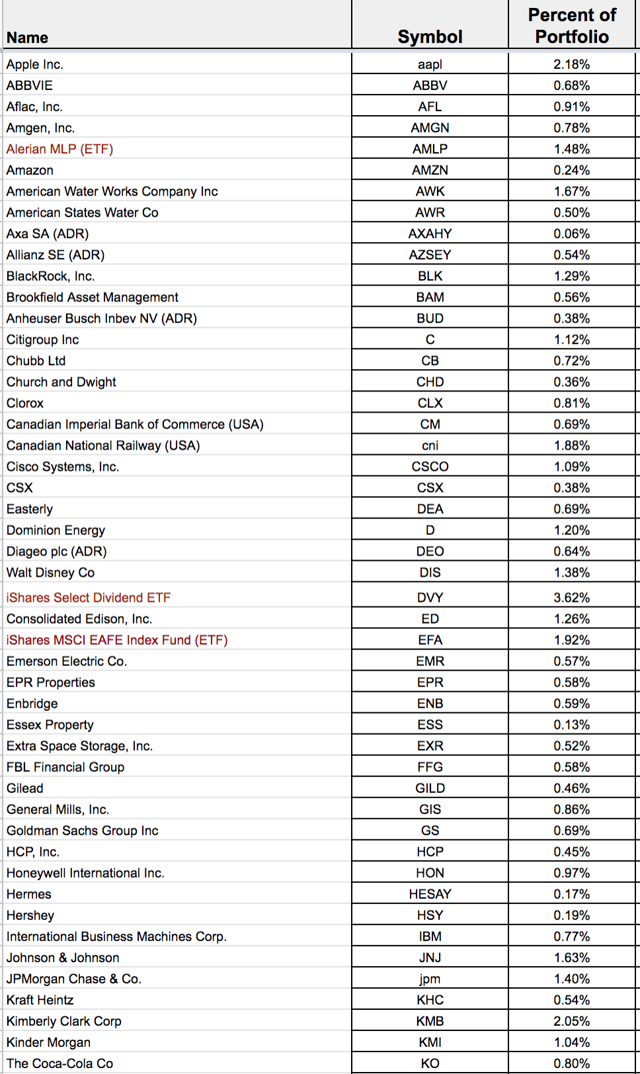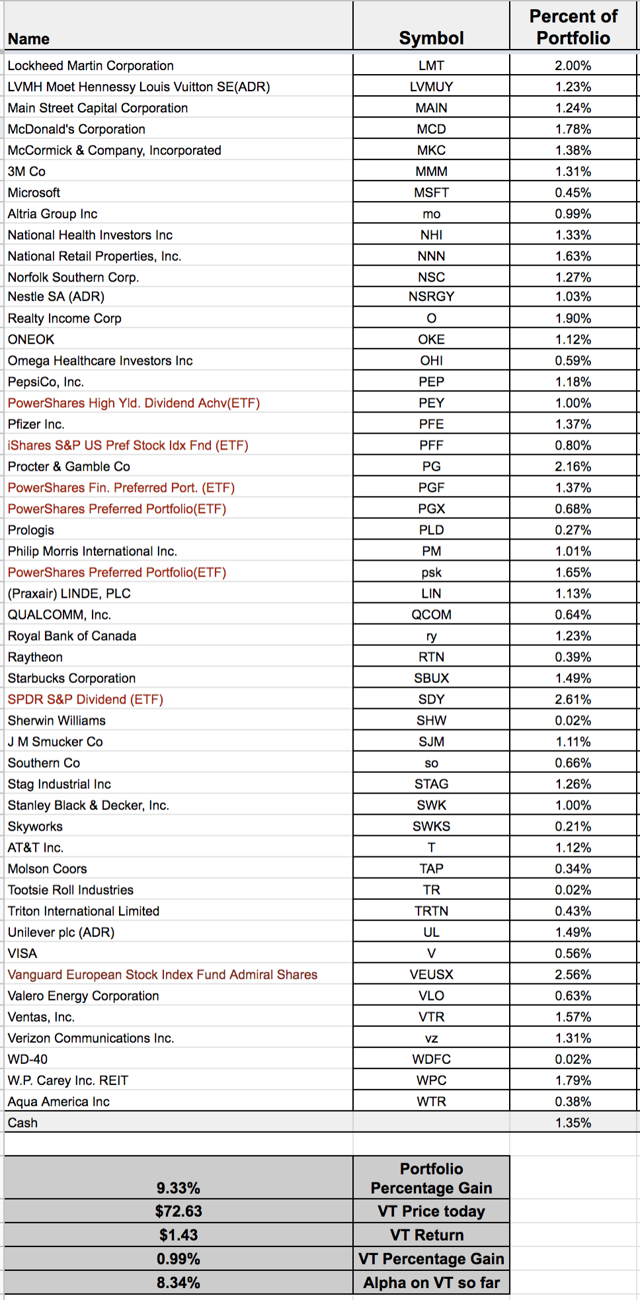 Going forward, I plan to accumulate some more shares of Pfizer if the stock remains cheap, and am also looking at JP Morgan (JPM) and 3M (MMM) - both of which are exceptional companies trading at exceptional values (at least as far as I am concerned).