Indian buyers scrambled for U.S. properties as they took advantage of current home prices in the wake of the financial crunch, a report from Indian Express examining the trend noted.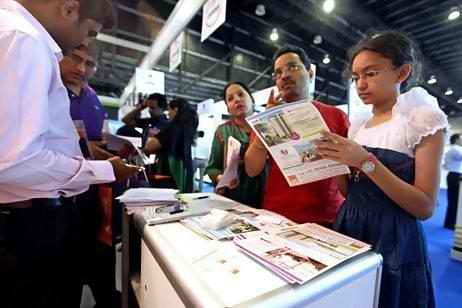 Citing data from the National Association of Realtors (NAR), the report stated that wealthy Indian buyers accounted for five percent of the real estate purchases in the U.S.. This percentage translates to $5.8 billion, it added.
NAR's report 2014 Profile of International Home Buying Activity out July 3 revealed that during the period between April 2013 and May 2014, Indian buyers ranked fourth among the top countries gobbling up U.S. real estate. It also said that Indian buyers favor states with information technology hubs, such as California, New York and North Carolina.
"Within markets in an individual state, it is not unusual to find concentrations of people grouped by nationality, possibly indicating that word-of-mouth and shared experiences influence purchases," the NAR report stated.
Foreign buyers took the spotlight recently after it was found they accounted for about 54 percent of U.S. real estate sales. Canada, China, Mexico, India and the United Kingdom were recognized as the top foreign buyers of local properties.
According to NAR, Canada held its position as top buyer, accounting for 19 percent of total sales. China, however, took the lead in terms of dollar volume, ringing up $22 billion in real estate purchases. It accounted for 16 percent of the property purchases.
Mexico placed third with nine percent of the purchases. Coming in fourth were India and the United Kingdom with five percent of the total real estate sales.
As foreign buyers flock to the U.S. for value-for-money real estate assets, real estate practitioners can make the most of it by boosting their presence in the market. One brilliant way of doing so is by beefing up their online marketing savvy.
Realtor.com reported that foreign buyers were actively searching for real estate properties to buy online, with U.S. cities Los Angeles, Miami, Las Vegas, Orlando and New York City coming up the most in the search results.
RealBiz Media Group, Inc. (OTCQB) is a Florida-based digital media company that creates disruptive, proprietary video marketing platforms for the real estate brokerage industry. One of its recently-launched platforms, Nestbuilder Agent, is an agent-facing feature of consumer site Nestbuilder.com that real estate agents can use to capture foreign buyers.
Nestbuilder Agent is a video marketing platform that agents can use to build their reputation and brands via a personalized online video channel.
Through their video channels, agents-with or without listings-can post information-rich videos and virtual tours of properties within their neighborhood and directly engage their potential clients.
Nestbuilder Agent is aimed at a million American real estate agents, according to the company's press statement. The service costs $10 a month.