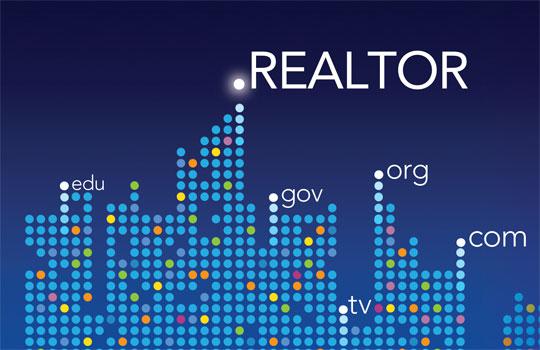 The National Association of Realtors announced the launch of a new top-level domain called .REALTOR that will give realtors wider Internet and market exposure. In a statement, the NAR said .REALTOR will be available starting October 23, 2014 to members of NAR and the Canadian Real Estate Association.
The Internet is undergoing vast changes with the creation of over 1,900 new top-level domains, and with nine out of 10 recent buyers beginning their home search online, it has become even more critical for Realtors to create a branded space online.
"This is truly an exciting time for NAR members to be on the cutting edge of Internet technology," said NAR President Steve Brown, co-owner of Irongate, Inc. Realtors in Dayton, Ohio. "NAR is one of the first associations to be approved to offer a top-level domain for its membership, demonstrating our organization's commitment to its members and showcasing the value of the Realtor® brand. When consumers visit a .REALTOR website they will know that they have reached a source of comprehensive and accurate real estate information as well as someone with unparalleled insight into the local market."
The .REALTOR domain will help Realtors stand apart from other real estate professionals, creating a more positive online experience for consumers who are searching for information on buying or selling property. Having a .REALTOR domain will inform consumers that they are working with a Realtor, a trusted real estate professional who subscribes to NAR's strict Code of Ethics.
CREA, the owner of the Realtor mark in Canada, is NAR's exclusive marketing partner for the new .REALTOR domain in Canada. "We are excited to offer this new and unique branding opportunity to our members," said CREA President Beth Crosbie, sales associate at Coldwell Banker Pro Co. in St. John's, Newfoundland. "A .REALTOR domain communicates the positive attributes of trust, professionalism and community that consumers associate with the Realtor® name."
The top-level domain will be made available only to real estate professionals who are Realtors®, members of NAR or CREA. The domain will also be made available to state and local Realtor® associations, association multiple listing services, affiliated institutes, societies and councils and NAR strategic business partners.
NAR began the application process for the top-level domain seven years ago through the Internet Corporation for Assigned Names and Numbers, the organization that coordinates domains and Internet Protocol addresses around the world. Throughout the application, review and development process, NAR has worked closely with Second Generation subsidiary Real Estate Domains, LLC, an investment firm and registry operator for the top-level domain .JOBS.
"We are so pleased to help our partner, NAR, build a new future on the Internet," said Tom Embrescia, chairman ofSecond Generation, Ltd. "Applying for a top-level-domain is extremely complex and intricate, but all that work has resulted in an amazing benefit for Realtors®."
NAR will provide the first 500,000 members who register for a .REALTOR domain with a free one-year license, and CREA will provide 10,000 free domains to members on a first-come, first-serve basis.
For people who are looking for new homes can use technologies offered by RealBiz Media Group (OTC: RBIZ). RealBiz is the leader in delivering video solutions for real estate agents, develops online virtual tours and marketing programs that can be used by industry brokers and sellers.
One of its web sites, Nestbuilder.com, offers the largest collection of video-based listings on the market. RealBiz's site, which hosts 1.6 million videos, enhances home shopping experience for homebuyers while saving both buyer and sellers their precious time and money.
RealBiz Media's Nestbuilder Agent and MVA video platform also has 15,000 active users that has published 24,000 videos.
The virtual and video tours not only make the presentation experience interactive, it also lets the client see and explore the property through an accurate representation.
The Microvideo App, meanwhile, is an automated video marketing platform targeted at enterprise clients. It allows agents and their brokers to create seamless and mobile-capable videos and virtual tours, as well as microsites where they can keep their clients informed about their brands, and community events.
Consumers and agents can learn more about Realbiz Media's products and services by reaching Realbiz Media via its toll free number: 1.888.REAL.BIZ (888.732.5249) or email: support@rbm.zendesk.com.