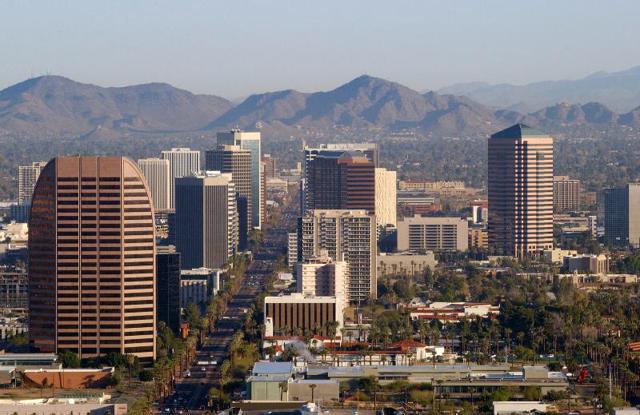 Review sessions dominate real estate planning activities among city planners and councils in the Phoenix and Valley cities market after receiving a number of site plan submissions for new developments in the area, a report on the Phoenix Business Journal said. The number of constructions plans continues to grow in the area even if markets elsewhere were hit by a nationwide home price slump, the report noted.
The Tempe City Council is mulling over the sale of an undeveloped plot beside Tempe Town Lake worth $17 million to a developer funded by a Chinese company for a $300 million multifamily residential home project.
The Chandler Planning Commission is also reviewing development plans for an upcoming lifestyle destination that will be constructed by Trammel Crow. The development will cover 19 acres of the Chandler Airport Center.
Phoenix city planners and councilors are also busy studying a rezoning of the former site of a furniture store at Kirkland Boulevard, the report added. The site will be turned into a residential zone which will become the future site of a high-rise condominium building and upscale hotel owned by Optima Real Estate.
The council is also reviewing submitted plans for residential buildings in prosperous neighborhoods along Scottsdale.
Transportation development submissions are meanwhile being reviewed by the Glendale Planning Commission for the extension of the Valley Metro Transit into the West Valley through 2026, the report said. The said transit will be extended from 19th Avenue from Camelback Road and Glendale Avenue, or from Grand or 43rd avenues through downtown Glendale.
Experts said earlier this year that Arizona is poised for growth through 2014, as detailed by a report on Benzinga. Citing research done by PricewaterhouseCoopers (PwC) and the Urban Land Institute (ULI), the report noted real estate investors see Arizona as a "buy" this year.
The research revealed that Phoenix has risen eight spots to number 25 in top markets to watch. According to the Pwc and ULI report, outlook for development and homebuilding particularly helped pushed Phoenix's rank higher on the list.
"Survey respondents see Phoenix office as a "buy" in 2014. They tend to see next year as a good time to hold apartment, industrial and hotel properties," the report added, according to Benzinga.
Real estate agents and brokers in the area can ride the uptrend by increasing their visibility in the market. Using virtual tour technologies is one way real estate agents can set their listings and brand apart from the rest of the sector.
Realbiz Media Group, Inc. (OTCQB: RBIZ) develops proprietary video marketing software that agents and their brokers can use to promote their virtual tour listings online. The company offers a Virtual Tour Program that allows real estate sellers to create virtual tours and presentations that are optimized for mobile viewing and could be syndicated through social media for only $29.95 a month.
The program is equipped with a video search engine optimization (VSEO) tool that automatically generate meta tags and descriptions for virtual tours and listings agents have uploaded to the platform so that they would be found easily by consumers online.
The program also has tools for creating QR codes, e-flyers, and seller reports as bonus features.
To learn more about Realbiz Media and its products, contact sales@realbizmediagroup.com or call 1.888.REAL.BIZ (888.732.5249).