Herbalife (HLF) investors saw a change in ownership during the 3rd quarter of this year. I expect that when 13Fs are revealed yet again in February we will see additional turnover in the shareholder base. Recall, Herbalife missed 3rd quarter eps estimates during the 4th quarter. This data won't show up in 13Fs until February of next year.
One thing we do know as investors is the following. Herbalife's largest shareholder and largest individual shareholder haven't sold any shares. Securities laws require activist investors to file an immediate notification if their holdings increase or decrease by 1% or more. So far, all is quiet on this front.
Here is a list of Herbalife's largest shareholders as of the end of Q3.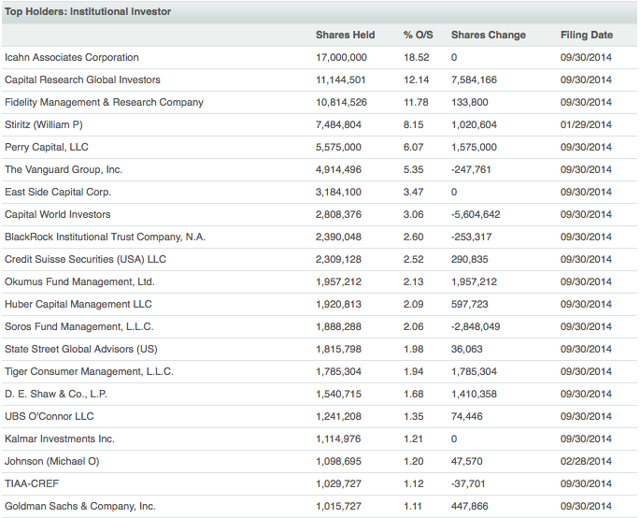 As you can see, Icahn Associates controls over 18% of Herbalife common. Mr. Stiritz owns an additional 8%. Other large shareholders include buy-side mutual funds, hedge funds and index funds.
Q. How many of these investors have representatives on the company's Board of Directors?
If you answered "only 1" you win a canister of Herbalife 24. Specifically, Icahn and Associates has 5 representatives on the Herbalife Board of Directors. Here is a list of the 13 members of the Board. As a reminder, 5/13 = 38%. Leroy Barnes just resigned. If the Board shrinks to 12 Icahn will control 41.7% of the board. If you consider the idea that Michael Johnson, Pedro Cardosa and John Tartol are all employees/recruiters for the company, seemingly over 50% of the board would be friendly towards Mr. Icahn. So, 18% effectively gets you control. That's what one might call clout.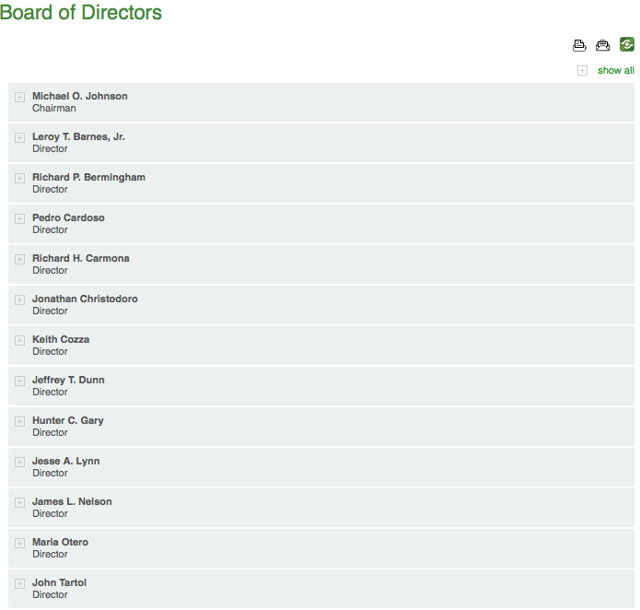 Herbalife's Board has seen some material changes in the time since Pershing Square initiated its short position. Gone are independent directors Michael Levitt, Carole Black, Colombe Nicholas, and Mr. Leroy Barnes also announced his intention to leave the board at the end of this fiscal year. You can read more about this turnover here.
Who pushed forward nominees to take their place? Only Icahn and Associates hit the bid.
When Herbalife was a private company, Mark Hughes was clearly its Kingpin. As investors, if we imagine Herbalife as a closely held, private corporation it becomes easier to identify with and associate the fraud to its founder. One only need to watch videos like this to conclude categorically that Mr. Hughes was a charlatan. Herbalife's entire cult of personality is built around the ghost of Mr. Hughes. If you don't believe me, check out this poster.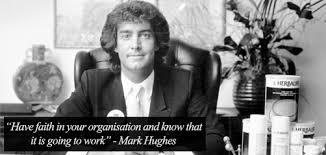 Source: awiwikacsono.com
Times have changed since Mr Hughes passed away. So too has Herbalife's governance. Instead of a sole proprietor at the helm, Herbalife is now owned by a diverse shareholder base, managed by a professional management team, and banked by a syndicate of institutional creditors. Herbalife's scam has gone "big time". Just ask the LA Galaxy.
Q. Does Herbalife's governance structure make it more or less of a confidence game? Or is that idea a fallacy? My guess is the US government will reveal the answer shortly.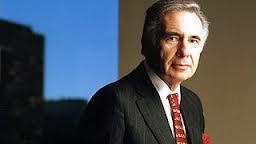 Source: cnet.com
Carl Icahn is an extremely successful investor. Candidly, I think that tethering the reputation of Icahn & Associates to Herbalife is beneath Mr. Icahn's gravitas. Picture Mr. Icahn hanging out with Mark Hughes by way of example. Clearly, these guys don't belong at the same dinner table. Picture Mark Hughes, Carl Icahn and Tim Cook in a meeting together. This proposition becomes even more absurd.
Mark Hughes was certainly no Steve Jobs. Apple's Tim Cook is a venerable giant compared to say Des Walsh. Warren Buffett always talks about how he invests in the quality and character of his management teams as much as the business itself. Herbalife's management team has missed earnings guidance two quarters in a row and seems to struggle perennially with the truth. Speaking of Mr. Buffett, this Geico commercial captures the point succinctly.
Still, no matter how you slice it, Carl Icahn appears to be Herbalife's new Kingpin both statistically and practically. He's now the official shake boss. He is now Distributor #1. Here's a way to think about this dynamic.
For starters, everyone in Herbalife is in Mr. Icahn's downline. Every single one of Herbalife's 3.9 million distributors works for Mr. Icahn. Therefore, all of the cashflow and earnings they produce are gathered up, measured and securitized. Mr. Icahn gets his pro rata share as the company's largest stockholder.
Ownership also has its privileges. Make no mistake, Herbalife's convertible bond deal and recapitalization was clearly Mr. Icahn's move. Rumor has it that former lead director Michael Levitt was against gearing Herbalife's balance sheet while the company was under investigation. Inevitably, Mr. Icahn's determination probably ruled the day (probably supported by Mr. Stiritz who has his own affection for financial leverage). Mr. Levitt subsequently resigned from the board. Smart move.
Supposedly, Mr. Stiritz acquired his activist position in some part due to his admiration and respect for Mr. Icahn. Whether or not that is true is hard to say. Certainly, his admiration didn't extend to a board seat. However, it stands to reason that two battle hardened generals might want to test their mettle against an activist almost half their age. I gather hubris is going around on Wall St....:) Should anyone be surprised if ego played a part in this capital allocation decision by these two septuagenerians?
Isn't it also obvious that Mr. Icahn's entire investment in Herbalife was motivated primarily by a revenge motive and not because Mr Icahn wanted to become a Herbalife "discount customer"? Clearly Mr. Icahn wanted to become Mr. Ackman's "Supervisor" so to speak. Unfortunately, that gameplan isn't exactly unfolding as planned. Though, at least we know that Mr. Icahn now understands how the marketing plan works "in practice". You see, most "Supervisors" actually fail to make any money. Isn't dramatic irony choice?
Of course, now all of the history of how we got to where we are today is water under the proverbial bridge. Mr. Icahn still owns 17 million shares. Mr Ackman remains committed to his short thesis and Icahn and Associates control 5 seats on the board. What this also means is that Mr. Icahn and his firm also assume all of the contingent liabilities that come with being part of the company's governance structure. If Mr. Stiritz loses all of his money, perhaps he can make a claim that he was victimized by the company (or was it Tim Ramey?).
In Mr. Icahn's case, one has to wonder if he might be liable for damages to past and future victims as a corporate insider as and when the government steps in? Time will Tell.
For certain, sometimes in life you want to be the Kingpin. As Mel Brooks said in his satirical movie History of the World Part I "It's good to be the King."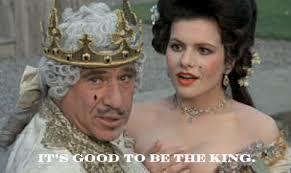 Source: foiltheplot.blogspot.com
Sometimes, however, you want to be as far away from the throne as possible. Canadian music buffs like me enjoy the sweet sounds of iconic Canadian rock group Rush on occasion. Here's the album cover from one of their great albums.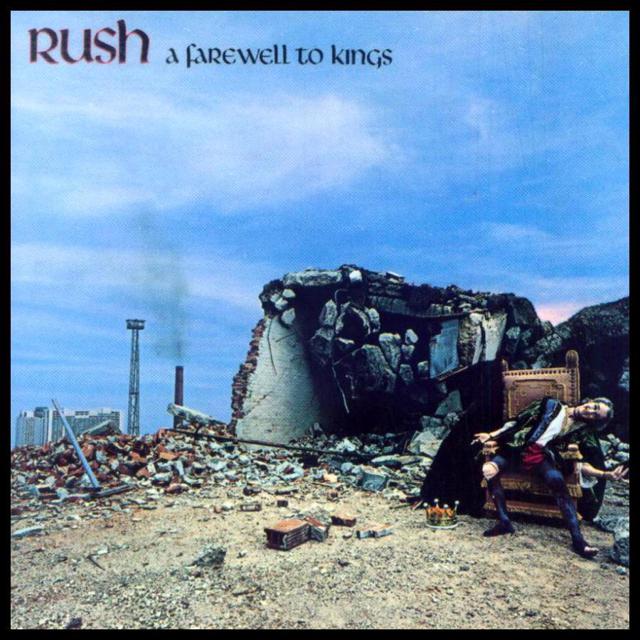 Source: stereogum.com
Here are the lyrics to the first verse of the epic song Closer to the Heart. (enjoy the video featuring Ed Robertson from Barenaked Ladies and Bubbles from Trailer Park Boys)
And the men who hold high places
Must be the ones who start
To mold a new reality
Closer to the heart, closer to the heart
My other favorite song by Rush is titled Free Will. Here are the lyrics from the chorus to that brilliant song.
You can choose a ready guide in some celestial voice
If you choose not to decide, you still have made a choice
You can choose from phantom fears and kindness that can kill
I will choose a path that's clear, I will choose free will
Rush drummer Neil Peart was a masterful lyricist.
Here's the point. As human beings we all have choices. We all have free will. I would argue that the more money and economic power one has, the more one has the freedom to make choices that are moral, just and may impact society at large.
Unquestionably, both Mr. Icahn and Mr. Ackman have a profit motive investing in the fate of Herbalife's cashflow stream. The distinction between the two investors seems apparent to me.
One of these "Kings of Finance" is dedicated to the proliferation of a global confidence game where participants lie as a matter of routine in order to seduce/recruit new victims into a rigged algorithm that quickly separates them from their capital.
The other King of Finance is dedicated to the notion that society at large would be better off eradicating this sinister fraud from the face of our planet.
Bernie Madoff was a pyschopath and a criminal. He took large sums of money mostly from affluent Jews in the Northeast and stole their life's savings.
Herbalife is more like the Wal-mart of confidence games. Instead of going after the richest of the rich, it targets the poorest of the poor with it's rigged carnival game.
It is my sincere hope that due to the passage of time, Mr. Icahn now clearly understands just how up to his eyeballs he is in this unseemly enterprise. It is my sincere hope too that he does the right thing, resigns from the board, takes his lumps and moves on.
All great Kings make mistakes. Why? Because all great Kings are human.
"To err is human, to forgive divine." - Alexander Pope
e.g. It wasn't that long ago that Mr. Ackman admitted a mistake as a result of an unsuccessful turnaround effort at JC Penney. Pershing Square liquidated its entire JCP position at prices north of $12 per share. Today, JCP trades around $7. With the benefit of hindsight, this decision was prudent for Pershing Square's investors even though it was surely painful.
I would also argue that the prudent course of action for Mr. Icahn would be to distance himself from Herbalife as soon as he can. In order to encourage this sort of idea, I might ask Mr. Icahn the following list of questions:
If you were invited by Michael Johnson to a Herbalife Extravaganza, would you be willing to stand-up on stage and sign autographs for aspiring Supervisors in Latin America like the people in this video?
If invited to a graduation ceremony for Universidad Del Exito in Peru, would you be willing to dress in cap and gown, hand out diplomas and pose for photographs with families like these?
If Mark Hughes was still alive today, would you be willing to invite him to dinner with you and Tim Cook?
Do you think it is a good idea to teach new recruits to "fake it til they make it"?
At what point in time does conscience trump revenge as an investment motive?
Doesn't Herbalife make you feel icky on any level at all?
Many of Shakespeare's great tragedies captured the downfall of Kings. King Lear springs to mind. Hopefully Charlie Gasparino's good buddy "Uncle Carl" won't befall a similar fate.
Through my lens, Mr. Carl Icahn has had an illustrious career as an investor. In comparison to his whale-like achievements, most of us seem more like this guy.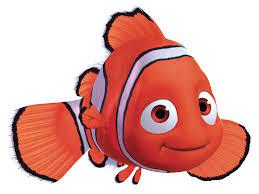 Source: disney.wikia.com
Certainly, as investors we can learn a great deal studying his investments in Apple or forging the mergers in Dollar Store land. He is also philanthropic in his private life. This is the stuff of legend.
That is why his Herbalife investment strikes me as somewhat disappointing. Respectfully, I submit that Herbalife's entire ethos is beneath him in every way, shape and form. Plus, I think the bull case is just pretty weak due to the churn rates inherent in the business.
I only hope he has a "come to Jesus" moment before it is too late - too late for his reputation, too late for his bank account and too late for his investors.
To close, faith-healing strikes me as a business better left to others. Certainly, lying to the masses is better left to this guy.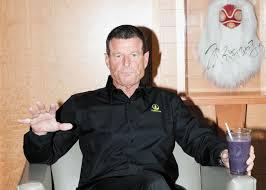 Source: businessweek.com
As for owning 17 million shares of Herbalife? Whether or not Mr. Icahn was mislead by management, his "warrior gene" or both is somewhat immaterial. The central question du jour is "What is the right thing to do now?"
I believe Mr. Icahn will do the right thing. I believe Mr. Icahn's conscience is eating at him.
If it turns out that I am incorrect, unfortunately he will only have himself to blame if things turn for the worse yet again.