This chart tells me that commodities is the place to be for the next 10-12 years. But 2019-2020 is just the beginning.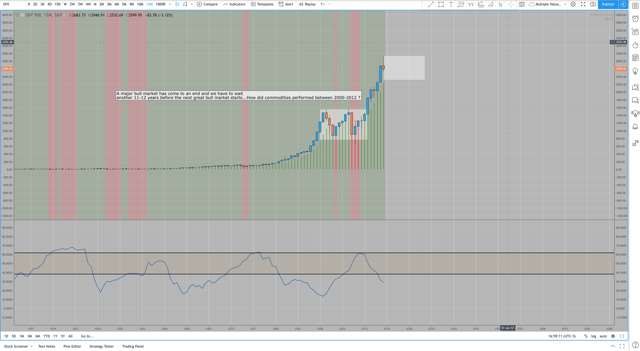 I took a long term look on the markets right now and especially the SPX.
In my humble opinion commodities such as grains and gold/silver, will massively outperform stocks in the next 10 years .
It is my belief that we are entering a massive consolidation phase in stocks such as the one between 2000-2012.
During that period we had 2 crashes (dot.com and real estate bubble) and markets basically contracted energy.
Crashes like the one in 2000 and the one in 2008 was nothing more than just a big consolidation in the longer term picture.
Hence for the next 10-11 years it is my belief that we will have 2 "crashes" instead of a major one , end of the world crash. Probably we will see a big correction into 2019-2020 and then enter another bull leg , then another short leg (next crash) and then final bull leg , before starting the next big bull market in 2030 .
My point is that during the period from 2000-2012 where stocks did nothing (stayed in a big range) gold and silver exploded tremendously (especially silver which in my opinion is the biggest bargain right now) , and grains also did great (corn , wheat, soybeans).
However I still prefer metals is the greatest opportunity.
it is my humble opinion that for the next 10 years gold and silver will massively outperform stocks.
I have done also some cycle analysis on grains and metals that I might post in other posts later on , but they show me that they have bottomed. 
For people who are wondering what the one indicator on my chart is  , its called choppiness index , and you basically understand when a market is extracting energy (like a marathon runner which is about to start a marathon) , and when its contracting energy (when a marathon runner finishes her race) .
My point is that the marathon runner has run out of energy right now , and this isn't temporary . Its gonna take a long time (about 10-11 years) to gain energy for the next major bull phase like the one we had from 1991-2000.
The golden era for stocks in my opinion (in terms of investing as well) will be from 2030-2040.
We see this pattern of expanding for 10 years , consolidation for 10 years .
Just a reminder that in then period between 2000 and 2011 gold went from a low of 253 to a high of 1923 !!!
Thanks for reading !
Disclosure: I am/we are long GLD.