After being linked to the death of wildlife and harming of pets and children, rodenticide brand d-CON will finally be removed from the shelves.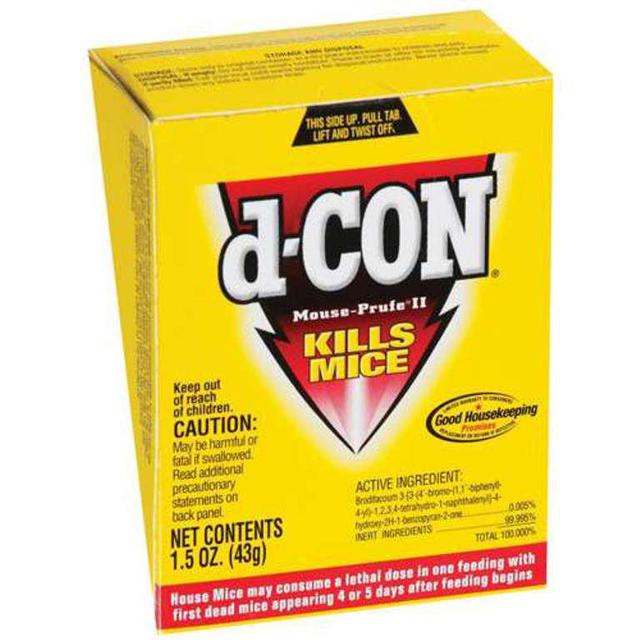 d-CON's maker Reckitt Benckiser Inc. announced recently that it will stop selling 12 mouse and rat poison products, which contain second-generation anticoagulants or drugs that prevent the clotting of blood.
SFGate said the brand has long been subjected to lawsuits and regulatory actions from the Environmental Protection Agency (EPA) and the California Department of Pesticide Regulation.
Environmental groups said the anticoagulants have resulted in thinning blood, uncontrollable bleeding and death for animals accidentally exposed to the product.
The EPA said that around 10,000 children per year were accidentally exposed to rodenticides while hawks, owls, foxes and mountain lions were found dead after eating poisoned rodents.
EPA Office of Chemical Safety and Pollution Prevention assistant administrator Jim Jones told SFGate that stopping the sale of those products will help lessen the risks to children, pets and wildlife.
The agency earlier called for the ban of the chemicals after the manufacturer violated safety standards to prevent poisoning of children and animals. But Reckitt Benckiser instead challenged the ban through a legal challenge.
In the end, the company gave up and announced that it will replace d-CON with a new approved product line of rat baits.
SFGate also quoted Jonathan Evans, toxics and endangered species campaign director at the Center for Biological Diversity, saying, "This is a significant victory for environmental protection and corporate responsibility."
"While the fight isn't over until all of these hazardous products are off the market, this decision keeps the worst of the worst products from residential consumers," he said.
Campaigns against toxic products and consumer demand for healthier and safer alternatives have in turn resulted in the creation of natural and organic alternatives like Pacific Shore Holdings, Inc.'s (PSHR) Nature-Cide, a range of pesticides and insecticides made from essential oils.
Unlike their chemical counterparts, Nature-Cide's sprays are 100% natural and safe for children and pets.
Its outdoor pest spray, made from Cedar oil, Citronella oil, Clove oil, Garlic oil, Mint oil, Peppermint oil, Cinnamon oil, Geranium oil, Lemongrass oil, Rosemary oil, kills insects and repels rodents and reptiles.
According to the company, the combination of the essential oils emits an odor that is noxious for insect and pests, resulting in an insect's paralysis and death and disorientation among rodents and reptiles.
Continuous use of the pesticide will keep rodents away from buildings and homes while keeping pets and children safe.
In a recent interview, Pacific Shore chief executive officer Matthew Mills said Nature-Cide is among their company's potential growth sources.
He said Nature-Cide is within a billion-dollar industry, competing against brands that are mostly toxic and made from chemicals.
"We have pesticides that cost less than poisons sold by other pesticide companies. We make products that are affordable to everybody. We have a very unique strategy that is unlike any other company out there," he said.