To get the news to the web immediately, several media publications are moving towards mobile journalism.
Editor and publisher website writer Joe Strupp, in his special report about mobile journalism, said "An increasing number of newspapers employ mobile journalists, otherwise known as 'mojos'. As the technology and gadgets to capture and transmit multimedia data on the go become more widespread, reporters spend more time on the ground, expected to quickly file stories for the Web."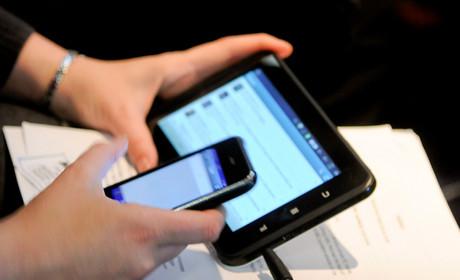 Taylor and Francis Online's abstract of the book, The Mojo in the Third Millennium, meanwhile said due to the advent of digital technology, mobile journalists or mojos are increasing.
"Digital technology has revolutionized the journalist's toolkit with affordable miniaturized still and video cameras for producing high-quality multimedia, and connection equipment enabling that content to be transmitted via satellite from almost anywhere on the globe for publication on the Internet," the book stated.
The book stated that more news managers are hiring mojos because they are not as costly as the traditional news teams and they do not need expensive office space.
A Washington Post article from an interview of Chuck Myron, one of the mobile journalists working for Florida-based News Press said that some local newspapers now make use of the web to post his stories with the help of digital technology.
The article which was published in World Association of Newspapers and Publishers said that mojos, like Myron are provided with laptop, a mobile phone and digital camera to cover the local news. Myron posts his articles quickly on the web. The move appeared to have been working as reflected by the hits to Web sites.
In today's world, everything a journalist needs to publish a story is just a click away and with the right tools, a mobile journalist can record interviews, edit clips and broadcast stories on the web as it unfolds.
One tool a mobile journalist can utilize is London-based Audioboom Group PLC's (BOOM.L) Audioboo.
Audioboo is a social media platform that can be used by radio stations, broadcasters, journalists, producers, podcasters and musicians to achieve farther reach for their contents.
According to the company's website, the platform allows content partners to provide their contents to millions of fans worldwide through embeddable players, mobile applications, Facebook and Twitter integration.
Audioboo has been used by established media entities such as BBC, Al Jazeera, The Guardian and Daily Telegraph.BBC has partnered with Audioboo to post sound clips from their programs to their websites. Journalists from the Guardian uses Audioboo's recording tool to broadcast their reports as it happens. The Telegraph has been using Audioboo to upload a lively weekly debate and embeds in back into a news article.
In a Stock Analysts article about Audioboo, Rob Proctor, Audioboo's CEO was quoted as saying "Brands should take advantage of Audioboo and reach out to start a dialogue with any number of its users; there have already been over 70 million boo listens and users are looking for new and exciting boos every day. Engaging with potential and existing customers or clients via the spoken word can be much more emotive and effectual, plus, as a form of online PR it's a great tool with which to connect with journalists and share audio to other, more established social profiles."
The company's audio social platform has 13 million active users in all platforms that include mobile applications and website partners. It has 2.5 million users and 2,000 content channels