It is an alarming situation when the entire world is fighting with this historical economic crisis; inflation is adding additional pressure on government as well as consumers. Major contributor of this whopping hike in inflation is food inflation at present context. Mismatch between demand and supply worldwide created chaos and sent prices of many commodities at multi year highs.
According to the latest data, food inflation rose to 17.47 % for the week ended November 21, 2009 against 15.58 % in the previous week owing to spiraling prices of vegetables, pulses and sugar. If we talk about overall WPI inflation, it got doubled to 1.34 % in October compared to 0.50 % in the previous month. On year on year basis, food prices jumped by 13.32% in October only. Rice, pulses, sugar and potatoes, onions was up by 13.22%, 22.81%, 45.70%, 96.43% and 37.60% respectively.
Reasons for inflation and its impact on economy:
·

        
Bleak monsoon coupled with worst drought in nearly four decades in the countrysituation is haunting the entire economy. According to an estimate, India may see a drop of 18% in Khariff crop. It will create further demand and supply mismatch. People will spend less, if prices will move in the same way and ultimately it will affect most of the sector of economy.
·

        
To encourage farmers to produce more, government has recently increased the MSP (Minimum support Price) of rice, oilseeds, cotton, sugar and many more. Higher MSP immediately pushed up the prices. Though the long term impact of this step will be positive, as more farmers will produce more to get good remuneration.
·

        
Hoarding by stockiest, farmers in anticipation of further hike in prices is also creating a demand supply mismatch, resulting in higher food inflation.
·

        
Government has to compete high with the large scale entry of private players, which procure grains aggressively for biscuits, millers and manufacturers of processed foods.
·

        
Declining trend of public investment in agriculture is another concern for government at present.
Measures to check inflation:
·

        
To give immediate relief from inflationary pressure, government is planning to check the supply deficiency. It has allowed importing sugar. It will import rice, as rice production is expected to drop in 2010. Import duties on oil seeds have been slashed.
·

        
Money supply should be checked, otherwise in the time of scarcity excess liquidity will accelerate inflation further.
·

        
Distribution process should be very fast and transparent. Currently we need a well managed and coordinated distribution of stocks through PDS (Public Distribution System), open market sales of public stocks etc. Hoarding should be avoided here and government should keep an eye on this.
·

        
This rising inflation has become a major threat for economy. The only key way to contain the inflation is to bridge the gap between demand and supply, which may check the price rise.
·

        
Unfortunately, Indian agriculture is characterized by low input and low output systems. Hence we have to increase the productivity. For example: Yield of paddy in India is only 2.9 tonne/hectare, as compare to 7.5 tonne/hectare in US.
·

        
Check the rising cost of cultivation. Increasing land, labour, fertilizers and other inputs is discouraging farmers to produce more in absence of sufficient liquidity.
·

        
Apart from grain, government should also create buffer stocks or strategic reserve of oil seeds and other crop, so that it can release it at the time of crisis.
Apart from reasons and measures to check inflation, other concern in Indian economy is the parameters to check inflation. It is well known that India is the only country which considered WPI (Wholesale Price Index) while rest of the countries measured CPI (Consumer Price Index). WPI consists of 435 goods over 1993-94, as base year in which the weightage of food items is only 16%%, which has large weightage of consumer spending in India. Though WPI in India is still in single digit, if we consider CPI it is already in double digit due to dearer farm articles and their higher weightage in measures. In CPI, food articles have 50% weightage. Hence there is a wide gap between the weightage of food articles of WPI and CPI, which are unable to give the clear pictures. Furthermore, 2/3rd of the price quotations used to calculate the WPI are sourced from only four metros. Hence to get the real picture, area should be widened.
Comparison Between Food Article Inflation And WPI (2008-2009)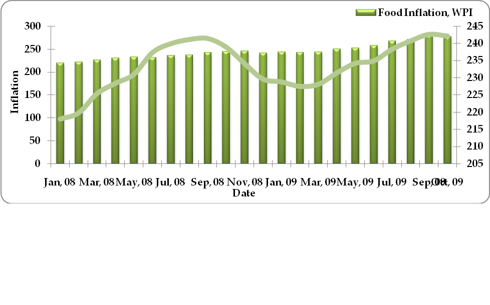 In the above chart, it is a comparison between food inflation and WPI from January, 2008 to October, 2009. Line chart is representing food article inflation and bar chart is indicating WPI monthly inflation. It appears that food article inflation is more volatile and rising more. It has started its northward journey in the month of April and it is still continued. Arrival of khariff crop is less likely to cool it as we are expecting 18% decline in khariff crop. Hence downside will be limited, rather it may move in a range with upside bias.
The words of future
RBI (Reserve Bank of India) has revised its outlook for inflation and expecting that it should be between the range of 5% to 6-6.5% for the year ending March 2010. There is fear in the economy is that the real impact of almost 18% drop in kharif rice production is to reflect in inflation. It would occur when khariff produce; rice, pulses, oilseeds and cereals would start coming in the market. With witnessing favourable weather conditions, economy is expecting strong rabi produce, which may cool off inflation of food articles to some extent, however, we cannot rule out the possibility adverse weather. Ultimately what matters is final produce and yield. Government has to take care of everything like, demand –supply equilibrium, money supply, distribution etc, otherwise it will become nightmare for "aam admi" and hamper the economic growth.
Disclosure:
no position