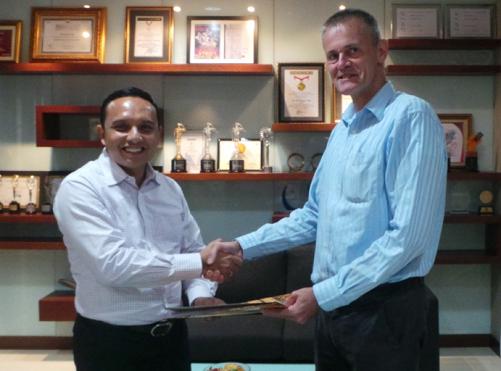 JAKARTA, April 8, 2014 - PT XL Axiata Tbk (NYSE:XL) today officially announces its merger with PT Axis Telekom Indonesia (AXIS) has become effective, marked by the signing of merger deed by both parties. This means XL and AXIS have now become a single business entity that will serve more than 65 cellular subscribers throughout Indonesia.
Previously, XL on March 19 had concluded the acquisition process which officially makes XL the majority shareholder in AXIS.
XL Axiata President Director Hasnul Suhaimi said, "We are grateful and extend our utmost appreciation toward the support of all parties, paricularly regulators, shareholders, as well as XL and AXIS consumers, which led to realizing this merger. Consolidation in the telecommunications industry has become a necessity to ensure healthy and sustainable growth. Through the merger with AXIS, we hope that XL will be able to provide better service quality and reach more subscribers throughout Indonesia."
The official merger between XL and AXIS means that both companies have legally joined to become a single business entity. This will generate positive impacts and deliver greater benefits for subscribers, such as ensuring better service quality and network (better), serving bigger number of XL subscribers (bigger), and provide wider availabiliity of products and customer services in the market (wider)."
About XL
PT XL Axiata Tbk. is one of the major cellular providers in Indonesia. PT XL Axiata Tbk. is 66.5% owned by Axiata Group Berhad through Axiata Investments (Indonesia) Sdn Bhd and public 33.5%, and is part of Axiata Group with Robi (Bangladesh),Smart (Cambodia), Idea (India), Celcom (Malaysia), M1 (Singapore), SIM (Thailand) and Dialog (Sri Lanka).
Reference: