Business Overview
Pro-Dex(PDEX), founded in 1978 is based out of Irvine, California. It designs and produces powered surgical and dental instruments as well as motion control products used in the medical, factory automation and scientific research industries.
Financial Position
The company has very little debt and lots of cash. With greater than 1.5x the cash than liabilities and a Price to Book under 1.9 Pro-Dex is in a very strong position financially.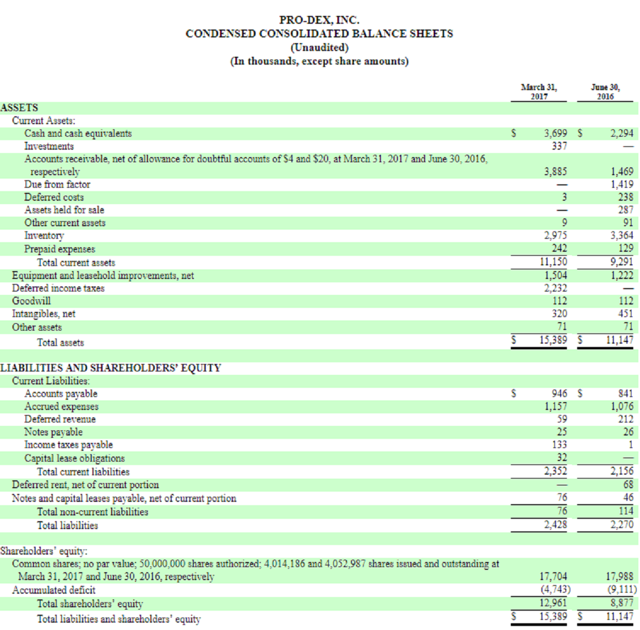 Earnings History
from the company website ,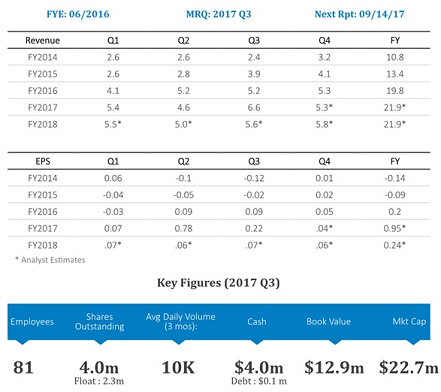 *There is only one analyst covering the company and their estimates have not been updated in a long time so I believe they are not reflective of the recent success of the company.
The company as of their 2016 annual report was experiencing a backlog of $12.9 million up from $11.3 million 3 quarters prior (8.1 million delivered next fiscal year and 4.8 million remainder of this year) 8.6 million of the backlog is from new purchase orders from their largest customer which is roughly equal to the amount of revenue from that customer in the previous 4 quarters combined. The company does not provide guidance or do conference calls, but this backlog should provide shareholders with a significant amount of short term revenue security. Additionally they did mention in their 10-K that engineering services revenue should continue increase into the future. The company has also increased the number of full time employees from 76 to 81 in the past year which could be attributed to increased demand.
Management
As you can see from the above graph earnings have significantly increased since the new management team took over in January 2013. About Us The all new board is heavily invested in the company, over 40% of the company is owned by insiders and they have been adding to their positions. Nick Swenson holds 27.9% of the voting shares and Ray Cabillot owns 13.9%.  Due to the decisions new management has made already in the turnaround of the company I believe they can be trusted to continue making the right moves going forward.
Industry
Medical device industry is growing,Medical Technology Sales To Hit $500B Within Five Years
The sector Pro Dex is in is characterized with a high fixed cost and most of the growth will go directly to the bottom line. (In the past quarter Pro-Dex's cost of sales increased 8% year over year while its revenue increased 28%.)
Risks
Average volume is also roughly 10,000 shares a day, so exiting and entering positions may require diligence and patience.
Due to non-disclosure agreements information on their customers is not available, but it can be seen from their filings that their largest customer has grown significantly in the past year to now represent 48% of their sales in the most recent quarter. Obviously losing a customer that size could be devastating to their business, but given their recent increase in sales with that customer relations appear to be strong. They also have managed to increase revenue since 2015 in which their largest customer at that time(making up 49% of revenue) decided to move operations in house and sales to that customer has significantly declined since then which is a testament to the company's ability to adapt to these risks.
Earnings can be unpredictable and quite variable in this industry as customers could abruptly decide to move their operations in house (despite switching costs being high). Sales unpredictability can vary greatly from quarter to quarter as well, but the large backlog the company has should mitigate much of this risk in the short term. Also, future projects may not be able to replicate current projects' profitability once their term finishes. Because of these reasons I think investors are still weary of the recent results, without having looked into the details behind the dramatic turnaround of the company.
Expansion In The Works?
Pro-Dex has cancelled its share repurchase program in the last quarter and secured a 500k line of credit in the past six months they haven`t drawn upon. It seems to be accumulating cash potentially for an acquisition or expansion of its operations (its current lease expires in April of 2018).
Conclusion
New management has engineered a significant turnaround in the company leading to the company increasing its utilization, becoming profitable, tripling its market cap and they have continued to add to their own positions. The company is currently operating under the radar, but as they continue to put up successful quarters coverage of the company should grow and so should share price to more accurately reflect the success of the business.  
Disclosure: I am/we are long PDEX.