Actionable Items:
Highest Positive Spread: MS China A Shares (NYSE:CAF)
Lowest Negative Spread: Kayne Anderson Energy Development (KMP)
Focus Stock(s) of the Week: Cohen & Steers Quality Income Realty (NYSE:RQI)
Last Week's Focus Stock:
CEF Weekly Review: On average, the 13 closed-end fund (NYSEARCA:CEF) types registered a share price increase of 0.1% for the week ending 10/19/12. The high-low spread (average percentage price change difference between the highest and lowest fund types) registered this week was +0.05% versus +0.21% the previous week. On an aggregate unweighted basis, the weekly average price change for the approximately 600 CEFs in the GrowthIncome database was -0.05%.
The PowerShares CEF Income Composite (NYSE:PCEF), an ETF that invests in taxable fixed-income CEFs, advanced -0.6% for the week. PCEF is now up 9.1% YTD on price appreciation alone. Currently, PCEF's trailing twelve months' yield is 7.9% (an YTD month total return of 17.0%).
Reality Seeps in Around the Edges: Earlier this week-after some hesitation-investors determined that things were really "that bad". Earnings were not that pretty. The DJIA declined 205.43 points on Friday after escalating on Thursday 1.7%. For the week, the average was +0.3% for the week and +14.0% YTD.
S&P 500 trading volume (GSPC) this week advanced 17.1% to an average 3.7 billion shares. The 205.43 down day for Friday was that spectacular as only less than 5.0 million shares were traded.
CEF Weekly Fund Type Performance: The performance of the equity CEFs was late in coming. The LoanPartFnds was up 1.0%, the ConvtSecFnds was up 0.7% and the WrldEqFnds was up a 0.6%. GenEqFnds was up 0.4%. Off for the week was USMrtgBndFnds (1.1%), OtherFnds (0.6%) and HiYldBndFnds (0.3%).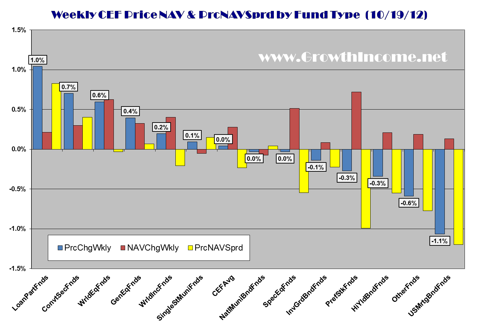 MS China "A" Shares was up 3.3% and NAV was up 0.5% for a gain of PrcNAVSprd of 2.8%. Kayne Anderson Energy Development (NYSE:KMP) was down 6.7% and NAV was off by 0.2% for a PrcNAVSprd of a negative 6.5%. The quarterly dividend was launched last week and was raised by $0.04 for a $0.43 quarterly distribution.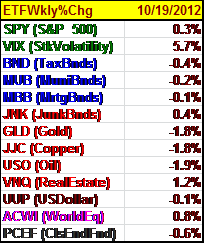 Focus Stock(s) of the Week: The Cohen & Steers Quality Income Realty fund is priced below the NAV of 4.1%. The distribution is 6.8%. The assets are $1.2 billion and the debt is 27.5% of the assets.
Joe Eqcome
Disclosure: I am long RQI, CAF. I wrote this article myself, and it expresses my own opinions. I am not receiving compensation for it. I have no business relationship with any company whose stock is mentioned in this article.