The weekly review chart (see below) of the Eqcome CEF Portfolio™ (CEFBig10™, CEFMuni10™ and CEFDisc10™) that appears on the Joe Eqcome website[1] has been adjusted in two significant ways.
1.     Adjusted Returns: Due to the fact that a CEF must make periodical distributions, as required to meet regulatory and IRS requirements to qualify for its conduit status, a significant portion of a CEFs total return includes such distributions. As a result, the valuations going forward will include the prices adjusted for previously paid distributions during the measurement periods.  
2.     Comparative Indices: Both the CEFBig10™ and CEFDisc10™ will be compared to the adjusted price of the SPDR S&P 500 ETF (NYSEARCA:SPY). The CEFMuni10™ will be compared to the adjusted price of the iShares S&P National AMT-Free Muni Bonds ETF (NYSEARCA:MUB).
It is believed that these two modifications to the Eqcome CEF Portfolios™ will provide better performance comparisons of CEF fund types.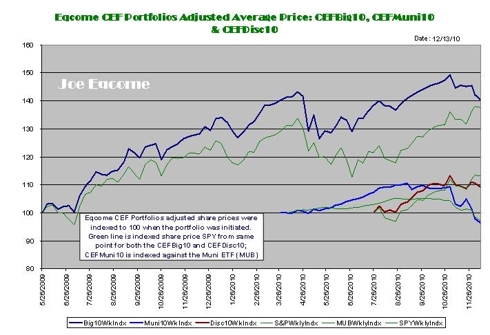 Joe Eqcome (Disclosure: Owns the Eqcome Portfolios)
---
[1] www.joeeqcome.web.officelive.com