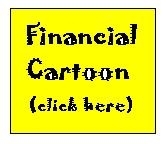 CEF Focus Stock(s) for the Week: The focus stock of the week is The Adams Express Company (NYSE:ADX). On Friday, ADX released it proxy statement for its upcoming annual meeting.

The proxy contained a shareholder proposal by the Gramercy Optimization Fund ("Proponent") for the board of ADX to affect a 50% self-tender offer. "If more than 50% of the funds outstanding shares are tendered, the Fund should purchase the shares on a pro rata basis and the Board should, at its discretion, take the steps necessary to liquidate, merge or convert the Fund into an open-end mutual fund." (Click Here[7])
The Proponent advanced two reason for its proposal: 1) mediocre performance; 2) a greater than industry average discount for an extended period of time.
Change at ADX is Clearly in the Best Interest of the Shareholders: For those of you who have been following this blog know my position has been that change was needed both at the Board and management levels—since it appears the Board serves at the pleasure of Management. The Board has not been effective in maximizing shareholder value. Substantiating the Proponent's concerns was a series of articles published last year around this time. That series ended with, "Adams Express: Vote "No" on Incentive Compensation[8]" (3/9/10). From this thread you can hyperlink back to the series of articles which articulate the issues.
Across the Bow: This is a clear "shot across the bow" and will likely facilitate the narrowing of the discount over time as there is a strong case for change at ADX to maximize shareholders' value. (When reading management's response to the proposal, please substitute "Management" for "Stockholders" as it reads more true to form.)
Previous Recommendation: My recommendation has always been for ADX to establish a managed distribution program as its net investment income and capital gains would generate an annualized yield of around 6%. This would attract more income investors and help narrow the discount without destroying the investment structure or management of the operation.
Where is Your Investment Banker When You Need Him? If management were smart it would use an old management trick to stop dead an errant proposal: "let's study this issue".
Parry: A parrying response from the ADX Board would be: "The Board of ADX understands and appreciates shareholders' concerns regarding the large and persistent discount of ADX. This has been a major concern of ours for a long time. As a result, we have commissioned a third-party independent investment bank to look at the various ways to maximize ADX's shareholders' value to narrow this persistent discount gap. We would ask our shareholders to bear with us as this study is being undertaken with recommendations advanced and not vote in favor of this proposal until a full and comprehensive study has been undertaken."
Too little, Too Late: ADX's perpetual lack of concern for their shareholders has led them to this doorstep. I'd recommend ADX's shareholders vote in favor of the Shareholders' proposal. A clear message for change needs to be delivered.

Outlook:
The PowerShares CEF Income Composite (NYSEARCA:PCEF), an ETF that invests in taxable income CEFs, was up 0.1% for the week. The S&P 500 advanced an additional 1.0% for the week and is now up 6.8% YTD. Using the SPDR S&P 500 ETF (NYSEARCA:SPY) as a proxy, average daily volume was off 10% for the week (volume data for the S&P 500 looked suspicious at the end of the week.)
(Click Here [2] for YTD CEF Performance. The table is based on a smaller CEF sample size as all the data fields are not available for the CEF universe.)
The Eqcome CEF Fear Index for the week increased. The average unweighted price increased 0.5% while related NAV was up 1.3% indicating more caution than fear. After the 20.5% plunge in the VIX two weeks ago, and a further drop 1.5% last week, the VIX increased 4.7% this week to 16.43. Typically contrarian indicators the S&P and the VIX both increased for the week.
Money Flows: There was a surge of inflows into long-term mutual funds with $9.3 billion for the week ending 2/9/11. The shift of money flow from bonds to equities continued for a fifth week with most of the outflow in bonds coming from muni funds. Domestic equity funds also surged to $4.9 billion, a 248% increase from the previous week. Taxable bond funds experienced an inflow of $3.0 billion. (See, "Outlook" section)
Muni bond investors have been besieged on multiple fronts. From municipal deficits, to public pension rancor in the media regarding sanctity of state pension plans, the cessation of Build America Bond program, higher interest rates at the long end of the yield curve, and a SEC inquiry as to valuation practices by muni fund managers.
Separately, there was a $5.6 billion increase in money market mutual funds. Institutional investors added $8.6 billion to the coffers while retail investors withdrew $3.1 billion for the week ending 2/16/11.
Additionally, closed-end fund assets increased $658 million in the 4th quarter of last year to $240.7 billion. (See, "Closed-End Funds Assets Increased 4Q '10[3]" (2/16/11)).  
Weekly money flows into the Dow Jones U.S. Total Stock Market Sectors was up 1.1% for the week ending February 18th with an Up/Down Ratio of 1.04. Oil and Gas, which was last week's money flow loser, was up 3.8%; Telecommunications saw an outflow of money at 0.7%.
CEF Weekly Fund Type Performance: The price change spread among the highest and lowest of the 13 CEF fund types was fairly narrow at 1.8%. There was a continued price change bias favorable towards equity-oriented CEFs. All those fund types below the average were fixed-income oriented CEFs.
SingleStMuniFnds, NatlMuniBndFnds and HiYldBndFnds all experienced share price appreciation less than the change in the respective NAVs. Investors have become fearful of muni bonds for reasons described above. Investors may have become cautious with respect to high yield bonds as prices have rallied and the average current yield (6.837%) has fallen to its lowest level since 2004 according to Merrill Lynch's high yield bond index.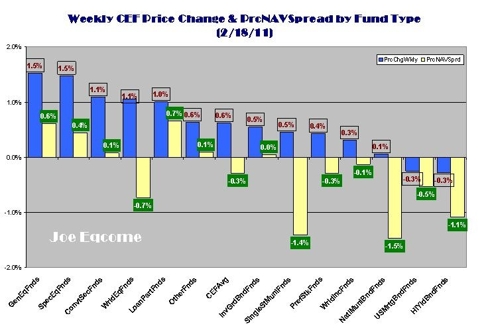 Weekly CEF Winners and Losers: One of the CEFs with the greatest positive spreads for the week was ASA (Bermuda) Limited (NYSE:ASA). ASA price advanced 4.0% versus its NAV which declined 4.6%; this generated a positive PrcNAVSprd* of 8.6%. The generation of this positive spread was more a function of a 4.6% decline in NAV.
ASA invests in public companies globally that are engaged in exploration, mining or processing of precious metals including gold, silver, platinum, diamonds, etc., and may hold a portion of its assets in bullion.
The SPDR S&P Metals & Mining ETF (NYSEARCA:XME) also appreciated approximately 4.0% for the week. So, there must be something unique to ASA's portfolio that caused its NAV to decline as much as it was reported.
The CEFs with the greatest negative PrcNAVSprds this week was mostly small muni CEFs. One of those CEFs with a large negative spread was Invesco Insured Municipal Trust (NYSE:IMT).   
IMT's price declined 2.4% while its NAV increased 1.8% generating a negative PrcNAVSprd of 4.2%. IMT has been tarred with the other muni CEFs. It is currently trading at a 2.7% discount and at a nominal monthly annualized yield of 6.8% with a taxable equivalent yield of 10.4%. I don't know what level of protection the insurance coverage provides investors. Its largest holding is a State of Illinois, Ser 2001 (Natl-Re Ins 5.38 01Apr 2015).  
Economic & Earnings Outlook: (Click here [4] for next week's economic calendar; click here [5] for earnings' announcements and estimates.)
ETFs: For a more detailed EFT performance by sectors, click here [6].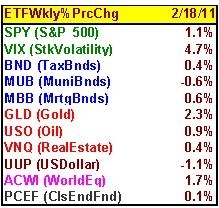 Insider Trading: The third week in February saw only 3 insider trading transactions. The largest of which was Daniel Neidich, director of General American Investors (NYSE:GAM), who continued to accumulate shares for a family trust, Prince Street Investors, LLC. Indirectly, Mr. Neidich added 9,500 at a price of $27.65 per share for a capital outlay of $270,660. This brings his total direct and indirect holdings of GAM to 90,656 shares.
Additionally, as mentioned last week, Lazard Asset Management, LLC, filed a 13G having acquired 1,704,626 shares for a 5.64% ownership interest during February. 
There were two other smaller insider transactions in the CEF space. Kinchen C. Bizzell, both a director of Bancroft Fund, Ltd (NYSEMKT:BCV) and Ellsworth Fund Ltd (NYSEMKT:ECF), acquired 280 shares at $17.78 and 655 shares at $7.59 per share, respectively.
(Click here for a hyperlink to the Joe Eqcome's CEF Weekly Insider Report.)
CEF Distribution Announcements This Week: The following is a link to a table of CEF distribution announcements this week as well as the previous week's with yet expired ex-dividend dates. The list is not intended to be inclusive. (Click Here for Joe Eqcome's Weekly CEF Distribution Announcements)
Significant CEF Corporate Events: The India Fund (NYSE:IFN) announced Friday its semi-annual repurchase offer will commence February 18, 2011 and terminate on March 11, 2011. In April 2003, stockholders of the IFN voted to adopt an interval fund structure, pursuant to which the IFN conducts semi-annual repurchase offers for between 5% and 25% of the Fund's outstanding common stock. Accordingly, the Fund's Board of Directors (the "Board") authorized the Fund's repurchase offer for the semi-annual period of up to 5% of its outstanding common stock.
Caveats: The "CEF Focus Stock(s) for the Week" section includes CEF stocks of interest to me—and possibly other retail investors—and are subject to further analyses. Their inclusion in this section should not be viewed as recommendations based on the analysis provided here alone. Such stocks are basically a "heads-up" of something that might be of interest—or, not.
Joe Eqcome (Owns a diversified portfolio of CEFs and ETFs and is long stocks in the CEFBig10™, CEFMuni10™ and CEFDisc10™.) 
Additional Disclosure: Eqcome CEF Portfolio™: Joe maintains three separate CEF portfolios that have different investment objectives: CEFBig10™, CEFMuni10™ and CEFDisc10™ (see website).
The first is a balanced equity-income portfolio (CEFBig10™), the second a tax-exempt income portfolio (CEFMuni10™) and the third a portfolio whose objective is capital gains with a secondary objective of current income (CEFDisc10™).
These portfolios will soon be available to retail investors at a nominal fee to maximize equity-income for retirees and retail investors.
The recent increase in interest rates and the pressure on muni funds has placed downward force on the stock prices since the late-2010 (See: Performance Chart[9])
---
[*]
All things being equal, price and NAV should move in tandem. A price movement greater than the NAV generates a positive PrcNAVSprd and may be interpreted as negative on a near-term basis and indicate that the stock is overvalued relative to its NAV which in theory is the stock's intrinsic value. The opposite would be true for a negative PrcNAVSprd.
CEF Weekly Review:
On average the 13 closed-end fund (NYSEMKT:CEF) types registered an increase of 0.6% for the week ending 2/18/11. The high-low spread was +1.8% versus +3.0% the previous week on an average of +0.6% versus +0.2%, respectively.
On an aggregate, unweighted basis, the weekly average price change for the 500 plus CEFs in the Eqcome database was up 0.5%.