Actionable Items:
Highest Positive Spread: Japan Smaller Capitalization Funds (NYSE:JOF)
Focus Stock: Aberdeen Indonesia Fund (NYSEMKT:IF)
Last Week's Focus Stock: Mexico Fund (NYSE:MXF)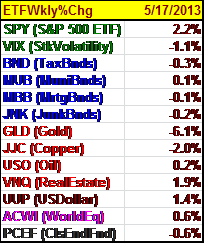 Equities or Bonds: Sales have come in below forecasts for the 1Q. While analysts had expected 0.5% growth, the rate is 0.2%. Among companies that have reported, 48% beat Wall Street's projections for sales, below the average of 52% from the past four years.
Economists' predict that the second quarter growth rates will not grow at rates beyond 2.5% in the first quarter. The European quagmire has taken its toll, the Sequester and healthcare premiums will have their effects on growth.
However, the Thomson-Reuters/University of Michigan "early-May" consumers' sentiment index jumped to 83.7 in May from 76.4 at the end of May-the highest in since 2007.
P/E Ratios: The 2013 P/E ratio is 14.9 times S&P 500 earnings (bottom/up). The average median is 14.9 for the 1942 average (14.8 for the 1871). The average for P/E ratios was 1997 to 2003 over 20.0x time earnings.
There is little you can do if treasuries are yielding below negative yields. The only thing you can do is invest in equity yields. The bond markets are in crises. If there is a rise in interest rates, the bond markets will come undone.
Resources: The US Dollar (NYSEARCA:UUP) is up to 1.4% this week. Gold (NYSEARCA:GLD) prices are down -6.1%. Gold fell for the seventh day on Friday. Gold Miners Bear 3X Direxion (NYSEARCA:DUST) and DB Gold Double Short ETN Powershares (NYSEARCA:DZZ) are likely candidates for a further falling gold. Copper (NYSEARCA:JJC) is also down -2.0%, while Oil (NYSEARCA:USO) is up by 0.2%.
CEF Weekly Fund Type Performance: This week saw price rises for GenEqFnds (1.3%), ConvtSecFnds (1.0%) and WrldEqFnds (0.7%). The laggards were bond funds NatlMuniBndFnds (-1.4) SingleStMuniFnds (-1.4%) and USMrtgBndFnds (-1.7%). NatlMuniBndFnds and SingleStMuniFnds all had their monthly distributions this week. The PrcNAVSprd was USMrtgBndFnds off 1.6%.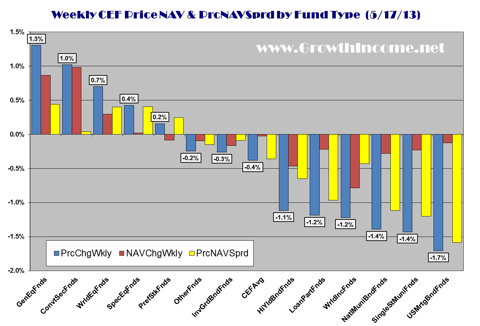 Highest Spread and Stock for the Week: Japan Smaller Capitalization Funds was ahead by a price increase of +4.3 and NAV per share was down by -1.5%. The PrcNAVSprd was +5.8%. (A positive number may mean a future decline in share price). The annual distribution per share is at 1.2% yield. The net assets are $286 million with no financial leverage. The fee structure is 1.2%. The discount is -3.2% which is a 52 week high discount of -2.8%.
Japan has lower interest rates and advanced money supply to the tune of 20%. The "three arrows" of Abe's plan for economic stimulus are monetary policy, fiscal policy, and structural growth strategies. The monetary and fiscal policies are two pointing in the right direction. Abe's party is likely to win the elections and gain control of both houses. It's pro-economic growth.
Lowest Spread and Focus Stock for the Week: Aberdeen Indonesia Fund was our Focus Stock of the Week. IF's share price was negative -1.9% and its NAV per share was a plus +0.5%. Its PrcNAVSprd decline was -2.4%. The discount is -10.4% which is a 52 week average of negative -5.3% (a discount of -13.2% for a 52 week average low). The assets are $138.7 million with cash alternatives of 18.9%. Financial, consumer discretionary and consumer staples add to 66% of the portfolio.
Focus Stock & High Price for Last Week: Last week's "Focus Stock" for the week was Mexico Fund and closed-out the week at +3.7%. Invesco VK Senior Income (NYSE:VVR) (Highest Spread-a negative decline in share price) closed-out a negative -2.1% for the stock.
Joe Eqcome
Disclosure: I have no positions in any stocks mentioned, and no plans to initiate any positions within the next 72 hours. I wrote this article myself, and it expresses my own opinions. I am not receiving compensation for it. I have no business relationship with any company whose stock is mentioned in this article.