Revised
Note: This is the revised weekly as the originally published weekly was the text of last week. Apologize for the error

CEF Weekly Review: On average, the 13 closed-end fund (NYSEMKT:CEF) types registered a share price increase of 1.6% for the week ending 8/26/11. The high-low spread registered this week was +3.4% versus +4.4% the previous week on an average price change of +1.6% versus -1.2%, respectively. On an aggregate unweighted basis, the weekly average price change for the 600 plus CEFs in the GrowthIncome database was up 1.4%.

The PowerShares CEF Income Composite (NYSEARCA:PCEF), an ETF that invests in taxable income CEFs, increased 2.5% for the week erasing most of last week's loss of 2.7%. The S&P 500 rose 4.7% cancelling out last week's decline of a similar amount. The S&P 500 narrowed its loss YTD to 6.4%.  

Trading Volume: The average daily volume for the S&P 500 (Pending:GSPC) rose to 5.3 billion shares, up 19.9% from its previous week on top of a 14.5% increase the week before. Volume has ratcheted up in August as volatility has spiked. We've seen the S&P 500 average monthly volume escalate sequentially from a low of 3.2 billion in February this year.  (See "Outlook" section above) (See, "Uptick, Downtick" below.)

(Click Here for YTD CEF Performance. See, "Research" Menu; "CEF Weekly Information" tab)

The Eqcome CEF Fear Index eased materially for the week on the upside. The average CEF unweighted price increase was 1.4% and the average related NAV increased 0.1%. The VIX after surging for four weeks finally eased 17.3% to 35.59. This is below the high anxiety level of 40 where it was hovering at the end of the previous week.

CEF Weekly Fund Type Performance: The CEF fund types much lined up pretty as one would anticipate in a broad-based equity markets advance: equity-oriented CEFs advanced and fixed-income CEFs registered below the CEF market sectors' average.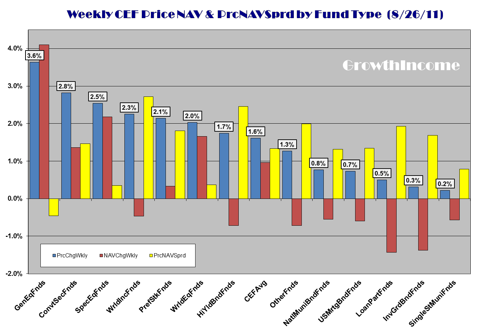 There were several curious exceptions. WrldIncFnds advanced 2.3% and HiYldBndFnds rose 1.7%. In each case while the average share price increased their respective NAV's declined. WrldIncFnds are still shadowed by the uncertainty of the sovereign debt turmoil and the financial institutions that hold such paper. In the case of HiYldBndFnds, junk bonds have recently seen their worst rout since the financial meltdown. The Barclays Capital High Yield Index over Treasuries has widened to 7.7% from 5.9% since the end of July.  The highly leveraged HiYldBndFnds may be benefiting from the low interest cost on their leverage.

Economic & Earnings Outlook: (Click here [1] for next week's economic calendar; click here [2] for earnings' announcements and estimates.)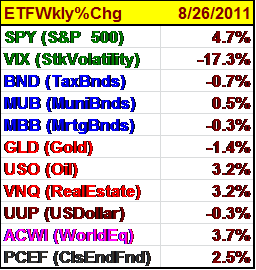 ETFs: For a more detailed EFT performance by sectors, click here—see, "Research" Menu; "ETF Weekly Information" tab.)

Insider Trading: Insider trading continued at a robust pace in the in the fourth full week of August with an additional $6.5 million in stock purchases.

The biggest contributor to this total was again William H. Gates, III, of Microsoft fame. Mr. Gates added an additional 856,661 shares for capital outlay of $6.2 million in Western Asset/Claymore Inflation-linked Opportunities & Income Fund (NYSE:WIW). Mr. Gates has now accumulated 8,553,464 shares of WIW and is a 13.1% owner. Additionally, First Trust Portfolios, LLC owns 16.8% and Wells Fargo owns 7.6% of WIW.

A director at Equus Total Return Fund (NYSE:EQS), Robert Knauss, purchased an additional 20,000 shares at a price of $2.32 per share bringing his total holdings to 15,870 shares

(Click here for a hyperlink to the Joe Eqcome's CEF Weekly Insider Report—see, "Research" Menu; "CEF Weekly Information" tab.)

CEF Distribution Announcements This Week: The following is a link to a table of CEF distribution announcements this week as well as the previous week's with yet expired ex-dividend dates. The list is not intended to be inclusive. (Click Here for Joe Eqcome's Weekly CEF Distribution Announcements—see, "Research" Menu; "CEF Weekly Information" tab.)

Joe Eqcome (Owns a diversified portfolio of CEFs and ETFs and is long stocks in the CEFBig10™, CEFMuni10™ and CEFDisc10™.)  

The first is a balanced equity-income portfolio (CEFBig10™), the second a tax-exempt income portfolio (CEFMuni10™) and the third a portfolio whose objective is capital gains with a secondary objective of current income (CEFDisc10™).
---
[*] All things being equal, price and NAV should move in tandem. A price movement greater than the NAV generates a positive PrcNAVSprd and may be interpreted as negative on a near-term basis and indicate that the stock is overvalued relative to its NAV which in theory is the stock's intrinsic value. The opposite would be true for a negative PrcNAVSprd.
---
Disclosure:
I am long
PCEF
,
WIW
.