The prime candidate for an annuity is often someone more concerned about losing money than making it.
Security of an Annuity: The security of receiving fixed income during retirement and having a vehicle to protect current assets is often all it takes to sell somebody an annuity. However, it is advised that one take a closer look at the many different types of annuities and their often overlooked potential caveats before signing on the dotted line.
Annuity is Insurance: As with any insurance product, an annuity is only as good as the insurance company's ability to make good on the contract. If an insurance company were to go insolvent, as Executive Life Insurance Company and 62 others did in 1991, policy holders would lose big time. In addition, the only protection provided to customers of failed insurers is state-mandated, industry-funded guarantee funds that have maximums set by each state. Under this scenario, it is unlikely that a policy holder would receive the full amount of what they are owed.
Landscape Changing: Buyers of annuities need to be aware that the industry is changing. Several insurers backed by investment firms are pushing into indexed annuities-without the annuity salesmen. Just last year fixed-indexed-annuity sales totaled a record $33.9 billion-according to insurance research group. The sales represented nearly 50% of all fixed-annuity sales, which is up from about 15% a decade ago.
Fidelity Personal Retirement Annuity®: This annuity can be classified as a deferred variable annuity because contributed funds are withdrawn at a later date specified by the contract and return rates can vary based on the investment holdings in the portfolio.
Unlike many variable annuities however, the Fidelity Personal Retirement Annuity® has no guaranteed minimum return. Funds contributed by policy holders are invested in a select group of funds (59 at the time of writing) selected by the policy holder whose performance determines the rate of return. A strong selling point for this annuity is the ability for tax-deferred growth, similar to a 401K. This means that taxes aren't paid until funds are withdrawn.
For Comparison's Sake: Let's look at how the above mentioned annuity compared to a typical taxable investment account (both 36.8%). This example makes the following assumptions:
Initial tax-deferred investment of $250,000;
6.0% annual rate of return;
No return on initial tax-deferred appreciation or losses;
0.25% annual fee for the annuity;
All income (after taxes and/or fees) is reinvested;
36.8% tax rate (33% ordinary income tax and 3.8% Medicare surtax);
Fund and transaction fees on your taxable investment account or the annuity contracts and will depend on your tax rates (36.8% or 15.0%).
Chart 1: Chart 1 shows how the Fidelity Annuity outperforms a taxable investment account at a 36.8% rate.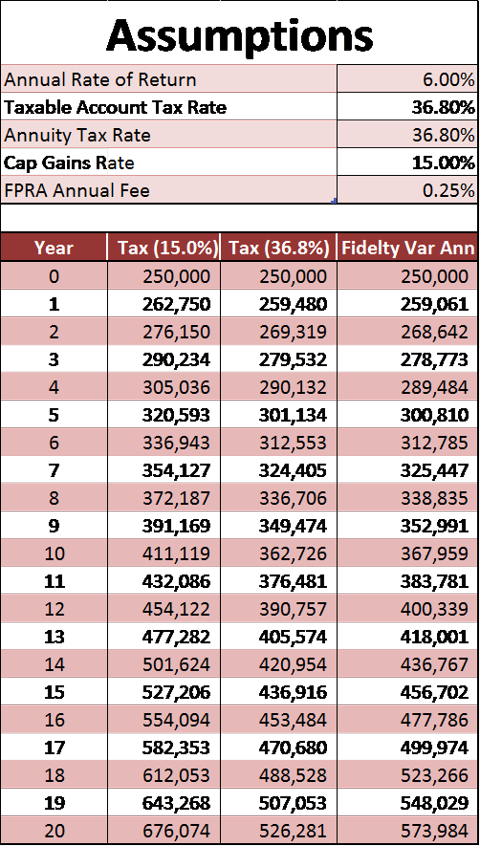 However, liquidating the account all at once could put the policy holder into a higher tax bracket. For this situation, the tax imposed would come to 43.4% (39.6% ordinary taxes and 3.8% Medicare surtax) amounting in a final value of $540,150.
To avoid this, Fidelity Annuity would need to be liquidated over the course of several years (or "annuitized"), which would lengthen the deferral period to which you receive the tax rate of 36.8%.
Twenty-Years: In addition, Chart 1 shows us that the annuity is doesn't really make any sizeable impact until the 10th year of accumulation. Clearly this annuity is a long-term investment that should only be considered for such circumstances.
Dividend Appeal of Taxable Investments: As we have seen, annuities are a way to secure a future income stream for when you really need it. However, there are other methods of supplementing your income which can provide better tax qualifications.
Investing in taxable dividend funds can provide you with income that will be taxed at the Qualified Dividend Rate of 15.0% (not 36.8%). This method can boost your investment return by a significant amount.
Chart 2 shows the results of investing the same $250,000 into a dividend allocated taxable investment account. This method will produce an extra $100,000 at the end of the 20 year annuity time frame.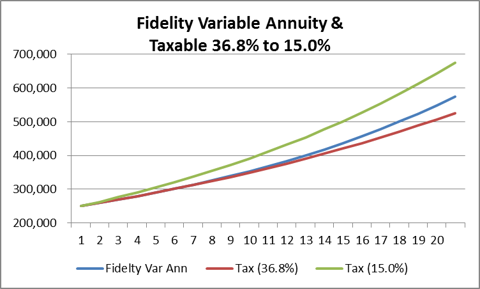 Early Withdrawal Penalties: If you are younger than 59 ½ and withdraw money from you annuity, you will be accountable for:
1. A 10% penalty (twenty-five percent of recipients of annuity are likely to withdraw early);
2. Ordinary income taxes from the Federal government on your withdrawal;
3. Medicare surtax;
4. State and local taxes (California is 1%);
5. Penalty withdrawal by the annuity company.
You are not allowed to deduct ordinary losses (stock, bonds, real estate, etc.) from these penalties.
Types of Annuities:
1. Immediate Annuity: These products provide to policy holder with an immediate steady stream of income for a specified period of time or for as long as the policy holder is alive (annuity payments are forfeit to the insurance company). Because these products start making payments to the policy holder immediately, they are often used by those already in retirement.
2. Deferred Annuity: With these products, the policy holder pays the insurance company a lump sum (or installments) that will be paid back to the policy holder with interest at a later date specified in the policy. These policies can also include an income component that will provide regular payments to the policy holder for the rest of their life or for a specified period of time.
3. Fixed Annuity: These provide the policy holder with a guaranteed fixed interest rate (return rate) and can either be immediate or deferred policies.
4. Variable Annuity: These products provide the policy holder with a guaranteed minimum interest rate (return rate) plus exposure to various investment products. The money provided by the policy holder is invested into mutual funds, stocks, bonds and other investment vehicles that can provide added return. Although the account value can fluctuate with market conditions, the policy holder may or may not be the guaranteed to receive the minimum interest rate regardless of the policy holder's account value at the end of the accumulation phase. However, variable annuities are often subject to high management fees.
5. Indexed Annuity: This is a special class of annuities that determines the policy holder's return on an equity-based index such as the S&P 500. The majority of these annuities have a guaranteed minimum return to protect the policy holder in case the index on which the annuity is based performs poorly. In contract, these annuities will also have a maximum cap that protects the insurance company in case the index performs extraordinarily well. The management fees on these types of accounts also tend to be high and will eat away at the policy holder's return.
6. The Hybrid Annuity: This is essentially the same as an Indexed Annuity except the policy holder has control over the investment selections.
When All is Said and Done: Annuities can be a good way to secure a future income stream if you have a significant amount of time before that income is needed. However, sorting through the various annuities available can be a headache, especially when many of them have high fees that aren't readily disclosed. However, often the fear of uncertain future income is enough to start overpaying for your own money.
Joe Eqcome
5.
Disclosure: I have no positions in any stocks mentioned, and no plans to initiate any positions within the next 72 hours. I wrote this article myself, and it expresses my own opinions. I am not receiving compensation for it. I have no business relationship with any company whose stock is mentioned in this article.