During each stock market cycle, investors have shifted their fixation from one metric to another in an attempt to foretell the market's direction. At one point it was the money supply (the "M's"), while at another it was the CPI. Currently, investors' new focus of obsession is the employment numbers, particularly, new weekly unemployment claims. While unemployment is typically thought of as a lagging indicator, the reduction in new unemployment claims may be so far lagging that its leading.
The chart below illustrates the relationship between the S&P 500, as measured by the weekly adjusted share price of the SPDR S&P 500 ETF (NYSEARCA:SPY) versus the weekly seasonally adjusted unemployment claims indexed from 1993. The chart illustrates the inverse relationship between the two.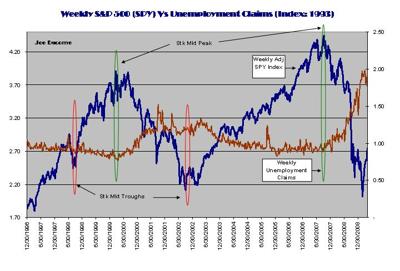 The recent peaking and flattening of the seasonally adjusted new weekly claims for unemployment should be watched carefully. Any further confirmation of a deceleration could set the stage for another powerful upward leg in the stock market recovery.
Joe Eqcome