Unfortunately, for Trump, The Future is Less Predictable.
Conversations about the impeachment of President Donald Trump is likely to be a possibility.
Both Robert Mueller, III, head of the Special Counsel investigation of Russian interference in the 2016 United States elections, has looked closely at Manafort and Flynn. Both of whom face possible legal jeopardy for allegedly failing to disclose that foreign governments or parties may have been the beneficiaries of their consulting and lobbying work, as they seek potential links between Trump's campaign and the Kremlin. Additionally, Mr. Trump's awareness at his company's efforts to procure a business deal in Moscow, as described by Mr. Cohen, in house attorney, came during the campaign when he often praised Mr. Putin.
On the "Arpaio Pardon", Mark Joseph Stern (Slate) comments: "Trump has always wanted to stifle judicial oversight. Now he's shown he will." Additionally, Mr. Stern says: "The commonalities between Arpaio and Trump are striking. Both men disdain the rule of law, and Arpaio's unrestrained racial profiling and harassment of perceived enemies—he arrested journalists who wrote about him critically—all sound like true expressions of Trump's own deep desires." However, any moves by Mr. Trump's to interfere in the legal process (by pardoning his friends) would be a further evidence of obstruction of justice.
Whether Mr. Mueller suggests impeachment, or if it goes to trial in the Senate, it may be unlikely that a Republican Senate would impeach Trump for an obstructionist clemency. However, Mr. Trump has irritated a few Senators who may want to walk away from the president. Yet, Mr. Mueller would have to link Trump's organization to the Russian investigation.
Stock Market Economics
The Stock Markets: 1) Tactical, 2) Economic, 3) S&P Earnings Projections, 4) P/E Ratios, 5) U.S. Policies Changes, 6) Individual Investors, and 7) Stock Market Internals:
Tactical:Tactical is the "short-term" stock markets movement. These are:

Politics may cause the U.S.'s stock markets to decline over the balance of the year.
However, the "Operating Earnings Per Share" for the 3rd quarter's 2017 will be slightly higher (6.9%) than the 2nd quarter's earnings (6.6%). Additionally, "As Report Earnings Per Share" will be 8.8% in the 3rd quarter of 2017. The earnings per share may turn down in the 1stquarter 2018. (See graph)
While interest rates may remain higher as the Federal Reserve hike rates for the third time this year, interest rates may remain low into the future—as P/E's may remain elevated.
Tax cuts schedules for corporations by President Trump's administration (35% to 20%) will likely raise next year's earnings per share. However, the debt limits will be an issue for this administration.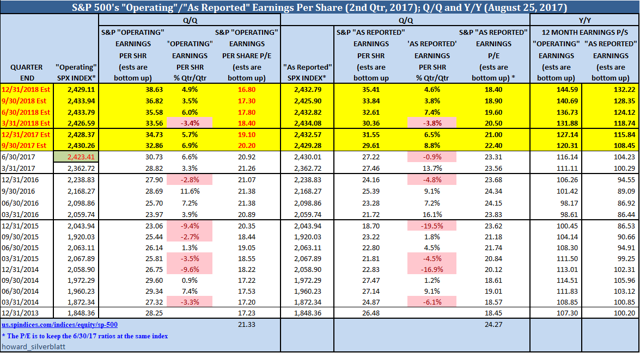 Economic: The GDP's 2nd quarter growth proved to resilient, a revised 0.4% higher in the second estimate to a 3.0% annualized rate. The strength is centered on consumer spending and is now at a 3.3% rate for a 0.5% upward revision.
Non-residential investment was also a positive, at a 6.9% rate following the prior quarter's 7.2% showing. Residential investment, however, was a drag on the second quarter, at a negative 6.5% rate that followed a positive 11.1% rate in the first quarter. Government purchases were negative for a second straight quarter, at minus 0.3% following a minus 0.6% for the 1st quarter. Both 2ndquarter net exports and inventories were slightly positive.
But prices were very weak in the quarter, at a 1.0% rate overall and 1.1% for the core. Inflation aside, the second quarter marked a solid though not exceptional reversal of the first quarter's 1.2% pace and points to constructive momentum going into the 3rd quarter. Personal Consumption Expenditures Chain-type Price Index for June shows that core inflation remains below the Federal Reserve's 2.0% long-term target at 1.5%. While jobs are at a 4.3% rate, the wages are not rising enough (2.5% per annum).
S&P Earnings Projections: Earnings projections for the S&P 500's for 2017 and 2018 are 19.6% and 13.7%, respectively. Additionally, earnings projections from GrowthIncome (shaded "yellow") is for the S&P 500's for 2017 and 2018 to grow 17.0% and 14.0%, respectively.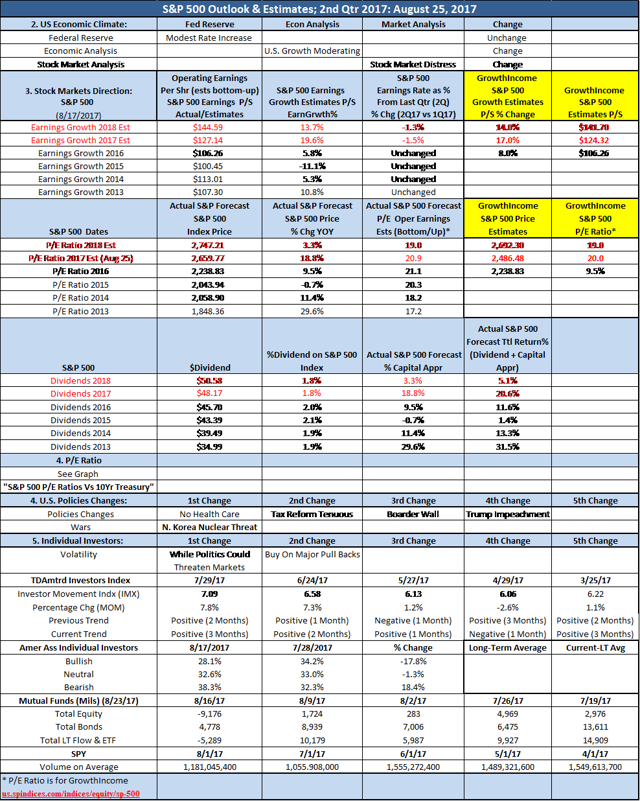 P/E Ratio: Now that we know the year-to-year projections of the S&P 500 earnings growth, the next question is what is the P/E ratio. The "S&P 500 P/E Ratios Vs 10Yr Treasury" is examined from March 2009 to August 2017 when the 10Yr Treasury rates fell. When the 10Yr Treasury rate fell it caused the P/E ratio to be higher. Unfortunately, the 10Yr Treasury rate has decelerated. The rate is 2.12% on August 28, 2017, and March 31, 2017 it was 2.4%.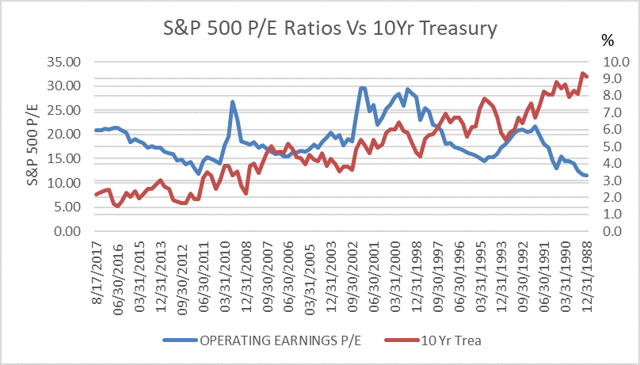 The Fed Reserve plans are to cut their balance sheet from $4.3 trillion but do not expect any meaningful fiscal stimulus until 2018, the minutes showed.
While I don't think, you should be chasing after the stock markets, if there is a big decline in the markets you should be in it. Politics aside, they may not hurt the markets.
U.S. Policies Changes: (See "S&P 500 Outlook & Estimates" number "4")
Individual Investors: Long-term Fund Flow & ETF net issuance on August 17, 2017, show that total equity funds withdrew -$9.2 billion, while bond funds gained $4.8 billion. The Total Funds withdrew -$5.3 billion on August 17th. The SPY (S&P 500) in both August and July was 1.2 and 1.1 billion; off 0.5 billion for June, July and August, respectively. Both American Association of Individual Investors and TDAmeritrade Investors Index is at "S&P 500 Outlook & Estimates" number "5".
Market Internals: The MACD (Histogram) is starting to trend downward; with short-term length being below long-term length (that is prices may go down). The CCI is in a neutral position. Two times the "Imp-Volatility" plotted up on August 11th and 17th to a 0.16 (which is in the middle of the range) and now it is 0.123 on August 30, 2017. The "On Balance Volume" seems to be higher but the price is headed (downward) in the wrong direction. This "On Balance Volume" in fact may be a bear market indication.
Sectors of the S&P 500:
The S&P 500's "Market Capital Value" and "Sector % of the S&P 500" (estimates weight of the components) have been illustrated (See Chart Below). Forward P/E ratios and the 12 months "S&P 500 Projected Ann Grwth" for 2017 for the sectors are that of the S&P Senior Index Analyst.

Evaluation of the Sectors
We have taken the forward P/E ("S&P 500 Forward P/E") and divided it by the long-term growth rates (per share) and the dividend yield multiple by 100. This is the PEGY ratio (Price/Earnings-to Growth and Dividend Yield Ratio). Low PEGY ratios (below 1.0) tend to suggest that a stock is "cheap", but has high earnings potential or dividend yields. Thus, a stock with a low PEGY ratio might be poised for significant price appreciation.
Sector's Market Cap Values
From May 26th to Aug 25th the market value of each sector has declined for Consumer Stable (XLP) and Energy (XLE) (See Graph above). Consumer Stables have been hit by prices of grocery stores chain and Energy with the squabble over OPEC and the Houston destruction by hurricane Harvey. (See "Mkt Cap Value% Aug25/May26") Market value that was higher: Utilities (XLU) and Financial (XLF).
S&P 500 Sectors May Be Good for 4 Months in 2017
The sectors that may be good for the balance of 2017 are: Consumer Disc (XLY), Materials (XLB), Information Tech (XLK), Energy (XLE) and Financial (XLF). These have the lowest scores.
2nd Quarter's Predictions of Sectors
For the 2nd Quarter we recommended Financial (XLF), Consumers Disc (XLY) and Energy (XLE). From May 26 to August 29, the trio was down -0.8%. Financials 5.2% exceed the S&P of 1.4%; however, both Consumers Disc and Energy was off -2.3% and -5.2%, respectively. Consumers Disc was off as retail sales and auto shares prices declined. Energy, was a mess by OPEC quarrels and the Houston energy problem.
Joe Eqcome
Disclosure: I/we have no positions in any stocks mentioned, and no plans to initiate any positions within the next 72 hours.