CEF Asset Growth 1Q: Recently released numbers by the ICI showed that first quarter number for CEF asset growth advanced by 2.4% after advancing 2.3% in the 4Q of last year. At the end of the 1Q total assets for CEFs stand at $247.5 billion versus $1.2 trillion for ETFs.
For both the 4Q of 2011 and the 1Q this year, taxable-exempt fixed income (muni) CEFs were the driving factor. This fund type increased its total net asset value by $8.9 billion to $85.8 billion and continues to represent the largest CEF fund type category.
Surprisingly, NAV for the U.S. equity component was up $4.5 billion to $63.9 billion. Some of this may be a function of some increase in CEF MLP offerings. The loser was global equities that dropped $3.7 billion to $32.5 billion.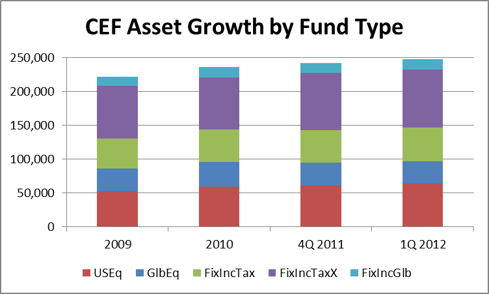 Disclosure: I am long PCEF.