In December, Glu (NASDAQ:GLUU) launched its long awaited Katy Perry Pop game, featuring appearances and even an in-game cartoon version of Katy Perry. Despite the massive social following, being the first person to amass 70 million followers on Twitter, Katy Perry Pop has been sadly labeled by some as "Katy Perry Flop". While I'll admit I had and continue to have long-term visions for the game should updated versions and album releases build the audience, Katy Perry Pop was not the year-end firework it seemed poised to be. Glu management must've figured this, given the poor reviews, beta-testing data, and the awfully lowered fourth quarter guidance. Despite all the headache and heartache, there is one positive to the Katy Perry Pop debacle and that is, we have a current basis to judge the ultimate success or failure of a Glu celebrity game given beta-testing data and reviews. While these methods are by no means complete, and while beta-testing only keys in on a few target countries, they give Glu investors and prospective investors a first-hand look and the game's viability and potential long-term, but most accurately and agreeably short-term characteristics.
To objectively compare the results of Katy Perry Pop from start to present with Glu's currently in-beta Kendall and Kylie Jenner game, we must use data from the countries from which we have data for both. It makes no sense to look at Katy Perry Pop in the United States and try to extrapolate some conclusion. It'll just lead to confusion and misrepresentation. For now, there are three countries we can use to assess Kendall and Kylie in comparison to Katy Perry Pop. The country the beta first appeared in and which has the most data is Singapore. Below are the download ranks for the iPhone iOS app store for Kendall and Kylie and Katy Perry Pop respectively.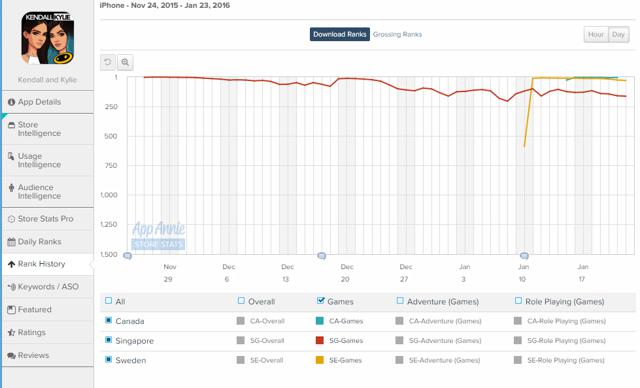 (Source: App Annie)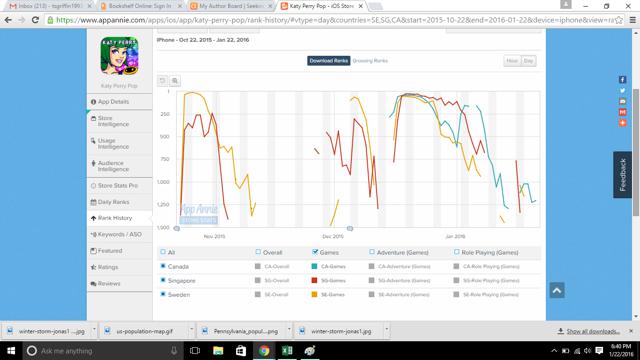 (Source: App Annie)
As per the two separate downloads rankings, there are two very distinct trends emerging. The first one is that while Kendall and Kylie started high in the rankings, there has been a relatively flat tail, while Katy Perry Pop has a pop at the beginning and then fades out. Updates seem to dramatically improve these download ranks with varying results. While Kendall and Kylie seem to maintain a steady stream of downloads, Katy Perry Pop's numbers are very volatile and less predictable. One factor could be that while Katy Perry is a famous musician, she does not have a TV show like the Jenners. Another factor could be that each game has a different demographic that is drawn to them. Katy Perry Pop, if it is to be a success, based on iPhone data, will need a steady streams of updates during the course of its life. The Kendall and Kylie game seems, for Glu, to require less immediate attention with respect to revisions. The biggest factor, however, is actually game quality. Below are reviews for each respective game.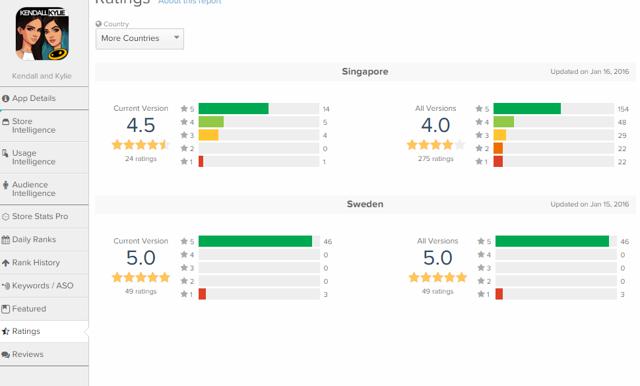 (Source: App Annie)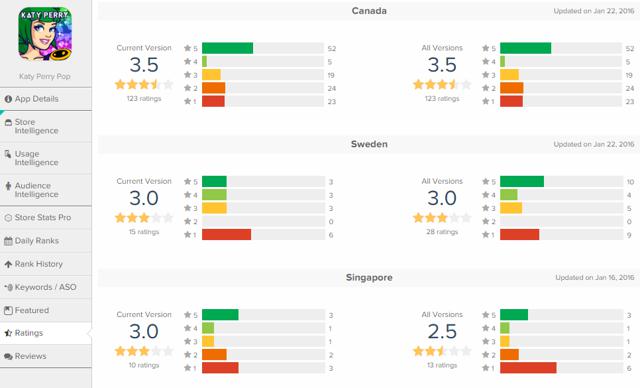 (Source: App Annie)
Based on the reviews, Kendall and Kylie is the apparent winner in terms of game quality, overall experience, and functionality. A sufficient number of reviews cited bugs and crashes as their main issues with Katy Perry Pop. Kat Perry Pop's reviews are bimodal with a great degree of high 5.0 ratings and a great degree of 1.0 ratings with less in between. Kendall and Kylie is more of the gradient developers like to see. While you can't please everyone, a much smaller portion of the reviews are less than 3.0 and the largest portion of reviews favor perfect 5.0 ratings.
While downloads are important to any game, monetization is the key to any successful long-lived game. Glu is no stranger to monetization, having turned Kim Kardashian: Hollywood, its first celebrity game, into its year-over-year annuity-like cash cow. A side-by-side comparison of the two latest Glu creations reveals a similar story to the one played out by downloads.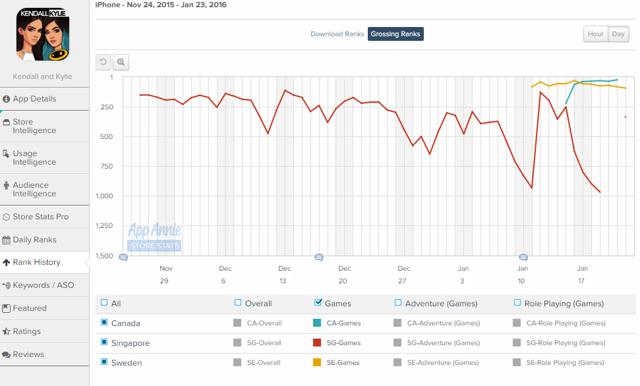 (Source: App Annie)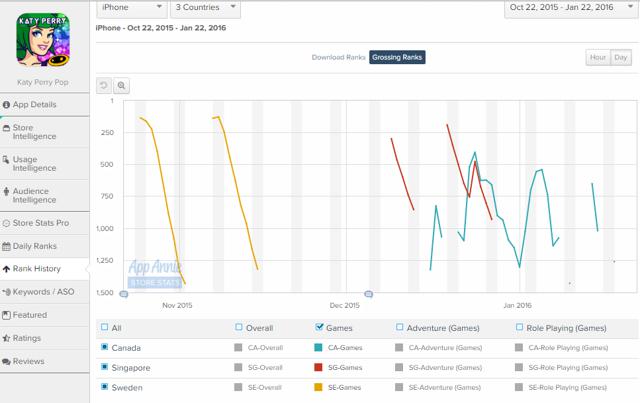 (Source: App Annie)
In conclusion, Kendall and Kylie, while still in beta, is auspicious and based on the rankings evidence, should perform better than Katy Perry Pop. While Katy Perry Pop spikes then drops in rankings, Kendall and Kylie, over the course of several weeks, remains long-tailed and flat, with temporary bumps due to updates. That said, Kendall and Kylie appears to be shaping up behaviorally to have the same annuity-like characteristics of a Kim Kardashian: Hollywood. I am, however, not saying that its revenue will touch or surpass the Glu hit, but I will say that after a long 2015, Glu investors may finally have something to celebrate.
Disclosure: I am/we are long GLUU.
I wrote this article myself, and it expresses my own opinions. I am not receiving compensation for it (other than from Seeking Alpha). I have no business relationship with any company whose stock is mentioned in this article.
Additional disclosure: Please note that this article uses iPhone data and not Google Play store or tablet data that could affect results. Please read my bio to see my qualifications and always exercise due diligence before investing.