Stability Of The European Union (20) July 6, 2013 To August 28, 2013
Please Note: Blog posts are not selected, edited or screened by Seeking Alpha editors.
Stability Of The European Union (19) April 18, 2013 To July 6, 2013This instablog is designed as an interactive News Concentrator devoted to news and discussions about the debt and associated problems in the EU and its member states.
The top portion of the instablog contains useful background information/ charts.
Up-to-date news content is posed in the comments area. So if you are interested in current news, read the comments.
____________________________________________
A picture is often worth a thousand words. Here we have the Percent Economic Growth Rates for three countries: US, Greece, Germany. Note the distinct downturn in the US Economic Growth Rate.
Here is National debt as a percentage of GDP in 2009 for the Euro Zone. Look at Greece and Italy.
Here is Government deficit as a percent of GDP for 2009. Look at Greece and Ireland. Look at UK and Spain.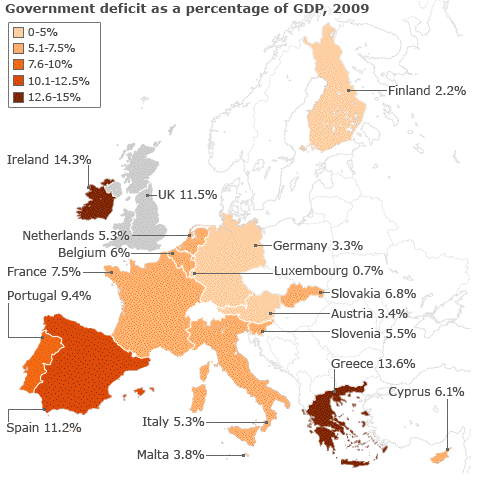 tinyurl.com/2vvcnxv
Here is the all important Jobs Picture as of March 2010. Look at Greece, Spain, Ireland and France.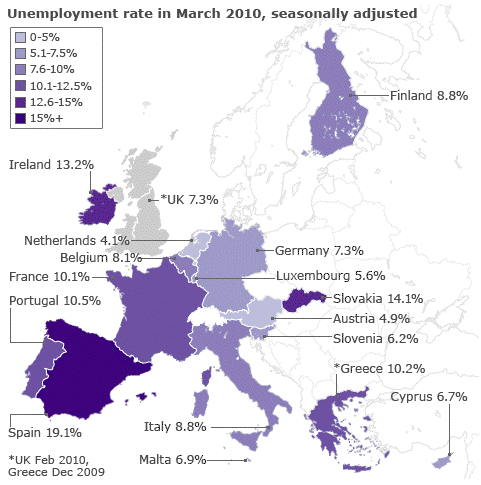 =================
EFSF
What is the EFSF?:
The European Financial Stability Facility (EFSF) is a special purpose vehicle financed by members of the Eurozone to combat the European sovereign debt crisis. The €110 billion bailout to Greece is not part of the EFSF guarantees, but a separate commitment.
When you look at the Guarantee commitments by the different euro zone countries [tinyurl.com/3xde35o] you will see something interesting. Greece, Ireland, Italy, Portugal, and Spain (i.e., the PIIGS) account for over one-third (36.7%) of EFSF commitments. All by themselves, Italy and Spain have a financial commitment of almost one-third (29.8%) of the total EFSF commitment.
___________
(October 23, 2011) I added this nice summary graphic of the Dominoes effect associated with the European debt crisis. You can also see the graphic and the accompanying article with the following link:
(October 23, 2011) Guest Post: The European Financial Crisis In One Graphic: The Dominoes Of Debt. From: Zero Hedge, by: Tyler Durden.tinyurl.com/3ulxgmj
The original copyrighted graphic is from Charles Hugh Smith (" 2011) attinyurl.com/ygsa6j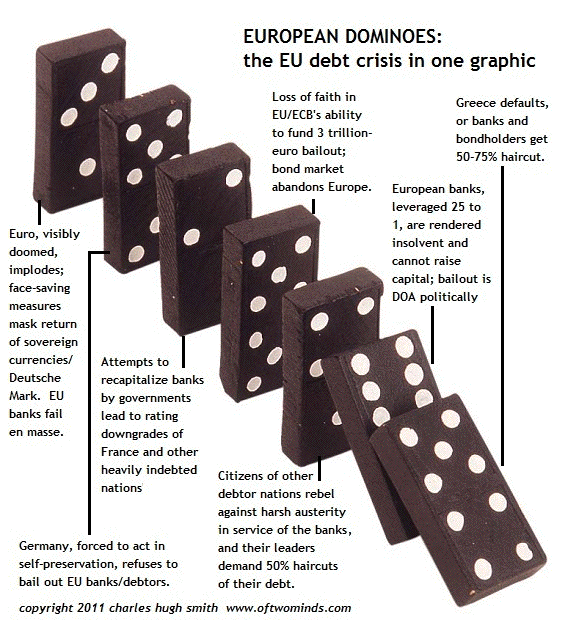 Added February 9, 2012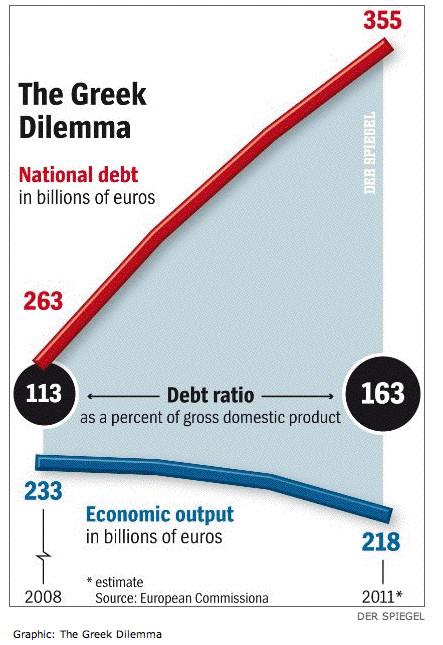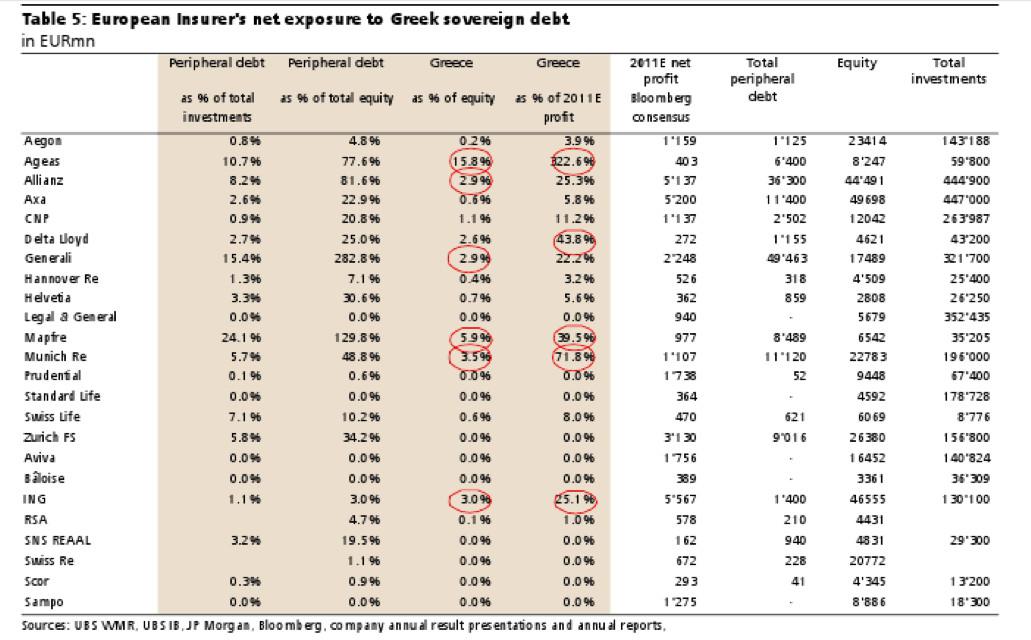 Greek General Government Debt Percent GDP
tinyurl.com/73h5q2x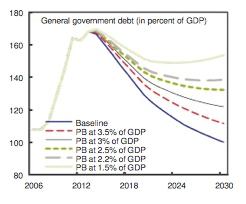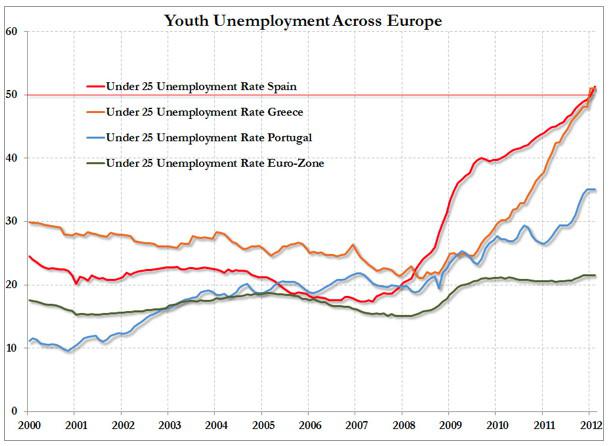 (March 10, 2012) tinyurl.com/7moa6tg
Unemployment for individuals less than 25 rose to 51.1 %, twice as high as three years ago as budget cuts imposed by the European Union and the International Monetary Fund as a condition for dealing with the country's debt problems have caused a wave of corporate closures and bankruptcies.
Fantasy Greek GDP Growth Rates:
In the fantasy report "Greece: Preliminary debt Sustainability Analysis" dated February 15, 2012 which I referred to as the "Deus ex machine" report one of the EUs key economic assumptions was that Greek GDP growth in 2012 would be -4.8% and -1% in 2013.
The Greek economy saw growth rates of:
-0.2% in 2008,
-3.3% in 2009,
-3.4% in 2010,
-6.9% in 2011
-7.5% in fourth quarter of 2011.
(Data from John Mauldin report tinyurl.com/7axvcmw)
I plotted the Greek GDP data below and projected the GDP values for 2012 and 2013 based on the current data. I also plotted the Greek GDP projections from the Deus ex machine report - blue line.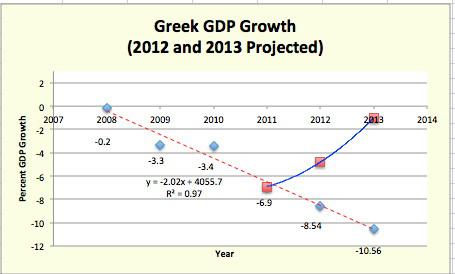 There is no Greek stimulus, jobs are in freefall. Which projection do you believe?
(March 29, 2012) Greek Deposit Run Update: Hopeless And Getting Worse. tinyurl.com/8425yf7
============
Added April 27, 2012
Q1 unemployment is now one quarter of the working population or 24.44%, up nearly 2% from the 22.85% as of December 31
Global PMI Changes from March to April 2012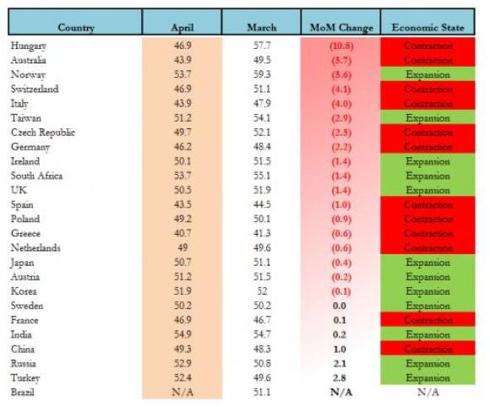 From: ZeroHedge tinyurl.com/76d39dj
FUNDING GAP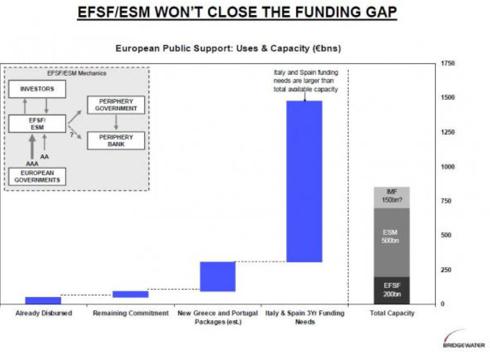 From: ZeroHedge - tinyurl.com/88qfjmc
Ten Year Bond Yield Curves as of 7/20/2012
From: The Disciplined Investor tinyurl.com/7yg5zku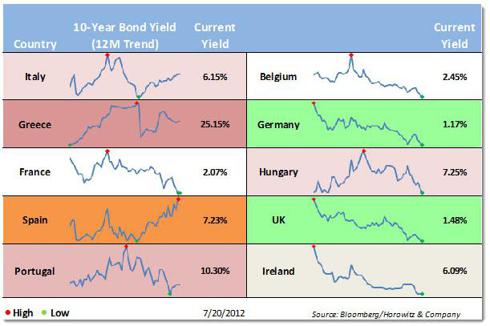 Here are some interesting charts on Italy sourced from Bloomberg's BRIEF
August 7, 2012, available on "The Big Picture" site:tinyurl.com/8lty5uj.
I verified the shadow economy figures in the following sourced article about shadow economies:
Shadow Economies: Size, Causes, and Consequences by FRIEDRICH SCHNEIDER and DOMINIK H. ENSTE, Journal of Economic Literature
Vol. XXXVIII (March 2000) pp. 77-114 tinyurl.com/8fpz6nz.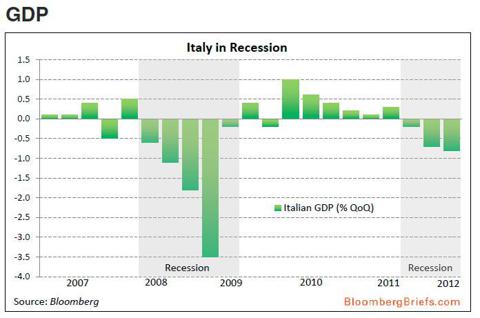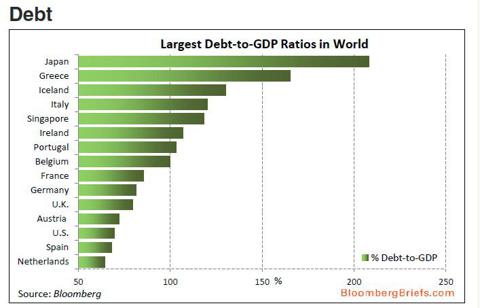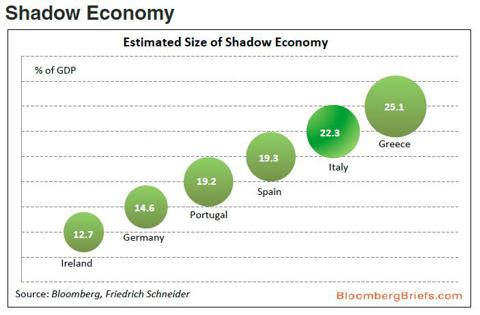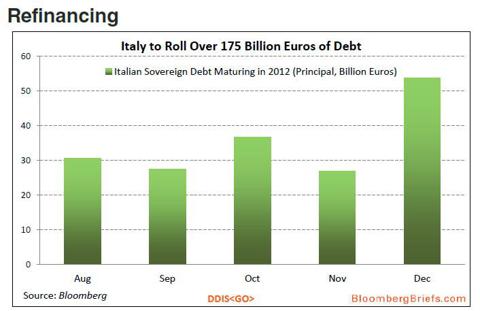 ----------------------------------------------------------------------------
2013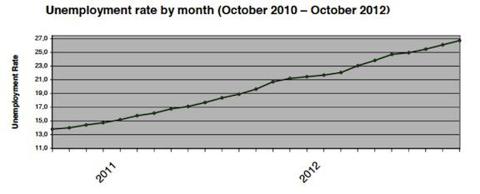 From: Labor Force Survey by the Hellenic Statistical Authority January 10, 2013 tinyurl.com/bzjlk4m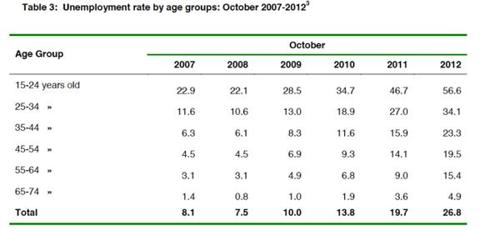 From: Labor Force Survey by the Hellenic Statistical Authority January 10, 2013 tinyurl.com/bzjlk4m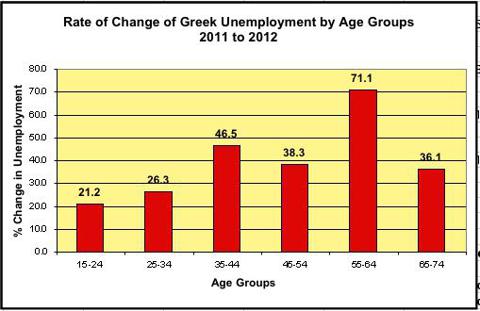 This chart is based on the data from the Hellenic Statistical Authorities Labour Force Survey published January 10, 2013.
This shows the rate of change of unemployment among age groups from 2011 to 2012.
Yet the Greek government, under the direction of the Trokia, is about to initiate an even more Draconian series of spending cuts and tax increases.
Remember the IMFs fantasy report? GDP was supposed to start increasing again in 2012. Instead, it continued to fall, and this is one of the reasons why. They are systematically forcing people out of their jobs. No jobs, no income, no income, no spending.
Yes, the 15-24 age group has unemployment at 56.6%, but as this chart shows, the older age groups are suffering a higher rate of increase of unemployment. So they are rapidly catching up.
============
Latest youth unemployment chart as of May 31, 2013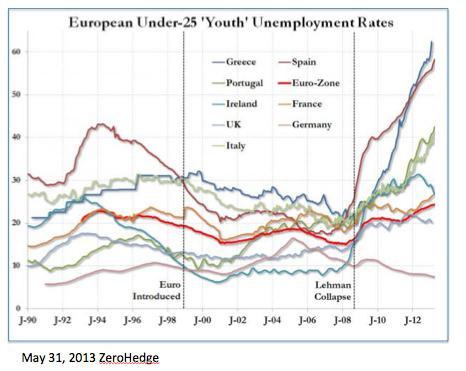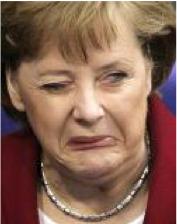 ----------------------------
Remember, the top portion of this insta contains some useful historical information. CURRENT NEWS is posted in the comments area.
WARNING: This is a no Troll Zone. If you are disruptive, your comments will be deleted.
Seeking Alpha's Disclosure: Past performance is no guarantee of future results. No recommendation or advice is being given as to whether any investment is suitable for a particular investor. Any views or opinions expressed above may not reflect those of Seeking Alpha as a whole. Seeking Alpha is not a licensed securities dealer, broker or US investment adviser or investment bank. Our analysts are third party authors that include both professional investors and individual investors who may not be licensed or certified by any institute or regulatory body.