This instablog is designed as an interactive News Concentrator devoted to news and discussions about Swine Flu and other medical news.
The top portion of the instablog contains useful background information/ charts.
Up-to-date news content is posed in the comments area. So if you are interested in current news, read the comments.
_____________________
Some Definitions:
What is Reassortment
When two different virus strains infect the same host, they often exchange genes, a process known as reassortment.
A significant number of experts are concerned that as H5N1 (Avian Flu) spreads more widely and infects more people, it will come across more hosts who are also carrying human flu viruses. This increases the likelihood of a new strain emerging that has the severity of the bird flu virus and the infection rate of the swine flu virus, leading to a new global pandemic with much deadlier consequences than the one we are experiencing at the moment.
What is R naught (R 0)
How many people the average infected person infects is called the basic reproductive number, or R0 (pronounced "R naught").
Measles, which is probably mankind's most contagious infection, has an R0 of about 18. Polio's number is about 6; severe acute respiratory syndrome (SARS) about 5. For seasonal flu strains, the R0 is about 1.2, and for pandemic strains it is rarely higher than 2. For the novel H1N1 strain, it's about 1.6. What this low R0 means is that flu outbreaks are always teetering on the verge of having their myriad chains of transmission broken by people who get infected but don't pass the virus to anyone else.
Swine Flu - Novel H1N1 flu, popularly known as swine flu, is a respiratory infection caused by an influenza virus first recognized in spring 2009. The new virus, which is officially called swine influenza A (H1N1), contains genetic material from human, swine and avian flu viruses. (By Mayo Clinic staff)
Pandemic - The word "pandemic" comes from the Greek "pan-", "all" + "demos", "people or population" = "pandemos" = "all the people." A pandemic affects all (nearly all) of the people.
A World Health Organization phase 6 pandemic indicates that influenza due to the novel H1N1 swine flu is occurring in multiple countries around the world and that human infection is widespread. The classification does not reflect the severity of individual infections.
Cytokine Storm -
When our body detects foreign micro-organisms indicating an infection, our body might respond by over-protecting the site of infection. The body may race so many antibodies to the infection site that they collect in what is known as a cytokine storm.
A cytokine storm, or "Hypercytokinemia" is a potentially fatal immune reaction consisting of a positive feedback loop between cytokines and immune cells.
www.wisegeek.com/what-is-the-cytokine-st...
A positive feedback loop means that as something increases, that increase stimulates further growth.
What makes younger people more susceptible to H1N1 is that their "vigorous immune systems pour out antibodies to attack the new virus. That can inflame lung cells until they leak fluid, which can overwhelm the lungs.
This vulnerability in the young is reminiscent of the Spanish flu of 1918. That strain of flu also struck mostly healthy young adults.
Pulmonary Embolism - Occurs when a blood clot forms in an arm or leg breaks free and enters the lungs where it is too large to pass through the small vessels of the lungs and forms a blockage. This stops blood from flowing into an area of the lung, and the part of the lung dies because it does not receive oxygen.
medicalnewstoday.com/articles/153796.php
What is an Emergency Use Authorization (EUA)?
An EUA may be issued by the Food and Drug Administration (FDA) to allow either the use of an unapproved medical product or an unapproved use of an approved medical product during certain types of emergencies with specified agents.
What is the PREP Act?
The PREP Act authorizes the Secretary of the Department of Health and Human Services ("Secretary") to issue a declaration ("PREP Act declaration") that provides immunity from tort liability (except for willful misconduct) for claims of loss caused, arising out of, relating to, or resulting from administration or use of countermeasures to diseases, threats and conditions determined by the Secretary to constitute a present, or credible risk of a future public health emergency to entities and individuals involved in the development, manufacture, testing, distribution, administration, and use of such countermeasures.
The PREP Act also authorizes an emergency fund in the United States Treasury to provide compensation for injuries directly caused by administration or use of a countermeasure covered by the Secretary's declaration. While no funds have been appropriated for this purpose, if funds are appropriated, compensation may then be available for medical benefits, lost wages and death benefits to individuals for specified injuries.
cdc.gov/h1n1flu/eua/qa.htm
What are Clinical Trials:
Clinical trials, also known as clinical studies, are research studies in which scientists and doctors test new drugs and treatments to see if they will improve health. Many of today's treatments for cancer are based on the results of past clinical trials. Because of progress made through clinical trials, many people treated for cancer are now living longer.
Clinical trials are divided into four phases.
Phase 1 trials: These trials are the first time a new drug or treatment is given to humans. They are normally carried out in a small number of volunteers (typically 6-20 people) who may include healthy volunteers or patients with the disease for which the product is intended as a treatment in order to find out how safe the treatment is. They also look at how a new drug should be given (by mouth, injected into muscle or the bloodstream, etc.), how often and at what dose. Phase 1 trials can also involve patients for whom standard therapies have failed and for whom no other therapies are available.
Phase 2 trials: These trials involve larger numbers of people (typically 12 - 50). Phase 2 trials continue to look at safety of the therapy but also test how well the new drug or treatment works in patients with different disease types.
Phase 3 trials: These are large studies (100+ people) that look at how well a new drug or treatment works in comparison to current therapies to see which treatment is better. Those taking part are usually divided into two treatment groups: standard treatment versus new treatment.
Phase 4 trials: These trials are usually carried out after the drug or treatment has been approved by the FDA and is readily available for use in the general patient population. The purpose of Phase 4 trials is to continue to study the effects of the drug or treatment on different populations and to look for side effects associated with long-term use.
Back to Top
What is a Protocol:
Clinical trials use written guidelines called protocols. The protocol explains what the trial hopes to accomplish, how the trial will be carried out, and why each part of the trial is necessary. For example, the protocol includes:
* The reason for doing the trial
* How many people will be in the trial
* Who is eligible to take part in the trial
* What study drugs participants will need to take
* What medical tests participants will have and how often
* What information will be gathered
Every doctor or research center that takes part in the trial uses the same protocol. This makes sure that patients are treated identically no matter where they are receiving treatment, and that information from all the centers taking part can be combined and compared.
Why Slow Production for Traditionally Produced (chicken eggs) Swine Flu Vaccine:
One dose of swine flu vaccine for every two eggs, compared with two doses of
seasonal flu vaccine per egg
Sorry if the link does not work... it appears the Boston Globe newspaper appears to be playing games with link addresses... Just copy the link, and Google it.
http://www.boston.com/business/healthcare/articles/2009/10/22/quest_for_swine_flu_vaccine_giving_some_firms_a_boost/
_____________________
Brief Overview of Categories of H1N1/ Vaccine Investment Plays:
I - Vaccines / Prevention
1) Production Method / Capacity plays (NVAX) (VICL) (NVS) (INO) (CSL)
2) Nationalistic / Population Size Play (SVA - China) (NVAX - India)
3) Injection / Vaccine support services (syringes etc.) (BAX) (BDX)
4) Outsourced production plays
5) Bio -Defense (MDCGF - France)
6) Anti-Mutation / Pan-Influenza Play (CVM) (NNVC) (INO)
7) Universal Flu Vaccine Play (INO)
II - Treatment After Infection Occurs:
1) Dealing with severe lung infections (Fludase® (DAS181)) (CBM) (AEMD)
2) ICU treatments (BCRX) (GSK) (ROG)
III - Population Avoidance:
1) masks/ disinfectants… Surgical masks are good enough (APT) (MMM) (CLX) (ECL) (OTC:PURE)
IV - Testing do you have it? (GPRO)
1) Test kits - (DGX)
V - Merger / Acquisitions / Licensing (VICL) (NVAX)
_____________________
Sorry this is still a graphic instead of a table. I played with the table tool, but its a
PITA to work with.
Swine Flu Companies Discussed and Their Web Sites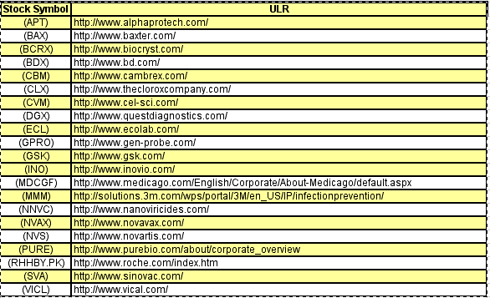 _____________________
Swine Flu Hits Stuffed Animal World: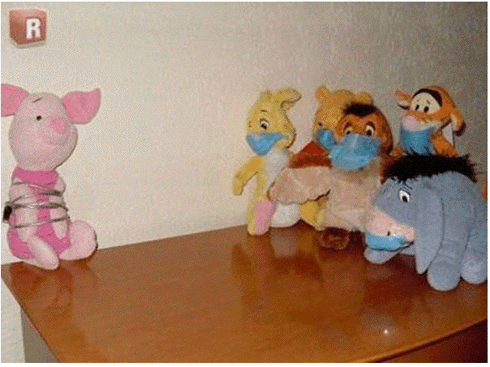 Link to 2011 H1N1 US Flu Outbreak Map is broken... sorry.
Red Cross Tips For Dealing With The Flu:
IF YOU ARE ILL -
* Stay in a room separate from common areas of the home and avoid contact with others as much as possible.
* Stay at home for at least 24 hours after their fever is gone without using medicine to reduce the fever.
* Get lots of rest and drink plenty of fluids.
* Consider wearing a face mask, if available and tolerable, when sharing common spaces with household members. (ed - surgical masks ok).
* Check with your healthcare provider about whether to take antiviral medication, or if fever persists, whether antibiotics are needed.
WHEN CARING FOR SOMEONE WHO HAS THE FLU -
*Disinfect door knobs, switches, handles, toys and other surfaces that everyone touches.
* Use detergent and very hot water to do dishes and wash clothes. It's okay to wash everyone's dishes and clothes together. Wash your hands after handling dirty laundry.
* Designate only one adult as the caregiver. People at increased risk of severe illness from the flu should not be caregivers.
* Although not mentioned by the Red Cross, the caregiver should probably ware a surgical mask as well when entering the sick room.
* Deal with crisis situations calmly and confidently to give the best support to the person being cared for.
_____________________
MayoClinic.com Provides Credible, Up-to-Date Information And Decision-Support Tools For Flu Season
Click here to link to the Mayo tool:
www.mayoclinic.com/health/flu-symptoms/F...
_____________________
Suggested Protocol For Schools To Decide When Flu Should Trigger A Shutdown
www.medicalnewstoday.com/articles/169984.php
After comparing more than two dozen possible scenarios for closing a school, the analysis suggested three optimal scenarios:
1. A single-day influenza-related absentee rate of 5 percent
2. Absenteeism of 4 percent or more on two consecutive days
3. Absenteeism of 3 percent or more on three consecutive days
Disclosure: (sometimes trading, sometimes holding)
Disease outbreak map on Globalincident.com
Link from Guns and OG.