I changed the name of this Insta on Nov 21, 2010, after Ireland said they are seeking a bailout.
This Instablog is the result of a question by one of the Renegades in OptionsGirl [OG] Quick Chat 90
tinyurl.com/24y6u87
Basically, what I wanted to address was what shoe is going to fall first, the US Dollar, or the Euro... I also wanted to see if there was any evidence for a time estimate with respect to issues for the Euro.
I added more information on August 21, 2010.  
____________________________________________
Things are not looking good for Greece.  I don't think they are going to be able to service all that debt.  Enormous cuts in spending accompanied with increased taxes will likely destabilize their government.  Remember, they can't print money as a way out of their debt trap.   Investors are going to buy the safest assets in this environment. That should drive Greece's bowering rate higher. Here is some relevant information from a recent Bloomberg article:
___________________
(August 13) Spanish, Greek Bonds Fall on Renewed Growth Concern; Bunds Gain By Anchalee Worrachate
On August 13, the extra yield, or spread, investors demand to hold Greek 10-year securities instead of equivalent-maturity German debt, Europe's benchmark, rose 11 basis points to 808 basis points. That's the most since May 7, before the European Union announced a 750 billion-euro financial backstop for the region's most indebted nations.
Concern some European nations would struggle to pay their debts helped boost demand this year for bunds, the region's benchmark securities. Spanish bonds returned 1.5 percent this year and Irish debt 0.5 percent, compared with an 8 percent gain from German securities, according to indexes compiled by European Federation of Financial Analysts Societies. Greek bonds lost 19 percent.
Data today showed Spanish banks borrowed a record amount from the European Central Bank in July as investors shunned the indebted nation's lenders. Borrowing rose 3.1 percent to 130.2 billion euros ($167 billion) from 126.3 billion euros in June, according to daily averages compiled by the Bank of Spain.
Spanish bonds are heading for their first weekly loss in five on renewed concern that climbing borrowing costs for Spanish regions put the national budget at risk.
Catalonia, which accounts for a fifth of Spanish gross domestic product, has been shut out of public bond markets since March and the extra yield it pays over national government debt has almost tripled this year.
The yield spread between 10-year Irish bonds and the benchmark German debt widened to 294 basis points today, the most since June 29, as investors bet the government will have to inject more capital into banks, including Anglo Irish Bank Corp.
Ireland's borrowing costs rose at an auction of its six-and eight-month bills yesterday as investors demanded higher compensation for risk facing the government's finances. The country will sell 2014 and 2020 bonds debt next week. 
tinyurl.com/2dtuc5v
______________________________________________
While the US is in a somewhat similar position, the US can print money, and our bonds have not be rated as junk. The higher the interest rate, the higher the perceived risk. The higher the interest rate, the deeper into the debt trap you go.  
I conclude that the Euro will drop relative to the dollar as money seeks less risk. How rapidly will this occur?  I think the following chart provides some evidence with respect to timing.
From June 2010 to August 2010 the average ten year Greek bond interest rate went from 64% of its peak crisis level to 85.5% of the peak crisis level.  
As of August, the Greek ten year bond interest rate is at  the second highest level its been at over the past five years.  
If the interest rate is proportional to risk, than in the last three months, the risk level of the Greek ten year bond has increased at an average rate of 7.2% per month [ (85.5 - 64)/3 ].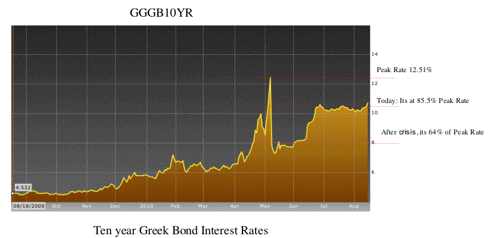 I suppose a natural accompaniment to shorting the Euro would be to go long on the dollar.  This assumes that the debt crisis of the European Union will reach critical mass in advance of the US dollar. 
______________________________________________________
Added August 21, 2010
A picture is often worth a thousand words.  Here we have the Percent Economic Growth Rates for three countries: US, Greece, Germany.  Note the distinct downturn in the US Economic Growth Rate.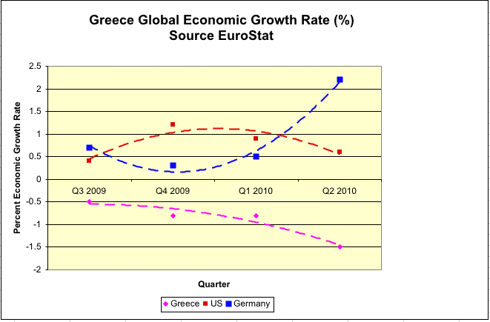 tinyurl.com/25vyea7
Here is National debt as a percentage of GDP in 2009 for the Euro Zone.  Look at Greece and Italy.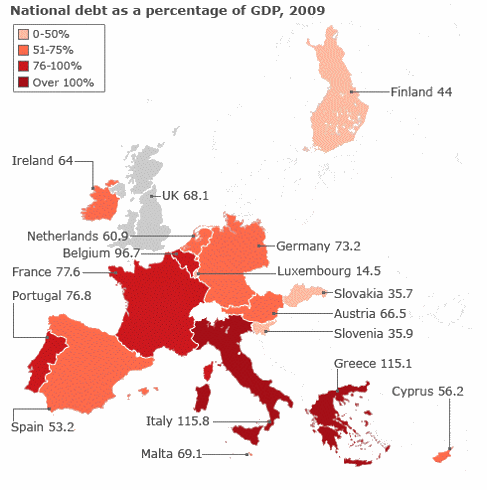 tinyurl.com/2vvcnxv
Here is Government deficit as a percent of GDP for 2009.  Look at Greece and Ireland.  Look at UK and Spain.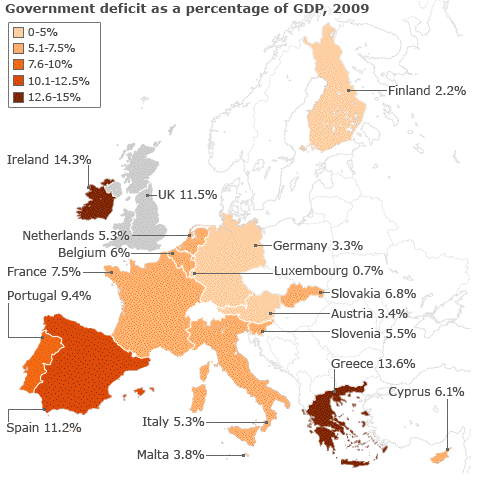 tinyurl.com/2vvcnxv
Here is the all important Jobs Picture as of March 2010.  Look at Greece, Spain, Ireland and France.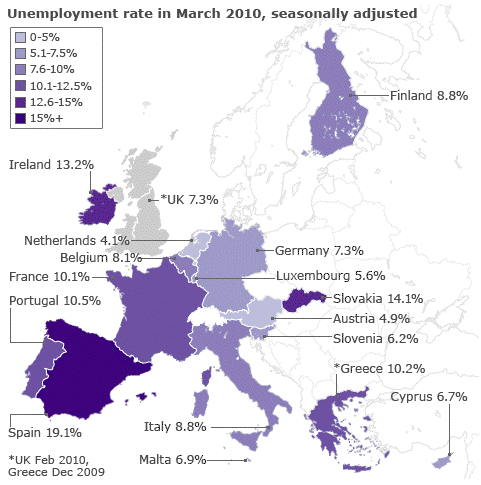 tinyurl.com/29grmpy
=================
Added September 29, 2011.
What is the EFSF?:
The European Financial Stability Facility (EFSF) is a special purpose vehicle financed by members of the Eurozone to combat the European sovereign debt crisis.  The €110 billion bailout to Greece is not part of the EFSF guarantees, but a separate commitment.
When you look at the Guarantee commitments by the different euro zone countries [
tinyurl.com/3xde35o
] you will see something interesting.  Greece, Ireland, Italy, Portugal, and Spain (i.e., the PIIGS) account for over one-thrid (36.7%) of EFSF commitments. All by themselves, Italy and Spain have a financial commitment of almost one-thrid (29.8%) of the total EFSF commitment. 
___________
(October 23, 2011) I added this nice summary graphic of the Dominoes effect associated with the European debt crisis. You can also see the graphic and the accompanying article with the following link:
(October 23, 2011) Guest Post: The European Financial Crisis In One Graphic: The Dominoes Of Debt. From: Zero Hedge, by: Tyler Durden. 
tinyurl.com/3ulxgmj
The original copyrighted graphic is from Charles Hugh Smith (" 2011) at
tinyurl.com/ygsa6j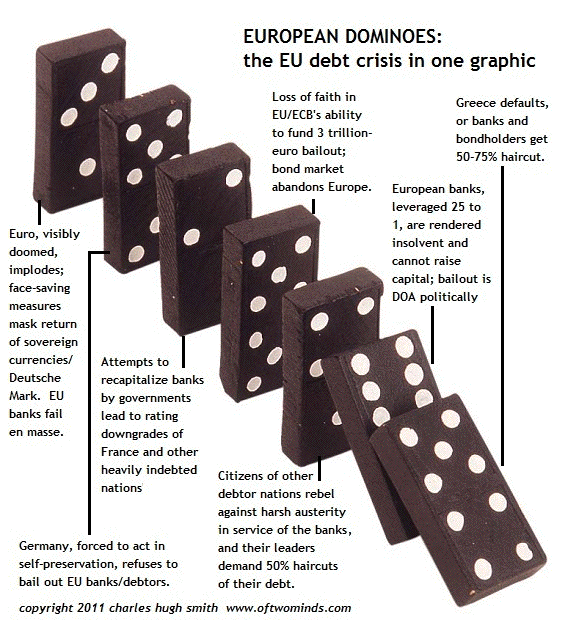 Disclosure: 
NONE