This instablog is designed as an interactive News Concentrator devoted to news and discussions about the debt and associated problems in the EU and its member states.
The top portion of the instablog contains useful background information/ charts.
Up-to-date news content is posed in the comments area. So if you are interested in current news, read the comments.
I HAVE HAD TO SHORTEN ALL THE HISTORICAL PICTURES AND LINKS SINCE A RECENT UPDATE BY SEEKING ALPHA LOST ALL OF THE UPLOADED MATERIALS.
____________________________________________
EFSF
What is the EFSF?:
The European Financial Stability Facility (EFSF) is a special purpose vehicle financed by members of the Eurozone to combat the European sovereign debt crisis. The €110 billion bailout to Greece is not part of the EFSF guarantees, but a separate commitment.
When you look at the Guarantee commitments by the different euro zone countries [tinyurl.com/3xde35o] you will see something interesting. Greece, Ireland, Italy, Portugal, and Spain (i.e., the PIIGS) account for over one-third (36.7%) of EFSF commitments. All by themselves, Italy and Spain have a financial commitment of almost one-third (29.8%) of the total EFSF commitment.
___________
Fantasy Greek GDP Growth Rates:
In the fantasy report "Greece: Preliminary debt Sustainability Analysis" dated February 15, 2012 which I referred to as the "Deus ex machine" report one of the EUs key economic assumptions was that Greek GDP growth in 2012 would be -4.8% and -1% in 2013.
The Greek economy saw growth rates of:
-0.2% in 2008,
-3.3% in 2009,
-3.4% in 2010,
-6.9% in 2011
-7.5% in fourth quarter of 2011.
(Data from John Mauldin report tinyurl.com/7axvcmw)
FUNDING GAP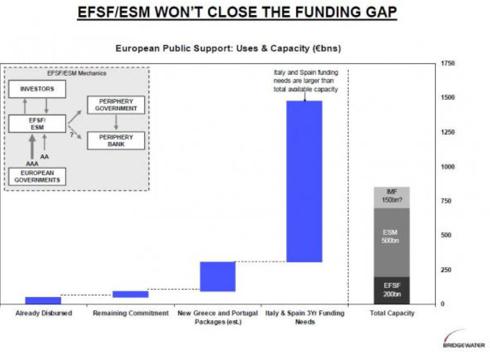 From: ZeroHedge - tinyurl.com/88qfjmc
Ten Year Bond Yield Curves as of 7/20/2012
From: The Disciplined Investor tinyurl.com/7yg5zku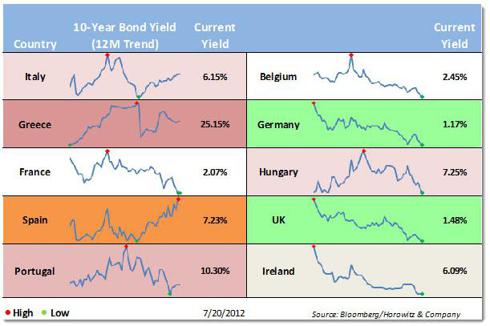 Here are some interesting charts on Italy sourced from Bloomberg's BRIEF
August 7, 2012, available on "The Big Picture" site:tinyurl.com/8lty5uj.
I verified the shadow economy figures in the following sourced article about shadow economies:
Shadow Economies: Size, Causes, and Consequences by FRIEDRICH SCHNEIDER and DOMINIK H. ENSTE, Journal of Economic Literature
Vol. XXXVIII (March 2000) pp. 77-114tinyurl.com/8fpz6nz.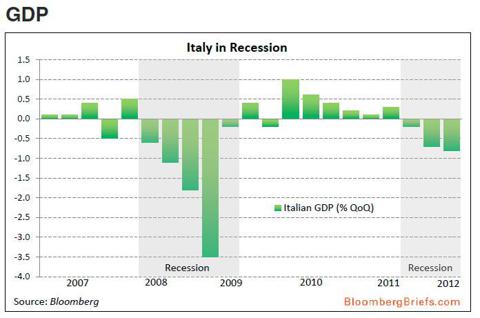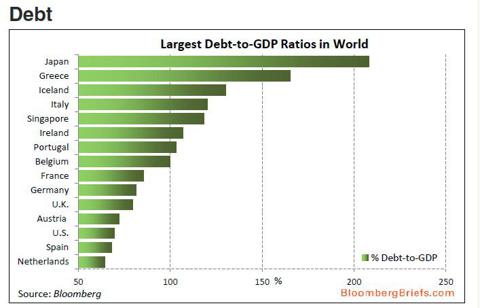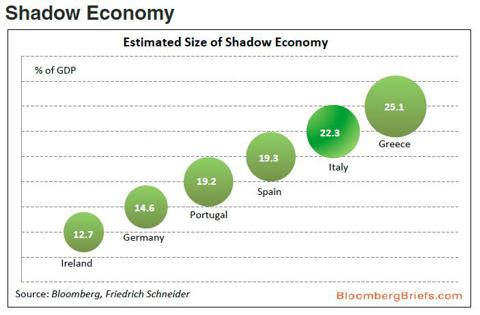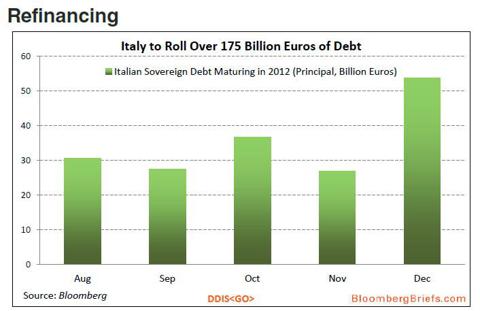 ----------------------------------------------------------------------------
2013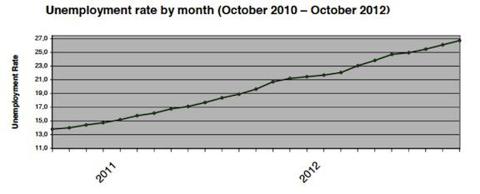 From: Labor Force Survey by the Hellenic Statistical Authority January 10, 2013tinyurl.com/bzjlk4m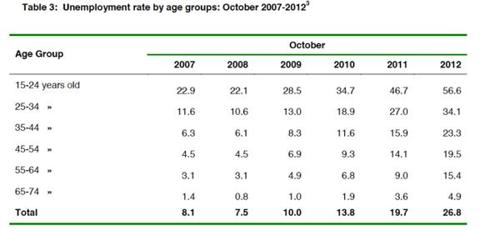 From: Labor Force Survey by the Hellenic Statistical Authority January 10, 2013tinyurl.com/bzjlk4m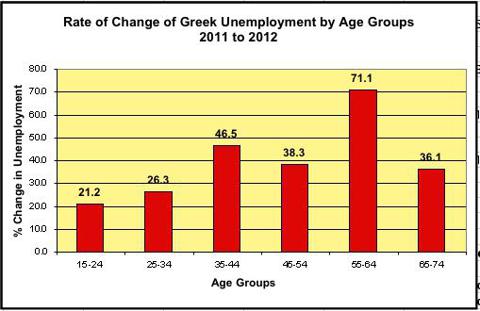 This chart is based on the data from the Hellenic Statistical Authorities Labour Force Survey published January 10, 2013.
This shows the rate of change of unemployment among age groups from 2011 to 2012.
Yet the Greek government, under the direction of the Trokia, is about to initiate an even more Draconian series of spending cuts and tax increases.
Remember the IMFs fantasy report? GDP was supposed to start increasing again in 2012. Instead, it continued to fall, and this is one of the reasons why. They are systematically forcing people out of their jobs. No jobs, no income, no income, no spending.
Yes, the 15-24 age group has unemployment at 56.6%, but as this chart shows, the older age groups are suffering a higher rate of increase of unemployment. So they are rapidly catching up.
============
Latest youth unemployment chart as of May 31, 2013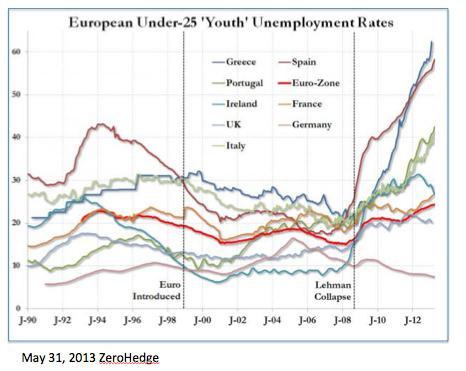 From: ZeroHedge Nov 26, 2013 tinyurl.com/lpjlh58
Socgen in its most recent report predicts that Europe is only half way through its lost decade of 2007-2018 (see chart). We blame much of this weak performance on a slow policy response in tackling both the sovereign and banking crisis, and the still too slow pace of structural reform. The fear is now that the euro area is on the verge of deflation.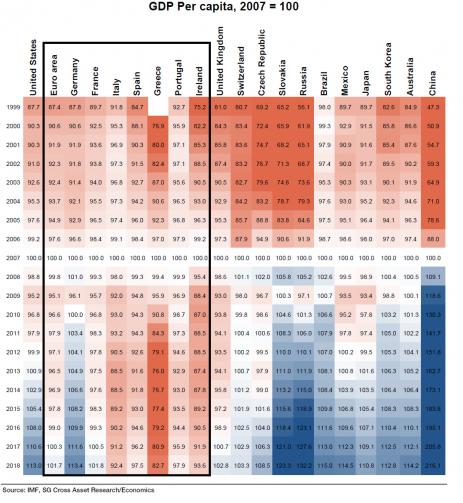 Percent Greek Pensions Relative to Greek GDP as of Feb 2015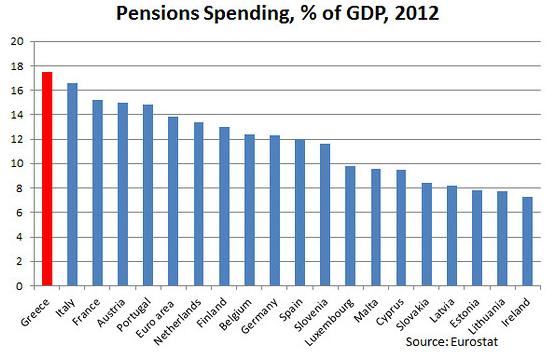 This is the link for that chart: tinyurl.com/nnx8cl7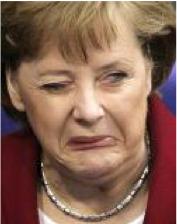 ========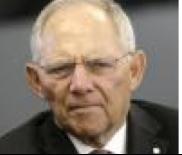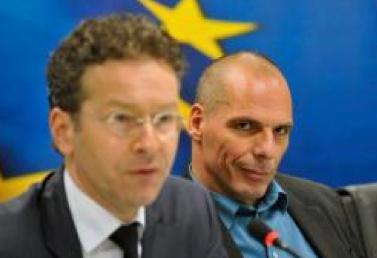 Is that the KRAKEN or just an arrogant clown?
----------------------------
Big Trouble is Brewing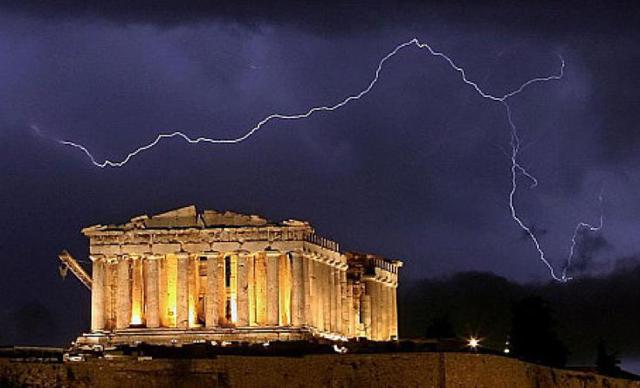 Support for anti-austerity and anti-euro parties has risen across Europe. There is no date on the chart, but it's likely to be February 2015.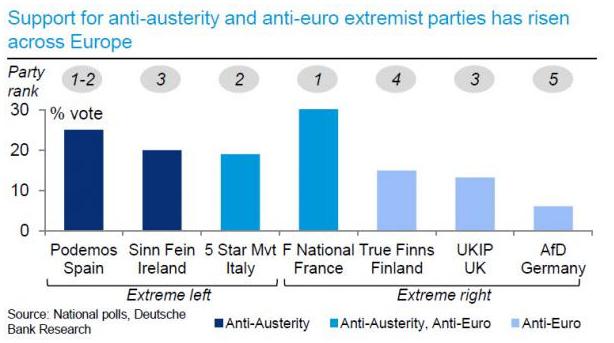 Greek Government Debt to GDP Forecast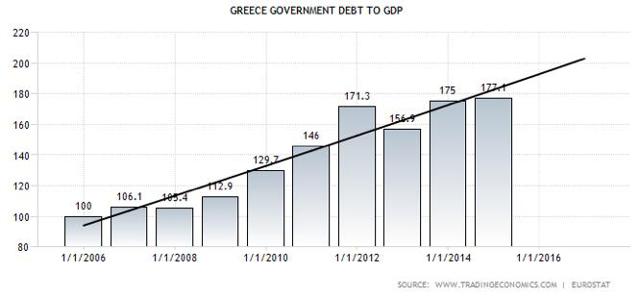 Remember, the top portion of this insta contains some useful historical information. CURRENT NEWS is posted in the comments area.
WARNING: This is a no Troll Zone. If you are disruptive, your comments will be deleted.
Disclosure: The author has no positions in any stocks mentioned, and no plans to initiate any positions within the next 72 hours.
Disclosure: I/we have no positions in any stocks mentioned, and no plans to initiate any positions within the next 72 hours.