Modifications:
May 12, 2010 - Added link to the current National Hurricane Center's tracking map.


Explanation:
While its almost impossible to time the total market, it might be possible to time a portion of the market if that portion of the market is subjected to predictable events that are known to impact specific stock pricing.
Hurricane season starts on June 1 and ends on November 30.  As a consequence, you might expect certain kinds of stocks to be somewhat synchronized with the start and end of hurricane season.  In other words, is there any evidence that some investors time their market entry and exit points for hurricane impacted stocks.
To examine this question I looked at two companies involved with support/ repair services of off-shore Oil platforms: Cal Dive International (NYSE:
DVR
) and Superior Energy Services (NYSE:
SPN
).  Both of these companies have exposure in the Gulf of Mexico so their earnings should be somewhat synchronized with the start and end of the hurricane season.
I obtained three years (2007 - 2009) of average monthly stock prices from Yahoo for the two stocks. In order to control for year to year changes in valuation, I standardized the data (Z Scored) within year. I than averaged across the three years by month. As can be seen, the pattern of results is quite similar for the two different stocks.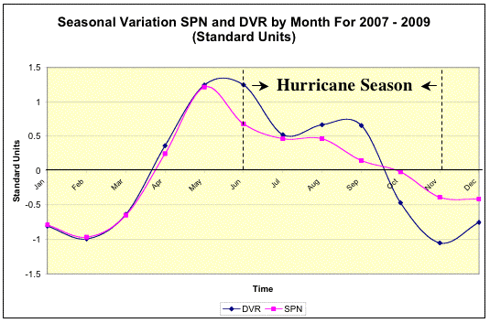 The chart clearly demonstrates a consistent seasonal effect. The size of that effect is substantial, consisting of a change of about 2.25 standard units. Investors appear to lead the on-set of the hurricane season by several months.  The two stocks are at their minimum in February and achieve their peak price in early May. A secondary peak price occurs in late August and early September just about in the middle of the hurricane season. After that, the price drops back down to a minimum at the end of the official hurricane season in November.
Results suggest that investors wishing to maximize their returns on a hurricane play need to make their initial investments in February and sell sometime in May. 
National Hurricane Center Tracking Map
I got this from DoubleGuns.  It lets you track the path of Hurricanes. If a hurricane is targeting the gulf, that should be a stimulus to buy Hurricane related service companies
www.nhc.noaa.gov/index.shtml
Disclosure:
I own both DVR and SPN
Disclosure:
DVR SPN