S&P 500 and Dow Jones Index component IBM (NYSE:IBM) is completing its 21st year of dividend growth. Over the last 5 years, IBM has averaged dividend growth of 13.7%.
The company broke out of a Cup & Handle pattern about a week ago. You can see the pattern here: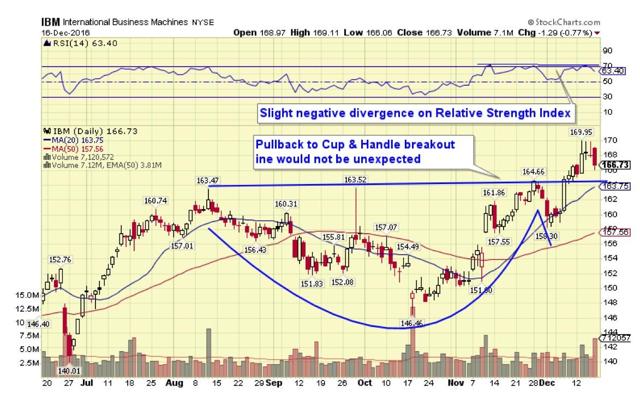 Based on the prices at the bottom of the cup (~148) and the top of the handle (~165), the pattern measures to about 182. There's also a negative divergence on the Relative Strength Index (RSI). The stock put in three progressively higher highs (in mid-November, the end of November and mid-December), but the highs on the RSI were progressively lower. This negative divergence indicates that demand for the stock is slowing and usually indicates a pullback to the 50 day moving average (NYSE:MA).
I'm not sure that the stock will pull all the way back to the 50 day MA. The 20 day MA is at the breakout point and, while the market is overbought, the uptrend is still intact. Furthermore, IBM's price movement has created a trend channel: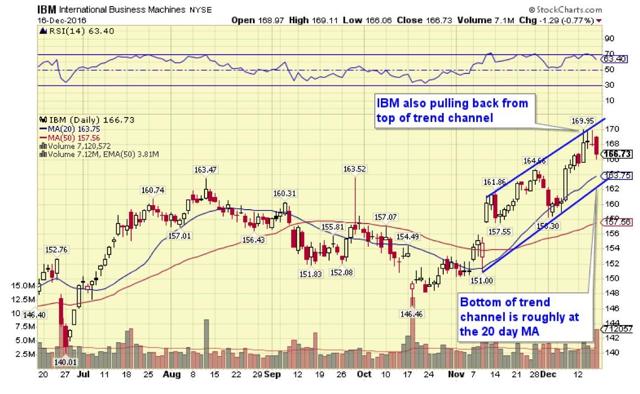 The bottom of the trend channel is roughly at the 20 day MA. Between the two support levels (the retracement to the breakout point and the bottom of the trend channel), odds favor a pullback to the 20 day MA. Investors may see a shakeout below the 20 day MA, but based on the charts, the 20 day MA looks like a good place to pick up some shares for investors interested in initiating or adding to their position. A bearish sign would be a sustained break below the 20 day MA, which would negate the Cup & Handle breakout.
I'll be posting more technical analysis of dividend growth stocks in the Instablog. If you're interested in receiving alerts when I do so, please take the time to "follow" me. Thanks!
Disclosure: I/we have no positions in any stocks mentioned, but may initiate a long position in IBM over the next 72 hours.