By Karen Starich
I have to admit I am hooked on cappuccino. So much so that I bought my own cappuccino machine (from Starbucks of course), not content to have to get in my car to drive to my local coffee shop. I have other reasons too since I am very particular about using organic milk and just a little whip cream and cinnamon on top. I am not alone in this category, If you have ever been to a Starbucks you will know what I mean. Next time you are in line at Starbucks take a moment to listen to the requests customers are making about their drink preferences. The Barista's at Starbucks have no qualms with this practice, in fact they pride themselves in making your beverage exactly as you wish, jotting notes on the cup to ensure your perfect drinking pleasure.
There is no doubt that coffee is a racket and the capitalists have figured out a way to turn a simple 95 cent beverage into a $4.00 indulgence. Starbucks is the leader in this category and Jeff recently asked me to review the astrology chart for the company after the stock made a significant pullback in July. We were looking for a good stock to add to our Astrology Traders weekend update and thought Starbucks might be good for a long term long position. The astrology confirmed the pullback and offered a buying opportunity for our subscribers on August 2nd. We have a nice 11% gain so far on our trade and here is an except form our Astrology Traders newsletter on July 29th:
Starbucks Corp. (NASDAQ:SBUX)

Jeff sees a strategy with Starbucks that could be unfolding very soon. The company has shown strength over the years and just recently pulled back to an area that could present a good entry for a long term position. The company reported an earnings miss last week and the stock made a significant gap down. The astrology showed a Jupiter square Jupiter (setback for the stock) when the company reported earnings last week. Transiting Pluto will form a grand trine to Mars and Jupiter in the IPO chart suggesting a very strong bullish trend starting in mid November. The stock could have another pullback into August 2nd where there could be an opportunity to start scaling into the stock, however Jeff likes a long position near Friday's close. Jeff and I both feel this is a long term hold opportunity.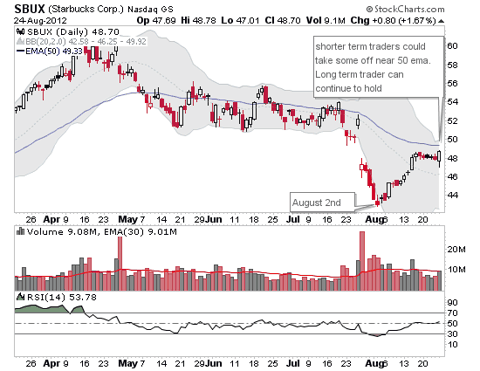 The stars in the sky look pretty promising for Starbucks, especially in the Fall when transiting Pluto (rules coffee) will make a grand trine to Mars and Jupiter in the IPO chart. Watch for a potential pullback in September to either add to or establish a long position. Become a subscriber and learn more about this and other stocks we are watching.
The following is by Karen Starich, who uses astrology to forecast events in the financial markets. Astrology Traders provides specific dates and in-depth analysis of future events for the financial markets through weekly updates, trade alerts, and educational webinars.
Related Posts:
Financial Astrology: Gold and Silver
Financial Astrology: Bond Market