There was a lot of chatter about this stock on the twitter stream and I wanted to give my thoughts on how I perceive Friday's action but we need to go back a few months to really see what Friday's downgrade means in the grand scheme of things.
#1. Earnings pop, big move, indication that this is a stock to focus on for the coming 3-6 months.
#2. Base building is happening as it digests the last earnings move.
#3. Another earnings pop. This is not the time to be aggressively buying as it is to start trimming out of your positions with a trailing stop or just selling some outright on days it has a move outside it's ATR (average trading range).
#4. I obviously can't count and I'm too lazy, I don't have time to go back and annotate the chart.
#5. Upward sloping channel that is losing momentum (Negative divergence on RSI)
#6. Earnings downgrade, break of channel suggests this is going to have a more serious correction.
I would look to this to correct back to $90-100 range at a minimum. That may be an area to consider initiating a new position. Normally I view downgrades as an opportunity to add to my position, but in this case on the tail end of a big run I would assume this is going to experience more selling.
I still view this as a very strong weekly chart and will be watching how it reacts back to point #3 on the chart below or when the RSI on the weekly chart gets down to the 40 level. That is where it may find a tradeable bottom.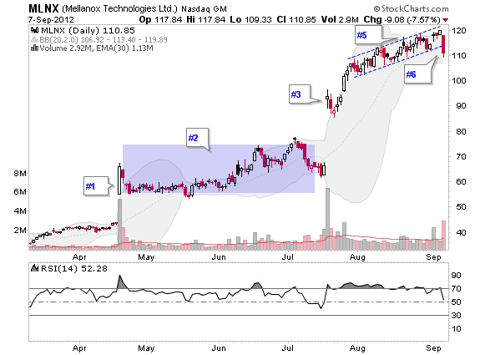 These are the type of stocks I identify as trade setups with my tradewithZEN stock suggestion service. See how these stocks have fared since then.
CTB was added on Aug 8th
CAB was added on July 26th
CRUS was added on July 31st.