By Karen Starich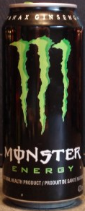 This is a follow-up to my August 12th article where I described some of the transits to the IPO chart that I felt hinted to a further correction. What prompted me to write the article was the similar technical pattern the stock had to the recent pullback with Starbucks (SBUX) that turned out to be a very lucrative long position for our subscribers. Jeff liked the overall strength of the Monster chart and wanted to know what the astrology looked like.
As I mentioned on August 12th the astrology did not look promising with a hard Jupiter T-square in retrograde along with a very disturbing Neptune square Venus. I suggested we could see another pullback for Monster on August 23rd. Looking back the pullback has materialized from August 23rd and today's further 9% drop on news that the company may have overstated financials and could be misrepresenting the health quality of their Monster beverage.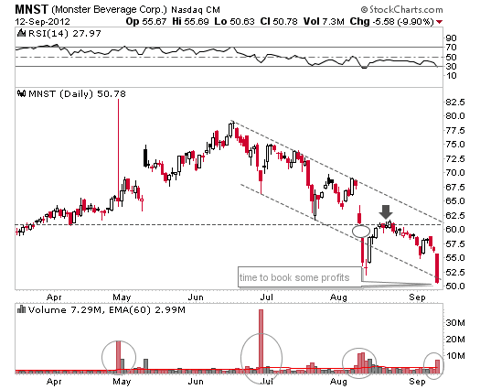 The bigger picture could be a takeover agenda on the part of another beverage distributor such as PepsiCo (PEP) or Coca-Cola (KO). Pluto will conjoin the North Node and Sun of the IPO and suggests a transforming change in the near future. The transformation could also be a name change. The Monster name is really a disguise as the the 'real' company is the original Hansen Natural Corp., the wholesome feel good company and beverage maker of the famous line of juices and teas. In fact their website features a very sweet farm like setting with pastures and children at play, hardly monster territory! The name change came about in January 2012 when the shareholders decided they needed an edgy image for their energy drink. The timing could not have been worse because Neptune, the planet that rules the media formed a square to the IPO Venus (public attitude) on the heels of the tragic story about the death of 14 year old Anais Fournier who died of cardiac arrhythmia after drinking two 24 ounce cans of the Monster drink. The Neptune/Venus transit could swamp the company in negative press and make damage control difficult.
Going forward there could be more negative news about the legal challenges facing the company near September 25th-27th. The first week of October could also be a very critical time for the company and we could see a further pullback. Neptune will square Venus again in February 2013 and could lead to a very trying time for the company to strive for the changes that may be necessary to improve the image of the company and the stock.
The following is by Karen Starich, who uses astrology to forecast events in the financial markets. Astrology Traders provides specific dates and in-depth analysis of future events for the financial markets through weekly updates, trade alerts, and educational webinars.
Related Financial Astrology Posts:
Financial Astrology: Sept 13th Turning Point For America
FDX Is Signalling A Stalling Economy