In our ALL About Trends weekend newsletter we said:
"Subscribers that trade in tandem with us have earned over $5,900 in profits in just 2 weeks!
All of this comes from identifying new leading stocks and buying them at low-risk entry points."
VELT is a great example of this:
VELT pulled back off of its highs to support at both the blue line and the 50-day moving average.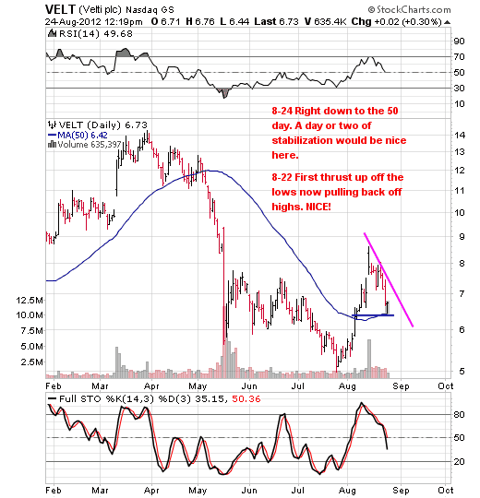 We issued a Trade Trigger email alert to our paying subscribers to buy this issue initially in a "BE THERE" trade of 400 shares $6.87.
A few days later when VELT broke above the pink Pullback Off Highs line we issued another Trade Trigger email alert to add on 200 shares at $7.14.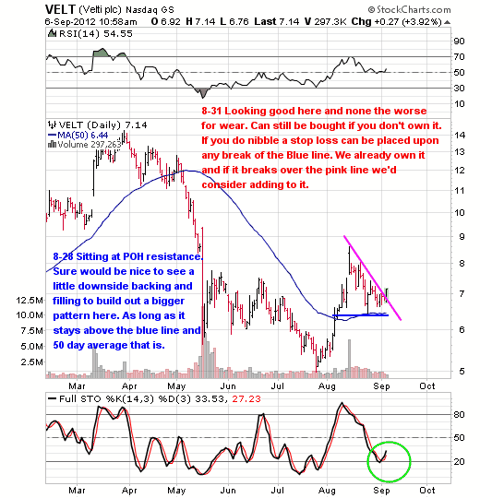 This gives us a cost basis on the whole batch at $6.96 per share.
TODAY this issue gapped up on big news: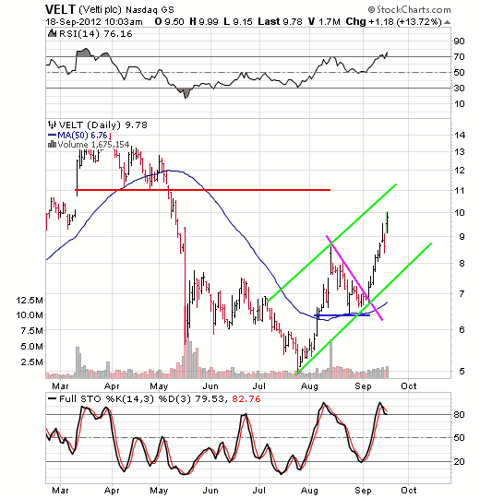 Currently at the $9.78 per share level this gives us a gain OVERALL of $1,692 or 40%! Not bad for a few weeks worth of work!
This is what we do for our paying subscribers -- identify new market leaders and show you how to buy them at low-risk, alternative entry points. It's that simple. Don't wait another week to read about our profits AFTER THE FACT.
There are many new market leaders on the watch list for our paying subscribers that haven't triggered trades yet!
To learn more and receive our free report -- "How To Outperform 90% Of Wall Street With Just $500 A Week", sign up for our free newsletter.