Remember those choose your own adventure books when you were young? If the Fed continues to pump up the economy and saves the day turn to page 33, but if earnings are well below estimates and investors fear the best days are behind them turn to page 77. That pretty much sums up my take right now. I can see multiple scenarios where the markets rise or tank here as it's very difficult to determine. On the chart below we have minor positive divergence with RSI and Slow Sto does appear to be at a position where it's bounced in the past.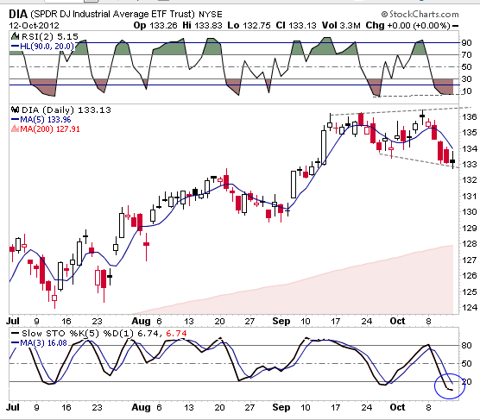 Below is a snippet from today's premium update from All About Trends describing 2 takes on where the market could go today. Subscribers receive daily commentary and a weekend wrap-up. Experience our accurate market analysis, trading methodology, and stock selection to raise your equity curve for only $20 for the first two months as a way to sample our market analysis.
Bull's nightmare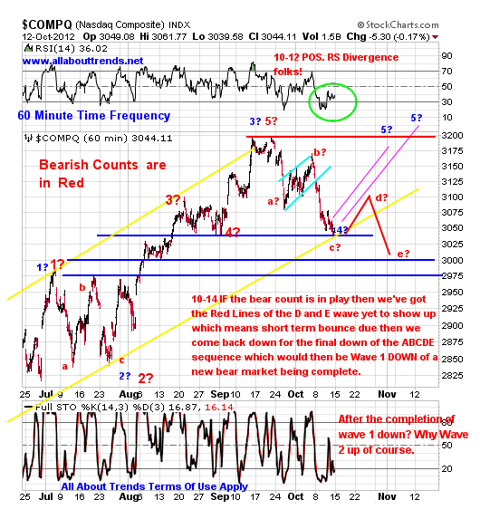 That all said, either way they are both oversold so a bounce can occur at any given time. Its that bounce that we are most interested in and if we are going higher for a final run as usual its probably going to be some sort of news driven announcement.

That brings us to earnings season.

Next week starts the earnings barrage and that COULD be the catalyst. The buzz word is going to be "Better Than Expected" . What we are most interested in is not the standard better than expected that beats by a penny but to see the reaction as that's all that is going to matter. We don't think we need to tell you we'll want to see a positive reaction.

Bottom line is we have long exposure and are well positioned for either bounce. We'll make that call when the bounce shows up and adjust accordingly based upon what the market is doing as we move on in time and price. This means we SWEAT IT OUT WHILE IN THE ZONE and sit tight with our positions going into next week.

We'll have to take it a step at a time. For the last few weeks we've done just that all up until the last few days and in so doing we've allowed things to come to us vs chasing breakouts into new highs that have all for the most part failed. Sit back and watch the show for now is the buzzword on Monday and don't get emotional.