As the market continues to decide if we're at long term resistance or if we're going to resume our uptrend, two stocks that we at All About Trends are focusing on adding to our portfolio are below. Both have pulled back off their highs and look to be at support, in fact, this is a pattern that we focus on a lot for our subscription service.
We haven't issued a buy alert to our subscribers at this point but that could come any day and I wanted to provide my readers with an exclusive look inside our watchlist. Click here to learn more about our service or consider joining our free newsletter.
Daily Chart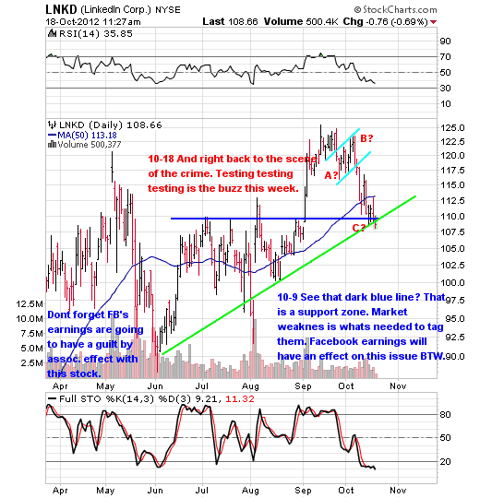 1 Minute Chart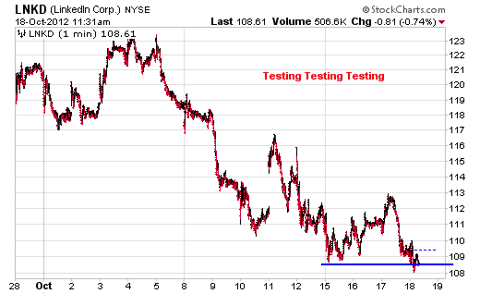 VMW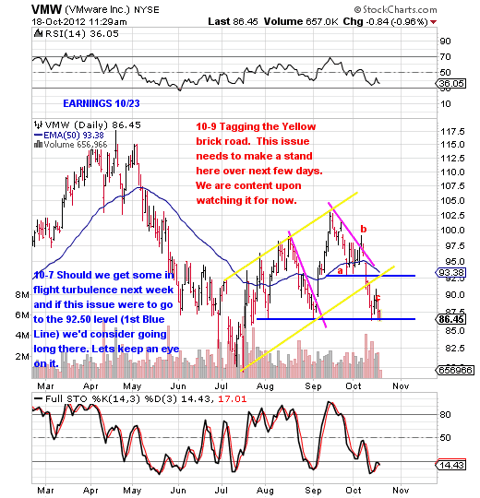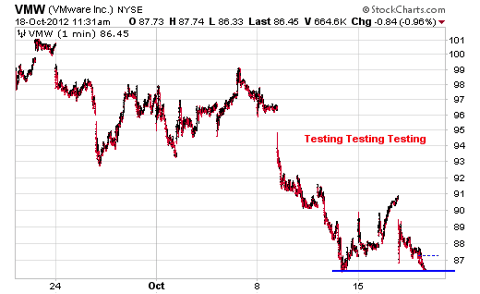 10-17 How bout it! Can you say "Back To the Scene Of The Crime" retest of lows and launch? Testing testing testing folks, that's been the buzz word the last week or so.
10-12 Well being content just watching pays off now doesn't it. Here we are tagging a prior low as shown. Sure looks scary. So what does that mean for those with guts? Whats the risk here? It goes to 80 that's what. That would be how much of a loss? 7.7% that's what. But then what as that's a major support. We're just laying out a potentiality for those looking to snipe something here in the face of fear and ugliness. Bottom line is IF one is considering this trade you gotta be willing to take the risk and be willing to pay the price of the stock dropping after you pick it off. That is Always the way it is the moment you hit the enter button though is it not?
The following is an excerpt from today's premium mid day report. Subscribers receive daily commentary, stock picks, and a weekend wrap up. Experience our accurate market analysis, trading methodology, and stock selections to elevate your equity curve with this special trial market playground offer. Only $20/month with no price commitment, which represents a 33% off discount on regular price.