I was asked by a reader that same question and after checking out my charts I would have to say shorting UNG right now is a bit early due to short and mid term strength. In fact, today seems like a good time to take a speculative long position if you want to "trade" this Natural Gas Fund.
I would use the lower trendline as a range for a stop and pay attention to the RSI as it trends between 80-40. Any moves below 40 that coincide with any price supports should be regarded as suspicious trading action. So far it's series of higher highs and lower highs, with bullish RSI & price action lead me to believe this could continue higher for a little while long. The counter trend trade is in effect, but I wouldn't get too comfortable in this trade as the long term remains firmly down (see 2nd chart).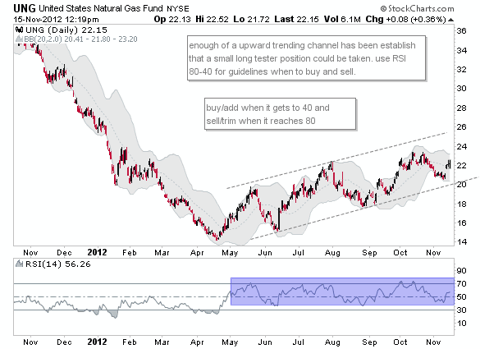 Here`s an excerpt that outlines a bullish fundamental case via Sizemore`s Insights. Click the link to read the rest of the article.
The Surprising Obama Trade: Natural Gas
By Stan Barton

The unemployment rate is unlikely to drop below 7% ever again. That is because neither trickle-down strategies nor big government interventions in the capitalist system can claim success in improving the U.S. economy. Throughout our history, the best spurts of economic prosperity have developed from some revolutionary impetus, most recently the prosperity created by the Internet. There are few influences that can be game-changing for a system the size of the U.S. economy, but the recent discovery that the United States has an abundance of natural gas provides the potential for that impetus. With a champion pushing for a revolutionary change to replace oil as the primary energy source, employment and prosperity can return in full force.

A policy to take advantage of the natural gas abundance will have a "New Deal" type influence on infrastructure construction and manufacturing, and it will provide cheap energy to fuel growth in many sectors. Cheaper than oil per BTU, natural gas would have long-range systemic benefits for inflation control, just as Internet technology created systemic improvement in productivity. This article makes the case why we think that President Obama will focus on centering the U.S. energy policy on natural gas, and how it will help stocks that are in the sweet spots: natural gas exploration, well services, pipelines, fueling stations, vehicles and infrastructure.