By Chris Ebert/Fun Money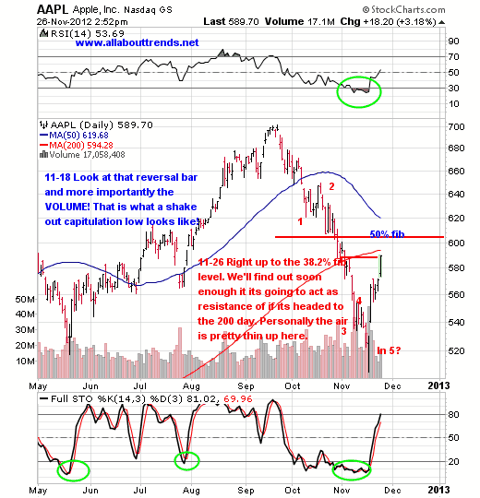 A case of too far too fast here overbought at 50% fib level resistance in tandem with the indexes being at resistance. In fact, AAPL is simply propping up the market today .
One more push up the red line has us b uying puts with either of the following alternatives:
Trade Option 1: Buy a Dec 22 put, $25 out-of-the-money ($575 strike with AAPL $597 - $603). The approximately $900 premium could easily double if AAPL falls back to the 38.2 Fib or below.
Trade Option 2: Sell a put at the 38.2 Fib with the expectation that this level will hold as support and therefore the sold put has a good chance of expiring worthless. The premium received can then be used to offset about half of the premium required to buy an at-the-money put.
SELL 1 DEC $580 PUT
BUY 1 DEC $600 PUT
Maximum reward is the difference in strike prices ($20 x 100 shares = $2,000) less the net premium paid. The risk in this trade is that AAPL moves sideways or continues the uptrend causing both options to expire worthless and causing a total loss of the net premium paid.
The following is an excerpt from this weekends premium update from Fun Money. Subscribers receive structured option trade ideas with trade alerts so you know exactly what to do and I'm pleased to announce that Chris Ebert has recently joined the team as he brings a wealth of information regarding options trading. If you trade options then this is a service you'll want to look into. You can try the first 2 months for $20 here.