By Liz DeMera
NYSE Summation Index is showing signs of weakening. As you can see from the bar chart below we now need +1513 advancers to keep it from going downward. See second chart below for actual the NYSE Summation Index chart.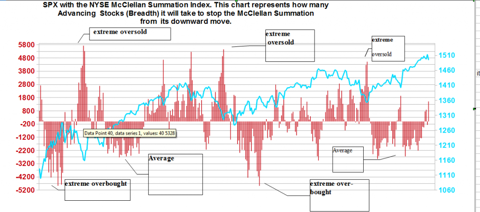 Will be interesting to see what the NYSE Summation will do over next few days as last Tuesday it reached a peak and rolled over, then started back up with a lower high thus far and rolled over again on February 4th, 2013.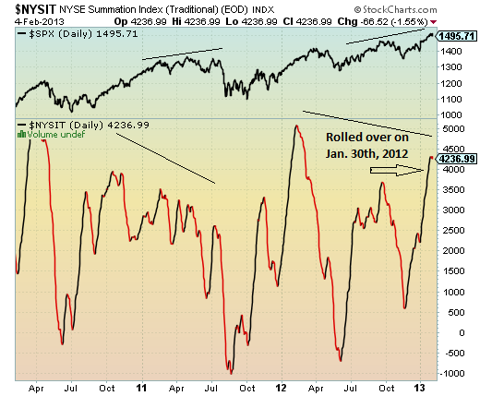 Market continues to climb higher with less NYSE 52 Week Highs. This would be the 3rd time with lower highs. 1/02/13 NYSE had 427 new highs. 1/22/13 we had 416 then 2/01/13 we had only 386 new highs. This is a Negative Divergence. See chart below.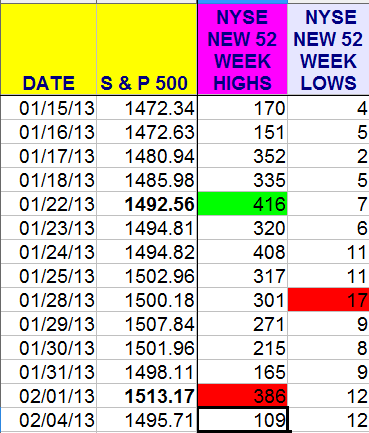 This chart is showing that the Percentage of Advancing Volume on NYSE as a Percentage of Total Volume has peaked and rolled over.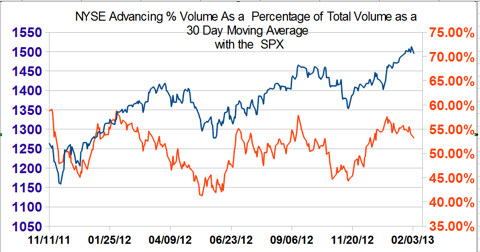 Watching closely to see if this ratio between S&P 500 and Russell will hold and continue back up. This would line up as another negative divergence with Small caps underperforming.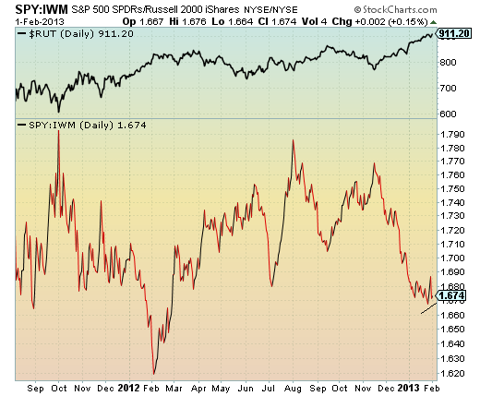 Over the last three weeks I've been very bearish on the market based on overbought conditions and weakening internals which has obviously been wrong. I'm patiently waiting to enter when the risk to reward is present combined with a deep oversold condition. This was written by Liz DeMera, @lizdemera, who uses market technicals, to determine the stock market's performance.
The following post was written by @lizdemera , who uses market internals and technical analysis to determine future stock market direction. Feel free to connect with her via twitter as she shares her insights there.