By Karen Starich
The following is an excerpt from the Jan 13th premium weekend update by Karen Starich and is very relevant given FLIR's big move on earnings this week. Astrology Traders provides specific dates and in-depth analysis of future events for the financial markets through weekly updates, trade alerts, and educational webinars and you can take a free 2 week trial before your credit card is charged. You have everything to gain.
Flir Systems is a manufacturer of thermal and infrared camera systems. Flir has recently made acquisitions that will give the company an opportunity to make lower cost thermography products. What really intrigues me about the company is CEO Earl Lewis's vision to bring infrared cameras to the retail environment and auto industry. This makes absolute sense, why not see the deer in the woods at night before it gets close to the road. According to Lewis "night vision technology in automobiles is inevitable."
The solar eclipse in December at 22 degrees Scorpio made a conjunction to Pluto (infrared specialists) shows the potential for Flir to make public within the next six months new infrared applications for the auto industry. I am very optimistic about the growth potential for Flir Systems and like a long position near Jeff's target near Friday's close at $23.12. On February 7th Flir will report earnings. Peaking at the same time is a very dynamic pattern with transiting planets to the IPO chart called a kite. The influence of a kite pattern is 'a high flyer' which could represent positive earnings and outstanding growth coming for the company.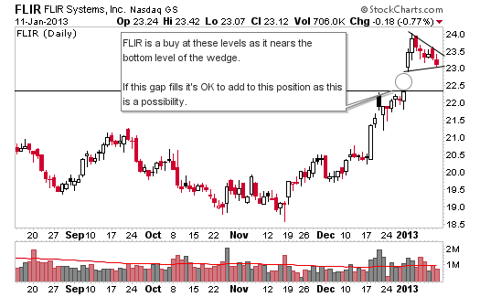 Just over 3 trading weeks later.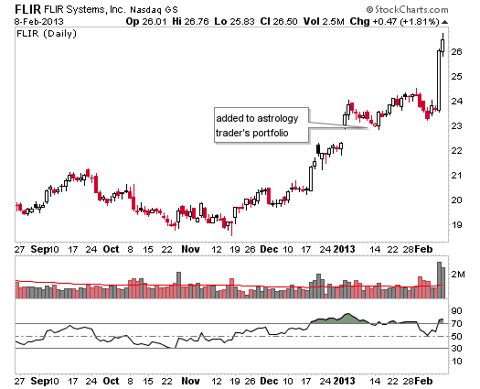 Related Posts:
New All Time Highs In Dow Coming
Financial Astrology: The Monster (NASDAQ:MNST) Trade