By Mike Ber
The following is brought to you by ForexAlerts.ca who publish a premium daily newsletter outlining key support/resistance levels, premium twitter updates, and trading bias for 5 major currency pairs. Currently they are in pre-launch and are offering a 50% discount for those who subscribe now.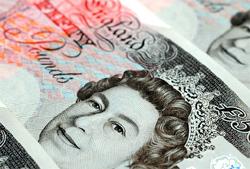 UK industrial production and manufacturing production dived in January, according to the latest official numbers released today.
The report raising fears that the UK is heading toward its third recession in only four years.
Sterling fell sharply on the news with GBP/USD reaching the lowest level of 1.4830, unseen since July 2010, before rebounding slightly.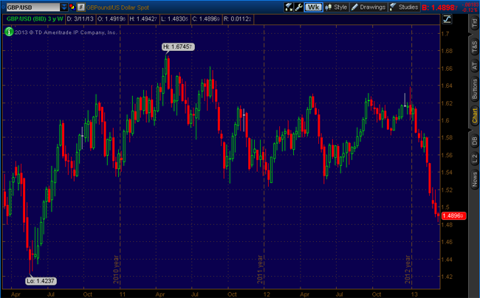 GBP/USD - Weekly Chart
Here's an excerpt from today's report for our members:
"GBP/USD has been trading in the 1.48457- 1.50547 range. Our target of 1.48457 was reached today, and we hope you took profits. Our new revised range is: 1.44941- 1.50547.

It's OK to hold short positions. More weakness coming for GBP/USD as it continues to make new lows. However, the move in GBP/USD seems a little overdone, and we would not be surprised to see a counter-trend rally up to 1.50151 resistance level. All the rebounds should be capped by 1.53567 area, if 1.50151 is broken. "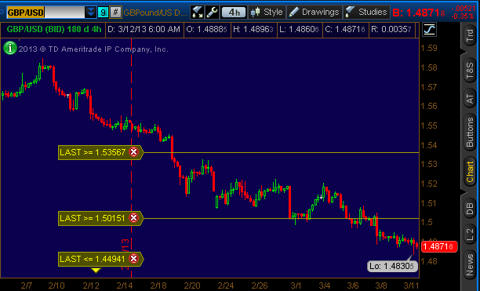 GBP/USD - 4 Hour Chart
Industrial production rose 1.1% in December 2012. The expectation was for a 0.1% rise in January 2013, but industrial production fell 1.2% unexpectedly. At the same time British manufacturing output slumped by 1.5% in January 2013 compared with December 2012.
Everyone understands that something has to be done to fix British economy, but the government has little room to cut taxes and unable to cut spending at this time. As a result, Bank of England is expected to revive the faltering economy on its own. The latest developments in UK suggest that Bank of England has no choice but to gear up for another round of stimulus in the near future. That would support our outlook for continued downtrend of GBP/USD.Article text goes here...