By Astrology Traders
All my warnings about the financial sector and the risk of getting robbed during Mercury retrogrades seems to be colliding in a way that no one could have anticipated. The market pullback today looks too cute in my view. I don't think this is over and Cyprus could be the test run to something bigger this weekend. Mars will conjoin Uranus at 8 degrees Aries on Friday. Uranus has an 84 year obit and is transiting the same degree as in October 29,1929, the day of the famous stock market crash. There could be another much bigger raid and Cyprus may be the front runner to desensitize everyone. There could be more shock (Uranus conj. Mars) in Europe over the weekend. Perhaps an epic conditioning experiment and there is risk of this "deposit tax" in American banks next year.
The U.S. Markets could see more of a pullback into the end of March. The markets could rally in April and everyone will forget about it when the markets take off again.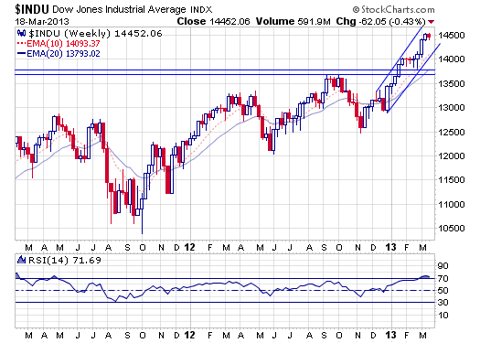 The following is a new trade recommendation from this weekend's premium update by Astrology Traders which uses astrology to forecast events in the financial markets. Jeff Pierce adds in the technical picture for the stocks and sectors in focus.
Astrology Traders provides specific dates and in-depth analysis of future events for the financial markets through weekly updates, trade alerts, and educational webinars. We now provide a free 2 week trial and you are not charged until after the 2 weeks are up so you can sample risk-FREE.