By Mike Ber - ForexAlerts.ca
USD/JPY - 94.49
Bias: Bullish - Neutral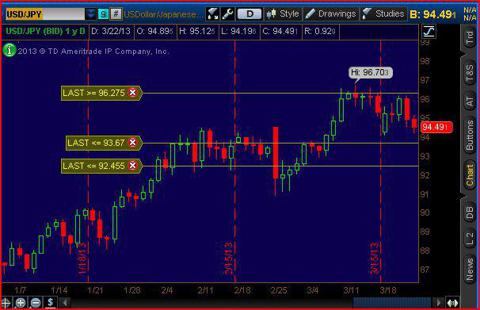 USD/JPY - Daily Chart
Levels:
Upside
96.703
Range
93.67 - 96.275
Downside
92.455
Commentary:
The pair is trading within the 93.67 - 96.275 range.
Our bias is still Bullish-Neutral, but we are leaning more and more towards the Neutral stance.
Next week is always special for USD/JPY: One of the factors that can contribute to temporary USD/JPY weakness is the end of Japanese financial year on March 31st. Traditionally Japanese companies tend to bring their profits in US dollars back into the country. This seasonal factor could lead to additional pressure on USD/JPY leading to the end of the month. The repatriation of funds will be completed by March 31st, and we will expect a second wave of USD/JPY buying after that.
While 93.67 level is attractive, we will be entering long positions closer to 92.455 area.
The unresolved situation in Cyprus will weigh on the markets, and may contribute to USD/JPY weakness. Any delay by lawmakers to approve the measures to secure bailout funds will be a big disappointment for the markets next week.
Markets Expect Swift Action From Bank Of Japan
We may expect a shift toward more aggressive monetary policy from the Bank of Japan soon. Haruhiko Kuroda, the new governor of BOJ, said two weeks ago that he wants to discuss easing soon, and he mentioned in the past that he will do whatever it takes to achieve a 2% inflation goal.
On Thursday he confirmed his views during the first press conference after taking the helm of the Bank of Japan this week. He said: "We will do whatever we can to achieve the 2 percent price target at the earliest time possible".
Even though the government doesn't hide its plans to devalue the yen, the Bank of Japan is facing very high expectations. The Yen significantly fell during the last few months, with USD/JPY making new highs, but this run has been on the back of the talk not supported by any significant action.
The Next BOJ Policy Meeting Will Take Place On April 3rd.
Last Monday BOJ announced that Masayoshi Amamiya will return to his original duty of supporting the governor on monetary policy decisions. Amamiya led the BOJ's efforts last year to achieve a 1% inflation goal.
Both Kuroda and Amamiya believe that monetary policy alone can end the deflation that has affected the Japanese economy for the last 15 years. The appointment of Amamiya is a sign of confirmation that BOJ might be gearing up for a fresh round of easing, that can be announced during the meeting at the beginning of April. The vast majority of market participants expect BOJ to unleash asset purchases of at least 10 billion yen. Any increase in asset purchases will extend USD/JPY rally.