By Jeff Pierce
Here are 2 stocks that just didn't make my tradewithZEN focus list of stocks this evening, but there are some positive aspects about their charts so I wanted to share them with you. Both are earnings winners but both have some work to do on the chart end. I look for 2 main characteristics in stocks that generally lead to a winner:
1. A catalyst that moves the stock much larger than normal.
2. Specific key technical aspects where the stars align perfectly.
We have one aspect here in the form of a positive earnings reaction, but the charts need to do a little work before I would even consider buying them. Add in the fact that the markets are becoming bearish I don't want to be buying anything right now but it's always critical to build out a watchlist of qualified names to buy when the market turns around.
I added the 2hr chart of Hasbro because the daily doesn't look so good, but when you narrow it down you can see that we gapped up, it held, and we had a nice close near the upper trendline. This is all positive stuff. Let's monitor this to see if it can remain above support in a strong manner. If it bucks a downtrend that would be another bonus for this chart.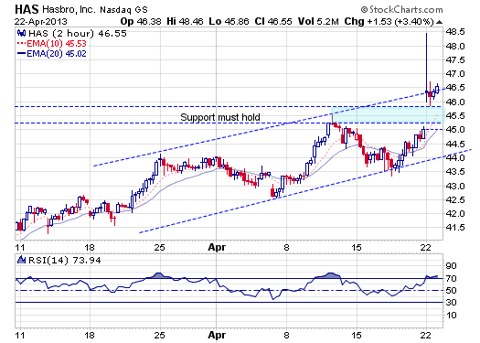 SIX is below my 500 average daily volume, but if volume starts to come into this name it could bump that up in a hurry. It's broken out to new all time highs. That's always a good thing when you remove overhead resistance. If it can rally more and stay above today's close, that would be a very positive thing going forward with this stock.

The negative divergence between price and RSI is a concern, but remember, we're only watching this name at this point. It has to prove itself.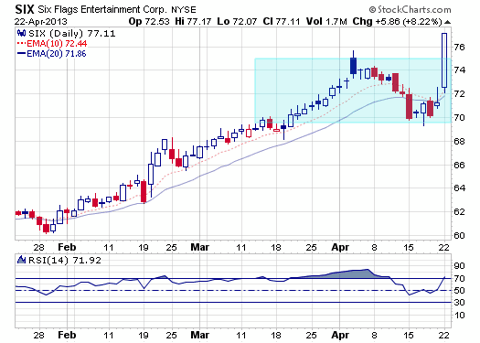 Related Posts:
Linked In Has One Scary Algorithm
FXE Bumps Up Against Resistance
Markets Continue Bullish WaysArticle text goes here...