By Astrology Traders
The following is from various excerpts from past updates by Astrology Traders which uses astrology to forecast events in the financial markets. Jeff Pierce adds in the technical picture for the stocks and sectors in focus.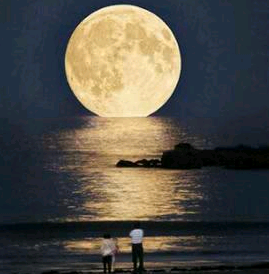 The moon rules the night side of life and is the lesser light, the reflective light of the solar energy of the sun. In its reflective state it exerts enormous control over the tides and over the water element. When the moon is full in perigee (closest to the earth) the gravity of the moon weighs on man's emotional body and can easily become either his greatest enemy or if properly balanced (energy in motion=emotion) becomes limitless power magnified in turn by the moon. The pure intention is multiplied becoming limitless alchemical power illuminated by the moon, which is nothing more than a giant reflector.
When the moon is in perigee it is referred to as a "Super moon" because of the size and appearance in the night sky. These super moons have in past had a noticeable effect on weather patterns often producing severe storms. On April 25, 2013 we will have an eclipse of the moon at 5 degrees Scorpio while in perigee. The eclipse will be a Supermoon with a distance of 365,307 km from Earth. The last super moon was in May 2012. Take a moment next week to view the size of the Moon in the night sky leading up to the eclipse.
Related Post:
Solar Strength Foretold By Financial Astrology
Positioning Yourself Ahead Of The Herd